Rock legend U2 will be performing at the world's largest indoor arena on December 11.
U2 has announced that the Manila leg of its Joshua Tree 2019 Tour will be at the 55,000-person capacity Philippine Arena, the Guinness record holder for the biggest enclosed multipurpose venue.
The one-night-only concert is produced by MMI Live and Prestige Worldwide.
"We're extremely proud to host U2. This concert is every music lover's dream come true, and the Philippine Arena can easily accommodate the tens of thousands of fans who will witness this once-in-a-lifetime event," said Atty. Glicerio P. Santos IV, Chief Operating Officer of the Maligaya Development Corporation which manages the Philippine Arena and its Ciudad de Victoria location.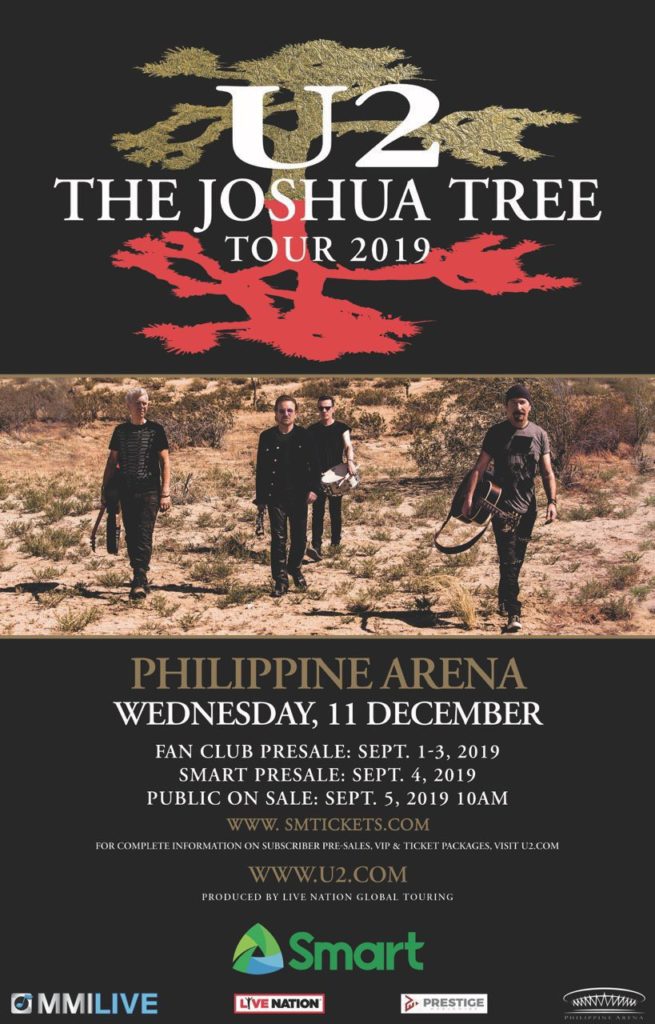 Santos IV added that they are closely coordinating with the promoters and organizers on how to make the concert a very memorable one.
"We're aware of the world-class standards and the highest level of technical and music excellence that U2 brings to their performances. The Philippine Arena will meet those demands and would do everything to please everyone who watches U2 live."
The sprawling Bocaue-based venue has previously hosted concerts by Guns N' Roses and Katie Perry.
Santos IV also pointed out that the Philippine Arena Interchange will become operational during the concert to ease entry and exit of vehicles to Ciudad de Victoria.
"A road interchange will also be completed in October, giving direct access to NLEX northbound to the arena. We expect a huge turnout of visitors and we're working with both national and local governments for the prompt completion of road and access networks to ease traffic flow."
Public transportation shall be readily available with the provisional operation of the North Luzon Express Terminal to service the commuters.
The Philippine Arena is likewise slated to host the opening ceremonies of the 30th Southeast Asian Games in November.