The Senate approved on third and final reading 36 bills that seek to establish, convert, separate, and rename state universities, colleges, high schools, and elementary schools nationwide.
Approved were the establishment of Polytechnic University of the Philippines (PUP) Campuses in Occidental Mindoro and Metro Manila.
Senator Chiz Escudero, chairperson of the Committee on Education, Arts and culture, said the establishment of PUP campuses in Occidental Mindoro and San Juan City, Metro Manila would help deserving students get affordable education.
Escudero said with the passage of Senate Bill Numbers 1103 and 884, filed by Senator Joseph Victor Ejercito, the expenses of of both the PUP campuses shall be charged to the National General Appropriations Act (GAA), thus reducing the expenditures of the local government units.
"The establishment of PUP in Sablayan and San Juan will promote growth and modernization of the campus' facilities that will help the students to be more competitive," the veteran legislator said.
The Senate also approved the establishment and conversion of several state universities in Compostela Valley, Davao Region; Iloilo, Surigao del Norte, Talisay, Cebu; Barangay Concepcion, Marikina City; Oriental Mindoro, Cotabato City, Municipality of Bontoc in Mountain Province and Province of Benguet.
Also approved were measures seeking the establishment, separation, renaming and convertion of 23 national high schools nationwide and an elementary school in Valenzuela City.
The seasoned lawmaker said it the country was on the right course when it recognized the fundamental role education played in national development.
"Studies show that the quality of a country's human capital is directly proportional to the quality of its education; therefore, far-reaching reforms in our education system must be undertaken in order to ensure the development of our human capital," said the senator from Bicol.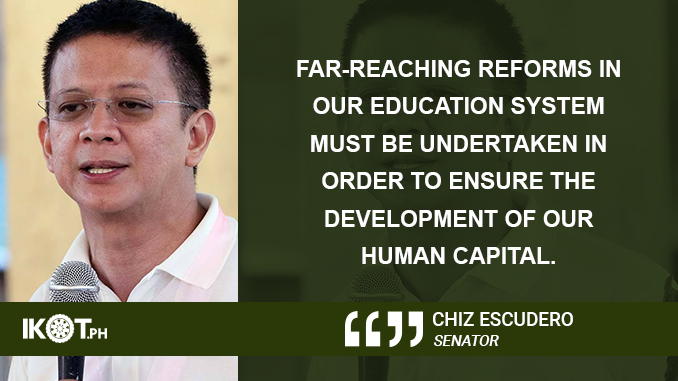 Approved for establishment and conversion were the Emilio Jacinto National High School in Quezon City; Ligao City National Technical-Vocational High School in Ligao, Albay; Malabon City National Science and Mathematics High School in Malabon City, Manila; Hampangan National High School, Manlilisid National High Shool and Banahao National High School in Leyte; San Rafael Technological and Vocational High School in Navotas City, Manila; Pagadian City Science High School and Depase National High School in Zamboanga del Sur; Paso de Blas National High School, Bagbaguin National High School, Justice Eliezer R. Delos Santos High School and Antonio M. Serapio in Valenzuela City; Santor National High School and Malagnat National High School in Kalinga; Don Bosco National High School and San Antonio National High School in Parañaque City; Daklan National High School in Bokod, Benguet; Laoag City National Science Hight School in Laoag, Ilocos Norte; Caibiran National High School in Caibiran, Biliran; Musimut National High School, Sacpil National High School, Tawit National High School and Guina-ang National High School in Apayao.
The Senate also approved the establishment of Antonio M. Serapio Elementary School in Barangay Ugong, Valenzuela City.