The endorsement by the House committee on human rights chaired by Rep. Cheryl Deloso-Montalla (2nd District, Zambales) of the bill providing for a framework on the right to adequate food followed the approval of its funding provision by the committee on appropriations chaired by Rep. Karlo Alexei Nograles (1st District, Davao City).
The bill makes it a State obligation and responsibility to ensure and facilitate access to food, its availability and adequacy.
The substitute for House Bill Nos. 61, 256, 645 and 3938 harmonizes all relevant Philippine laws on the right to adequate food, clarify its normative content and compliance standards, define its progressive realization and prohibit violation on the right to adequate food.
Nograles, principal author of the bill, said the measure is consistent with Section 9 of the 1987 Philippine Constitution and Article 11 of the International Covenant on Economic, Social and Cultural Rights, which recognizes the basic right of everyone to be free from hunger.
The bill creates the Commission on the Right to Adequate Food (CRAF), which shall administer and oversee the implementation of the measure. The CRAF shall ensure considerable and steady increase on the following indicators:
1. Percentage of development of ancestral lands;
2. Percentage of rural population with access to productive resources;
3. Share of budget spent on programs aimed at creating access to productive resources;
4. Percentage of budget spent on agri-research, agri-extension, irrigation, training, technology, credits and rural development;
5. Percentage of rural female-headed households, or rural women, with legal title to agriculture lands;
6. Percentage of public budget allocation for social transfer programs to those unable to feed themselves;
7. Coverage of marginalized and disadvantaged population taking part in social transfer programs;
8. Percentage of marginalized and disadvantaged population covered by a public nutrition supplement program;
9. Percentage of population aware of available food and nutrition programs; and
10. Coverage of school feeding programs
The bill tasks government agencies to ensure the following: food availability, stability and adequacy; food quality and safety; determination of standards on the minimum amount of food to be given to any person suffering from hunger or under nutrition; physical and economic access to food; and well-functioning distribution, processing and market systems.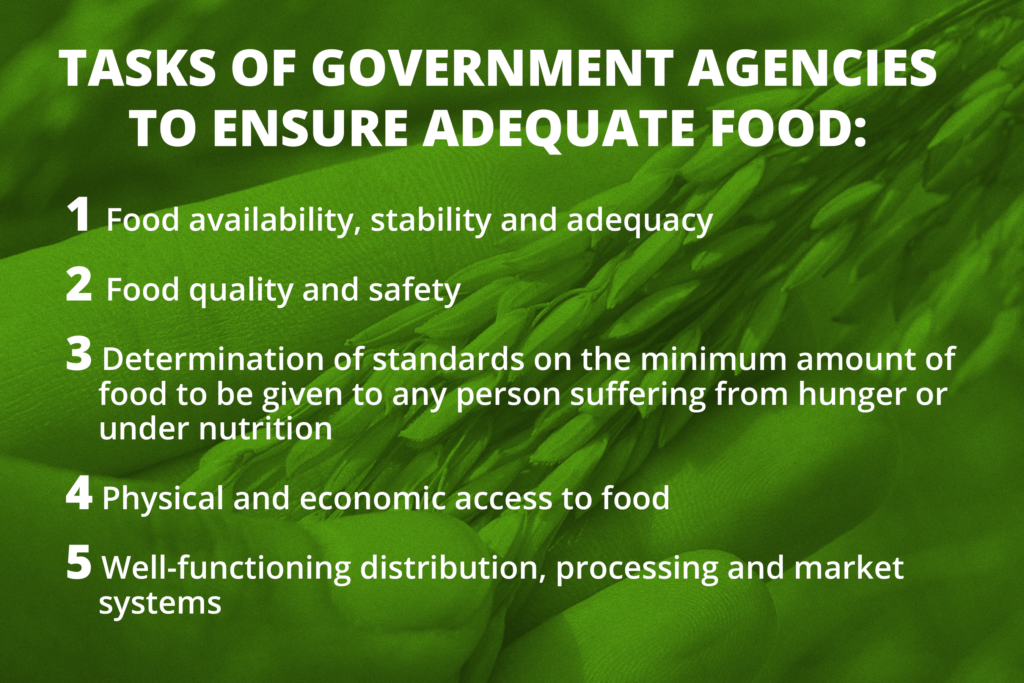 The bill also provides penalties to those who deliberately starves or denies access to food to any individual or group by committing specific acts.
Furthermore, it imposes civil and criminal liabilities to public officers and employees who directly or indirectly obstruct, defeat, violate or in any manner impede or impair any of a person's right guaranteed under the bill.
The bill guarantees representation and participation of people's organization and civil society in the consultations on specific areas of implementation of the measure.
Other authors of the bill include Reps. Jericho Jonas Nograles (Party-list, PBA), Harry Roque, Jr. (Party-list, KABAYAN), Deputy Speaker Linabelle Ruth Villarica and Rep. Kaka Bag-ao (Lone District, Dinagat Islands).