After enjoying (and almost abusing) the privilege of being served super fresh India Pale Ales during a short vacation early this year, I'm back to the old routine of drinking IPAs from cans and bottles at least a month old. Balikbayan boxes from California (which take thirty days at least to cross the Pacific and hurdle Philippine customs) have trustily transported my beers since 2005, with a perfect no-breakage record so far.
IPAs consumed six months from brewing date remain within the ideal drinking period, but it's common wisdom that the longer an IPA keeps, the more it degrades. A days-old brew just doesn't taste the same as one that's been kept for half a year, whether by choice or not. The prime-yet-ephemeral qualities of hops diminish the most, especially for those hop varieties that bring out the juicy tropical flavors most in vogue at the moment. Bittering hops are slower to fade, based on experience.
The trendy New England (alternatively called Northeast)-style India Pale Ales appear to suffer the biggest dips in hop quality when consumed farther away from their production dates. A threesome sampling of Brouwerij West's Picnic Lightning and Starfish as well as Stillwater Artisanal Ales' The Cloud all exposed soft, uninspired "juicy" fruit flavors across the board.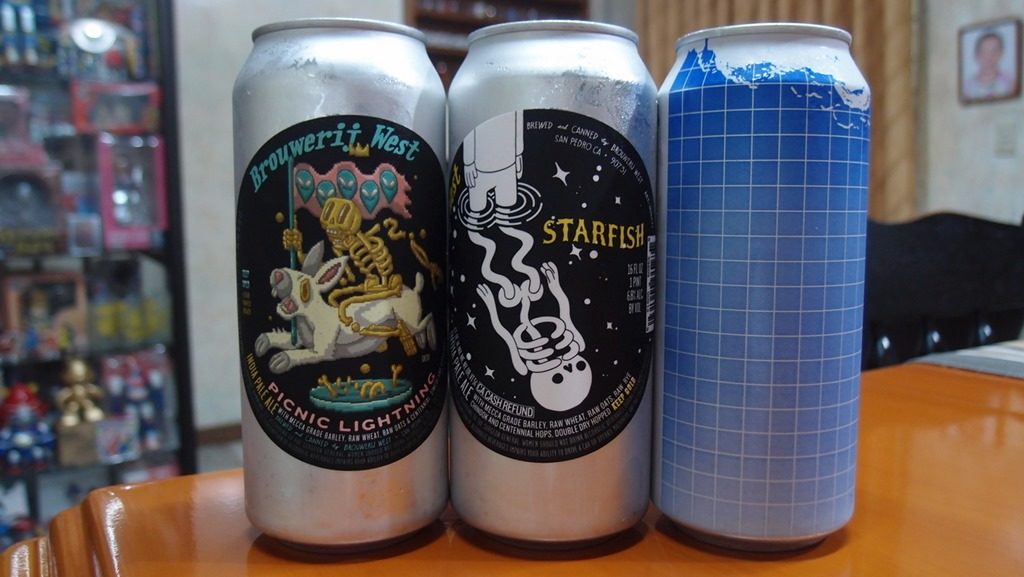 Based on the details printed on the cans, Picnic Lightning and Starfish (identical 6.8% abv) were both supposed to deliver solid hoppy goodness – lots of Simcoe, Centennial and Citra, with a double dry hoping treatment for Starfish.
Starfish, the freshest at just a little more than a month old, exhibited lively carbonation and a mildly grapefruit peel bitterness that coated the mouth, not just the tongue. It was the type of flat, one-dimensional bitterness that I often complain about in lesser grade IPAs, however. Picnic Lightning's hop bitterness was even duller and an odd medicinal aftertaste appeared as the beer warmed. There wasn't enough of the NEIPA-signature juiciness in these Brouwerij West beers.
Stillwater's The Cloud (7% abv), ironically, was the least cloudy. It had the thinnest mouthfeel. Juiciness was deficient. Stillwater, mainly a farmhouse brewery specializing in Belgian styles, still (pardon the pun) grapples uneasily with hazy IPAs. The Cloud doesn't yet have a firm grasp of the defining visual and taste qualities of a true NEIPA.
What are these defining visual and taste qualities to begin with? Hazy or cloudy appearance, soft bitterness, lots of saturated juiciness which are all products of fruity hops and Conan or English yeasts.
The feeble juiciness in my three cans (these NEIPAs usually come in 16-ounce cans, mimicking the pioneering effort of Heady Topper) may be an issue ultimately related to freshness. I'm inclined to give brewers the benefit of the doubt. They cannot control how long their beers stay on shelves and how quick the product is consumed. In contrast, I've had a sharply bitter NEIPA and a lusciously pineapple-rich NEIPA, both from tap and both showcasing what knowledgeable brewers can do to make this emerging, evolving style really stand out.
I do understand that the advertised addition of oats and lactose in Picnic Lightning, Starfish and The Cloud produce a smoother mouthfeel and contribute to cloudiness (the more extreme NEIPA examples I've seen online are in fact curiously described as "milkshake IPAs"; flour is sometimes used as an adjunct). Achieving the signature juiciness appears to be the tricky part. Even established brewers such as Mikkeller have come up short in this regard. Filipino-American ace brewer Munting Ilog, meanwhile, released a superb Talipandas Mango IPA that I had two pints of onsite during its premiere at The Bottle Shop in Magallanes last July. The added reason it made such a good impression, apart from the on-point fruitiness, was the lively freshness. I took out a 32-ounce growler the same night for more juicy enjoyment at home.
So far, I've had more NEIPA misses than hits. The ultimate solution to my NEIPA woes may come down to a matter of freshness. Or, am I approaching the style incorrectly, perhaps with too high expectations? More palate calibration needs to be done.
***
Stone Brewing was initially reported to be releasing its own NEIPA "haze craze" bandwagon beer, aptly named Nor'East Nod. For reasons unexplained publicly, the brew which eventually reached the market last August for Stone's 21st anniversary was neither hazy nor was it a nod to the Northeast.
Hail to the Hop Thief (9% abv) gave out strong, attractive odors of peaches, apricots and bit of sea salt. Bitterness was uncharacteristically tame for a Stone beer (do we see a trend here?). The taste was dominated by a sturdy caramel malt element and a lingering menthol layer, the slight eucalyptus note thankfully not detracting much from the malt-hop interplay.
I haven't been a fan of Stone's anniversary IPAs in general. Nonetheless, one has to admire the brewery for concocting all those different hop, malt and adjunct combinations for two decades and counting. Creativity, after all, doesn't always guarantee praise.
On the other hand, Stone's continued success has muted its once-defiant hop-driven voice. It has to adjust and remain relevant and profitable in a market that now craves less-bitter beers. The malt-heavy Hail to the Hop Thief is very unlike my favorite hoppy Stone IPAs, Enjoy By and RuinTen.
Barrelhouse Brewing Co.'s Juicy IPA (6.5% abv) is its own "take on the popular New England Style." It tastes juicy all right but the  color is something that might come out of California or Oregon in the Pacific Northwest, not the Northeast. Unfiltered, yes, but far from NEIPA- cloudy. Ultimately, if the brewery classifies its beer as New England, who am I to say otherwise? Of course, I almost forgot. I'm the one who has NEIPA issues here.
Juicy IPA is the type of good, fruity IPA that's been hanging around since 2014 in the West Coast. Deschutes' Hop Henge Imperial IPA was among the first beers of this sort I tasted back in 2013.
It seems everything old-ish is new again. Maybe. Maybe not? I'm confused.
***
What doesn't confuse is the powerful slap you get from triple IPAs. You'd most likely burp hops with your morning-after headache, but these beers will leave you aching for more self-inflicted punishment.
Revision Brewing's Dr. Lupulin (11.3% abv) and Duck Foot's Mega Duckzilla (9.75% abv) hark back to a time when high-alcohol, uber-hopped IPAs were rites of beer passage that tested one's tolerance for bitterness. IBUs dominated any discussion about India Pale Ales. This period reached its peak with abominations such as Mikkeller's 1000 IBU IPA.
Dr. Lupulin is classic dank, piney and grassy. It doesn't compromise in giving the drinker the full old school IPA experience. Revision's IPA cred is legit. Its founder was brewmaster not too long ago at Knee Deep, known for its outstanding hoppy beers.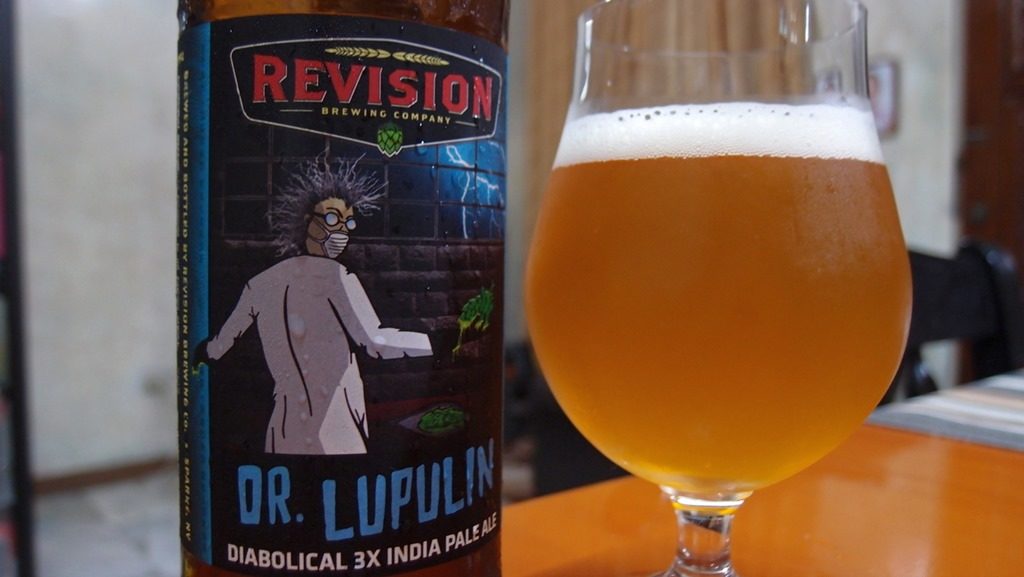 Mega Duckzilla, in contrast, smelled of oranges and pomelo. Mouthfeel was lighter than Dr. Lupulin, with a fresh hop cone vegetal taste complemented by orange marmalade. I actually enjoyed the feathery malt backbone. This triple IPA was almost too drinkable.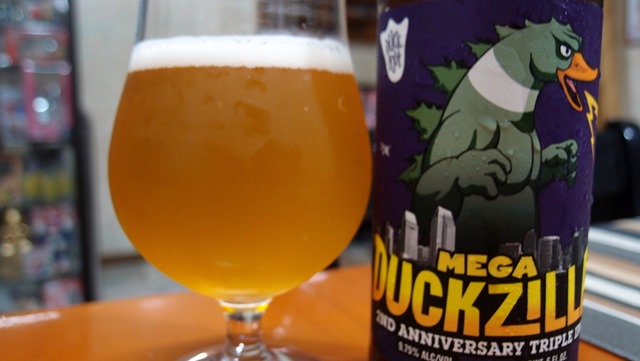 ***
New England IPAs aren't just passing fads embraced by drinkers attracted to these beers' lightly accessible, relatable tastes. I daresay, though, that the limited can runs and crazy long lines for top NEIPA examples from Monkish, Trillium and Treehouse in the US offer irresistable attraction to new-breed hipster and millennial beer lovers who must brag about these things in various social media platforms.
Bottom line, NEIPA brewers should exert more effort in first highlighting, then preserving far longer the desired fruit juice qualities people look for in this substyle. As packaged in both cans and bottles, these must-have traits seem to vanish much too quickly.
That being said, it's safe to say that for 2017, the IPA mojo, that magic if you will, squarely remains West Coast. The New England IPA has definitely arrived. It's made a crater-like impact, but it's still a long way from reaching top dog status in the IPA establishment.