Vista Land Chairman and former Senate President Manny Villar has never forgotten his Tondo roots.
As a way of giving back to the children of Tondo, Villar and his wife, Senator Cynthia Villar, has once again gave a one-of-a kind Christmas treat to 150 children from Baseco, Tondo, as well as Brgy. Iruhin, Tagaytay. The Christmas party and gift-giving for the kids was held at the charming Christmas Village of the posh Swiss luxury sanctuary, Crosswinds in Tagaytay.
Now on its 8th year, the annual gift-giving of Villar SIPAG (Social Institute for Poverty Alleviation and Governance) is an activity that the Baseco and Iruhin children always look forward to every Christmas season.
"We have been so blessed to have achieved a lot of things in both our public and private endeavors and this annual Christmas treat to the Baseco and Iruhin kids is our way of paying it forward to them," Villar said.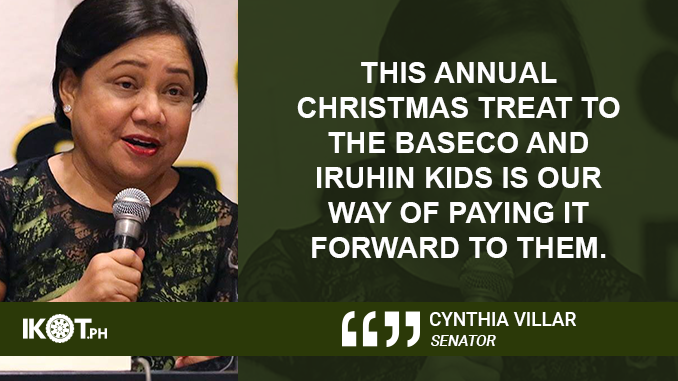 The children, aged 2 to 13 years old, were treated to fun-filled activities at the Crosswinds Christmas Village, set in a 100-hectare estate in the rolling hills of Tagaytay City's upscale portion, with a nippy weather that all the more evokes the Christmas vibe.
The veteran legislator adds that the children of Baseco were made annual beneficiaries of this special Christmas treat as Tondo was the birthplace of her husband.
The children were amazed as they visited the Christmas Store and Santa's House at the state-of-the-art Christmas Village, decorated with 23,000 pine trees and artificial snow. They also had a grand time playing with the various toys made available to them around the area.
The Christmas Party featured a magician's show and lots of games where the children danced, sang and had fun with the Villar couple and their children.
The children were also delighted with the prizes they won in the parlor games and raffle draw plus the sumptuous meal and gifts that they shared for everyone.
The seasoned lawmaker said that Crosswinds, a premier development of Brittany Corporation which is the luxury real estate developer of innovative and creative communities under the Vista Land Group, is the perfect place for the annual Christmas party for the Baseco and Iruhin children as the place has a natural "Christmas charm" that the kids enjoy.
"The Crosswinds Christmas party has become a ritual for the Baseco and Iruhin kids and we won't get tired of bringing them here every year to share with them the happiness of the Christmas Season," the lady senator added.