The House of Representatives approved on third and final reading House Bill 6682 which seeks to declare the historic site Limahong Channel in Lingayen, Pangasinan, as a tourist spot.
Rep. Leopoldo Bataoil (2nd District, Pangasinan), principal author of the bill, said the Limahong Channel is a historic site because it is where the Chinese Corsair Limahong, who invaded the Northern Philippine Islands in 1574, sought refuge when he was repulsed by the defenders of Parañaque, then a royal encomienda.
"Pursued by the Spanish colonizers, he dug a channel in Domalandan, Lingayen that served as his escape towards the China Sea. It is located along the Agno River at the mouth of the Lingayen Gulf," Bataoil explained.
The congressman from Pangasinan, chairman of the committee on veterans affairs and welfare, said declaring the Limahong Channel as a tourist spot could entice tourists, local and foreign, especially the Chinese, to visit the place.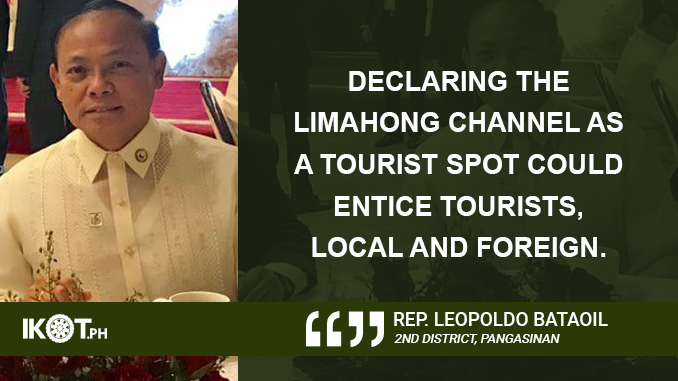 Moreover, this in a way will generate employment opportunities for the residents of the municipality and the nearby communities, thus improving their lives.
The bill provides that the development of the Limahong Channel as a tourist spot shall be prioritized by the Department of Tourism (DOT) and be subject to the rules and regulations governing the development of tourist spots.
The DOT shall prioritize the establishment of a center to be known as the Limahong Tourist Center.
The DOT, in coordination with the Tourism Infrastructure and Enterprise Zone Authority (TIEZA) and concerned agencies of the government, shall prepare a tourism development plan involving the construction, installation and maintenance of such appropriate facilities and infrastructure as shall encourage tourism in the area within six month after the approval of this act.
However, the said development plan shall ensure the preservation and conservation of the natural beauty and historical significance in the said area.
The measure mandates the DOT to take immediate steps to implement the development plan and incorporate the same in its tourism development program for the ensuing calendar year.
Furthermore, it directs the Secretary of the DOT to include in the department's program the implementation of the Act, the funding of which shall be included in the General Appropriations Act (GAA) and from internally-generated funds of the DOT.
The Secretary of the DOT is likewise tasked to promulgate the necessary rules and regulations for its proper implementation within 60 days from the effectivity of this Act.
Authors of the bill include Reps. Christopher De Venecia (4th District, Pangasinan) and Karlo Alexei Nograles (1st District, Davao City), chairman of the committee on appropriations.