The Department of Environment and Natural Resources (DENR) has credited the significant drop in air pollution levels recorded in Metro Manila during the recent New Year revelry to Executive Order (EO) no. 28 signed by President Rodrigo Duterte that strictly regulated the use of firecrackers and other harmful pyrotechnic devices.
"This just goes to show that the law, if properly implemented and readily complied with by the citizenry, will bring about the needed results for everyone's benefit," Environment Secretary Roy Cimatu said.
Cimatu pointed out that EO 28, which bans the use of firecrackers and fireworks in households or places of residence nationwide and confines the use of pyrotechnic devices to community fireworks display, was only on its first year of implementation and yet it already resulted in remarkable improvement in Metro Manila's air quality during the New Year celebration.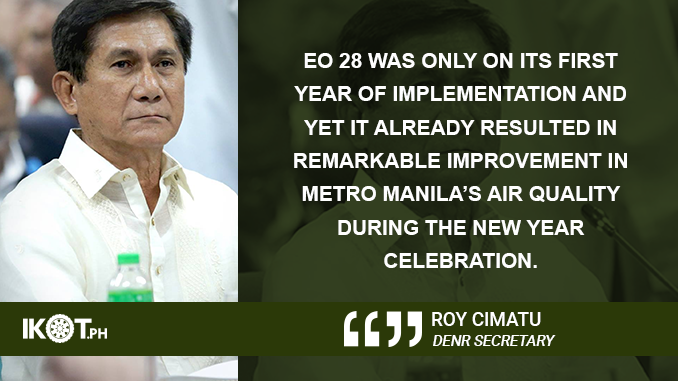 "We hope that this is just the start and Filipinos will get used to welcoming the New Year without the firecrackers and fireworks that pose serious danger to human health and the environment," Cimatu said.
During the first hour of January 1, all air-quality monitoring stations in Metro Manila registered lower levels of particulate matter (PM) 2.5 or particle less than 2.5 micrometers in diameter and PM 10 or particle less than 10 micrometers in diameter, compared to last year, according to the Environmental Management Bureau (EMB) of the DENR.
The monitoring station at the Caloocan City Hall annex compound consistently registered the highest PM2.5 reading at 966 micrograms per normal cubic meter (ug/Ncm) and PM10 at 1,058 ug/Ncm.
While still above the safe 24-hour guideline value of 50 ug/Ncm, the EMB said the PM2.5 levels decreased by as much as 84% along Naval Street in Navotas City at 71 ug/Ncm compared to 2017 readings.
The following stations also registered a decrease in PM2.5 levels: 73ug/Ncm or 83% at Don Bosco Barangay Hall compound, Parañaque City; 183ug/Ncm or 59% along Taft Avenue, Manila; and 74 ug/Ncm or 46% in Oranbo, Pasig City.
The stations in South Caloocan and along CAA Road in Las Piñas City were well within the safe values at 23 and 5 ug/Ncm, respectively. In contrast, the stations along EDSA, Quezon City and at the Pinaglabanan Shrine compound in San Juan City recorded 155 and 149 ug/Ncm, respectively.
Meanwhile, PM10 level in Bicutan, Taguig City decreased by 90% from 366 ug/Ncm in 2017 to 36 in 2018.
Other stations that showed lower PM10 levels were the following: Naval Street, Navotas City, at 197 ug/Ncm or 60 percent reduction; Pinaglabanan Street, San Juan City at 173 ug/Ncm or 39 percent; and Oranbo, Pasig City at 95 ug/Ncm or 33 percent.
Other PM10 readings elsewhere: Marikina Justice Hall open ground, 416; Addition Hills, Mandaluyong City, 322; Philippine Airlines compound, Pasay City, 222; Pateros Elementary School, 208; Muntinlupa prison open grounds, 168; and EDSA, Quezon City, 152.
PM10 Readings at these stations were within the 24-hour safe value of 150ug/Ncm: South Caloocan, 112; CAA Road, Las Piñas City, 45; and Don Bosco barangay hall compound, Parañaque City, 72.
PM2.5 and PM10 pollutants are much smaller than a normal hair strand which measures about 70 micrometers. These can be inhaled directly into the lungs or absorbed by the bloodstream and lead to or aggravate pulmonary and cardiovascular diseases.