Policemen who conduct what their leaders promise as a non-lethal tokhang campaign should not just be clutching religious items but should also be wearing bodycams, Senate President Pro Tempore Ralph Recto said, after a police general stated that cops who will "knock and plead" at homes of suspected drug users will be carrying rosaries and Bibles.
"Body cams should be part of tokhang's reinvention. Nothing conveys good intentions better than an equipment that will record one's best behavior," Recto said.
"In this age of Facebook Live, and when dashcams are sold on the sidewalk, there's no excuse why our policemen still do not have what is standard police gear in many countries, more so if there are already funds for their purchase," the veteran legislator added.
The seasoned lawmaker revealed that Congress had authorized P334-million in the 2018 national budget for the purchase of new body cams to be worn by police officers.
"Camp Crame should expedite their procurement and check other items in the PNP (Philippine National Police) equipment shopping list, which this year's General Appropriations Act has already funded," the senator from Batangas said.
"There's also P100-million for CCTVs. Also up for procurement are 160 cars, 308 motorcycles, 20 special purpose vehicles, 19 boats, 10,000 sidearms, 5,000 long firearms, among other capital outlay items," he added.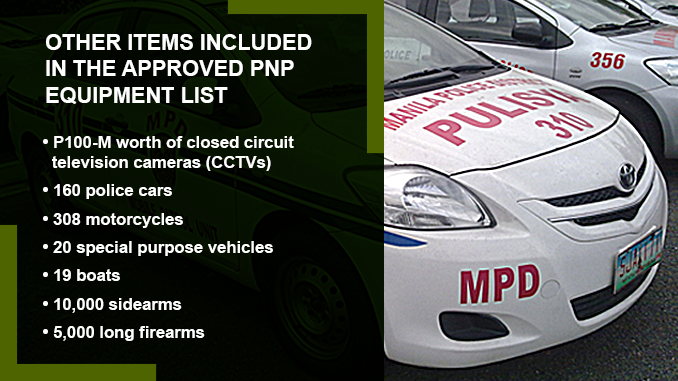 Excluding the amount for the doubling of policemen salaries, the PNP has a P132.3-billion budget for 2018, but more than 86 percent will go to the pay and allowances of its 181,355 personnel.
Recto said the PNP could have acquired body cameras last year, "if only it had prioritized these over dogs that cost half-a-million pesos each."
While there was already a public clamor for policemen to wear bodycams during anti-drug sweeps, the PNP omitted bodycams in their request, choosing instead 48 bomb-sniffing dogs with a price tag of P511,672 each.
Close to P5.6-billion for police modernization was included in the 2017 national budget, P1.9-billion of which was released on August 10, 2017 by the Department of Budget and Management based on a purchase list submitted by the PNP.
"Doon sa P1.9-billion na release, may nakalaan para sa machine guns, boats, motorcycles, anti-riot gear, body vests, pati aso, pero medyo nakaligtaan ang bodycams," Recto said.
"Hopefully, bodycams were included in subsequent releases, if there were. By September, may balanse pa na P3.7-billion doon sa P5.6-billion na pondo for police modernization," he added.
"Kung wala silang nabili na bodycams for the rest of 2017, e 'di i-prioritize nila 'yung P334-million para sa bodycams na nasa 2018 budget. Patunayan nila na sa pagbili ng gamit, ang pulis kung umaksyon mabilis," Recto said further.
Eastern Police District director Chief Supt. Reynaldo Biay was quoted in media reports as saying that a person subjected to Oplan Tokhang (knock and plead) would not resist arrest but instead go peacefully with the police.