Don't know how to comfort someone when they're venting? Afraid to be vulnerable with your strict co-workers? Have flexible work hours but prone to overworking yourself? 
Then, brew up your coffee and join in for a chill online talk hosted by AIO called "Coffee Conversations: Emotional Intelligence Over IQ". This event aims to shed light on the importance of emotional intelligence and learn practical tips from experts on managing and reading emotions, fostering healthy productivity, proactive listening, and more! 
Get the chance to ask Life & Career Coaches, Ms. Jillen Santos & Ms. Danica Octa! 
Danica Octa, just currently in her 20s, is a career coach recognized as one of the 100 Most Influential Filipino Women on LinkedIn in '21 and '22. She is the President & CEO of her award-winning career coaching firm called Metamorphosis Group.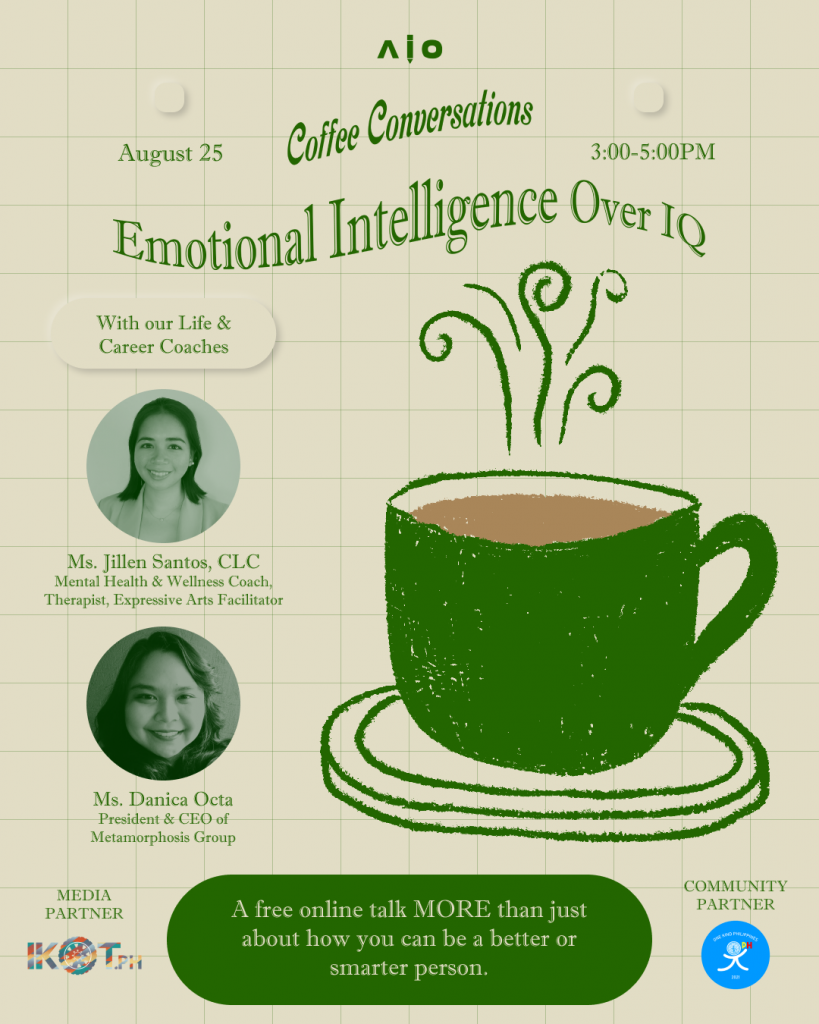 Jillen Santos is a Certified Life Coach, Mindfulness & Cognitive Behavorial Therapy Coach, and also a Mental Health provider and Expressive Arts facilitator at MAGIS Creatives Spaces, where she integrates psychological and expressive arts-based methods in psychosocial support. 
The online talk is free to attend via Zoom, happening on August 25, 2022, 3:00-5:00pm. Link will be sent through email at least one hour before the event. Limited slots only! 
Sign up here: bit.ly/cofcon1 
AIO is a youth volunteer-run non-profit organization focusing on art applications and open conversations about life.
Get to know AIO: 
Want to become a volunteer? Sign up to become a member or be part of our management team: linktr.ee/aio.youth.club