"The worsening traffic situation in Metro Manila now costs PhP 3.5 billion per day in lost opportunities, according to a recent study made by the Japan International Cooperation Agency (JICA). This is equivalent to almost PhP 1.3 trillion in a year."
This according to Quezon City Rep. Winston "Winnie" Castelo, Chairman of the House Committee on Metro Manila Development.
In numerous reports, quoting various experts, the reasons cited for the nerve-wracking traffic in the metropolis are due to poor public transportation, poor public infrastructure, and poor public discipline in obeying traffic rules and regulations, among others.
"We aspire to become a world-class society, yet our actions and inactions remain to be third-world. We have to do, not only say, what it takes to be a part of the best of the best in the world, even if it means overhauling an entire industry," said Castelo, co-author of House Bill 6776.
House Bill 6776, principally authored by Speaker Pantaleon "Bebot" Alvarez, Majority Floor Leader Rudy Fariñas, and Rep. Catanduanes Rep Cesar Sarmiento, Chairman of the House Committee on Transportation, is now being deliberated by the House of Representatives in order to create sweeping reforms in the transportation sector leading to a major reduction in traffic congestion in Metro Manila and various urban centers in the country.
This measure aims to repeal Executive Order 202 which created the Land Transportation and Franchising Regulatory Board (LTFRB) and Executive Order 226 which created the Land Transportation Office (LTO). The bill aims to create a new and centralized Land Transportation Authority (LTA) which shall be an attached agency of the Department of Transportation (DOTr).
The LTA shall absorb the powers and functions of the LTFRB and the LTO, as well as the Traffic Enforcement Group of the Metro Manila Development Authority (MMDA).
This new government instrumentality is also tasked to prepare a National Land Transportation Development Program which shall provide a comprehensive road map for transport development through the following: traffic management, construction of expressways, improvement of bus and jeepney services, rationalized route structure, improved terminals and interchange facilities, and proposed feasibility studies to the viability of a suburban railway system and integration of the fare structure and ticketing system between routes as well as modes.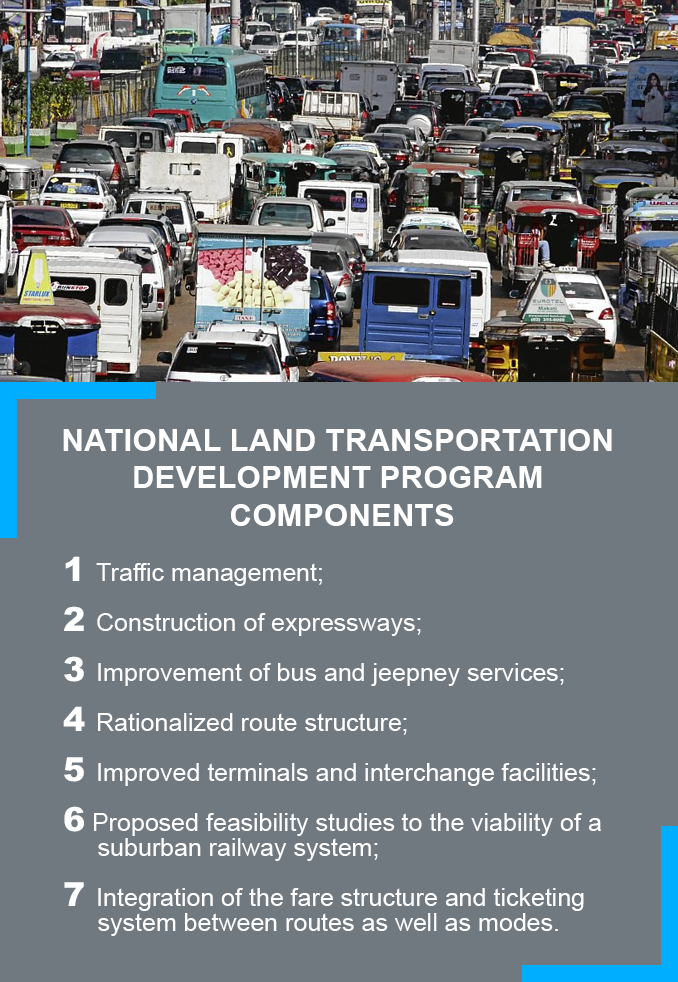 It is likewise given the authority to formulate strategies toward vehicular modernization and the establishment of a sustainable transport system.
There is a need to develop a strategic, scientific and systematic approach.
"There is a need to develop a strategic, scientific and systematic approach to this complex, complicated and convoluted problem of traffic gridlock," said Castelo.
"Only through comprehensive transportation policies, coordinated transportation programs, and complete transportation projects can we ever hope to solve this mess," added Castelo.
This will definitely bring us many steps closer to our destination.
"This proposal to create the Land Transportation Authority is not yet perfect, as there are still many issues and concerns that have to be addressed, but this will definitely bring us many steps closer to our destination," concluded Castelo.