Daranak Falls was a surprisingly satisfying last-minute-decision of a day trip. We did the right thing and left Quezon City early, at six in the morning, before the sun was fully up. Travel time to the Tanay, Rizal location was a little less than two hours on a traffic-free Sunday.
The place gets crowded easily because of its accessibility. Entrance and other incidental fees are cheap. The added perk of showing up early was being able to park at a good spot near the gate and getting to choose our "cottage." Both would be impossible if we came at noon onwards. Daranak Falls is open to visitors year-round from 8am to 5pm.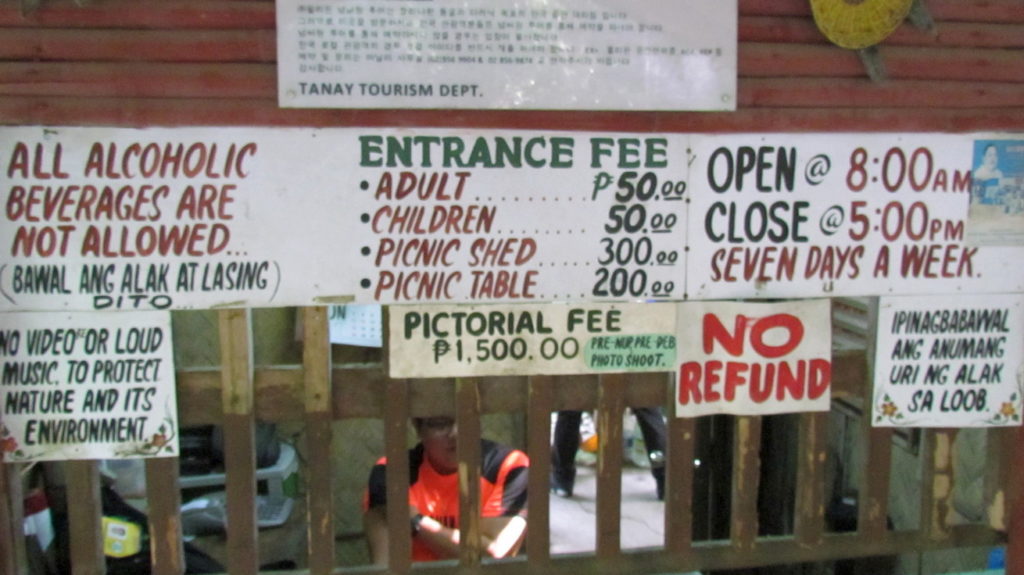 There was a big basin of cool mountain water at the foot of the falls where most people converged and swam. Small children and the elderly had ready access to smaller, shallower pools. The water was fresh and clean, the staff were polite, and fellow visitors were rather well-disciplined in terms of conduct and general cleanliness. Alcohol was strictly prohibited, and there weren't any rowdy, attention-seeking types the whole time we were there.
Accommodations were basic. Thatched-roof huts and open tables were simple yet fairly well-kept for a local government-maintained public space. A serviceable bath and wash area charged a minimal 5-peso fee. Visitors could grill and prepare their meals onsite, though meals, chips and drinks were sold by concessions in and outside of the park. We brought our own cooked food. Those looking for luxury-style appointments in a resort-like environment wouldn't find what they want in Daranak. The park wasn't that kind of place. It didn't cater to the see-and-bee-seen crowd.
Another 100-peso per head entrance fee and a ten-minute hike would have brought us to Batlag Falls, which was privately-owned and was supposedly less crowded. We were satisfied with Daranak as it was, however, and decided not to spend added time and money on Batlag anymore. Nearby Calinawan Cave, which we passed by along the access road to the falls, was likewise a possible future trip option.
Our Daranak-drive-on-a-whim was a good decision. I took the opportunity as well to run my aging superzoon point-and-shoot through its paces after the device served me reliably in Leyte just last May. The old camera's electronics have been acting up already and the optics are getting more iffy due to wear and tear. I hope to replace this six-year old travel companion when the cost of the newer camera I've been eyeing goes down to a level where I can actually feel comfortable spending on it.