Senator Cynthia Villar urged the Department of Foreign Affairs (DFA) and the Department of Labor and Employment (DOLE) to enhance welfare protection for overseas Filipino workers especially domestic workers bound for abroad citing the case of OFW Joramie Garcia Torres who was scalded with boiling oil and beaten up by her Malaysian employer.
Villar urged the DFA to extend legal and humanitarian assistance to OFW Joramie Garcia Torres as she attends court hearings and pursues a criminal case against her employer in Kuala Lumpur, Malaysia.
"We all should be proud and supportive of Joramie because she is intent on seeking justice under Malaysian law. While she cooperates with the Malaysian government, I hope that the DFA and DOLE can also assist her indigent family," the veteran legislator said.
The seasoned lawmaker noted that Torres was a grade school teacher prior to applying to work abroad as a domestic worker in Malaysia. The OFW is now under the care of the Malaysian government while charges against her Malaysian employer are pending in court. The Malaysian employer was arrested but was able to post bail.
"I hope that the P1-billion in Assistance-to-Nationals Fund of the DFA can be used to better protect and help our OFWs especially hundreds of thousands of domestic workers living and working under vulnerable conditions world-wide," the lady senator said.
Meanwhile, she expressed dismay over the unprecedented increase in the number of Filipinos being deployed overseas as domestic workers.
"Why are we sending more domestic workers now than ever before? Last year, the records of the POEA showed that we have almost breached the 300,000-mark in terms of newly hired migrant domestic workers. We should focus our attention more in offering women workers decent local jobs rather than facilitating their deployment to foreign households under slave-like conditions," Villar stressed.
According to POEA data, the Philippines deployed 275,073 first-time domestic workers overseas in 2016, compared to 194,835 in 2015 and 183,101 in 2014.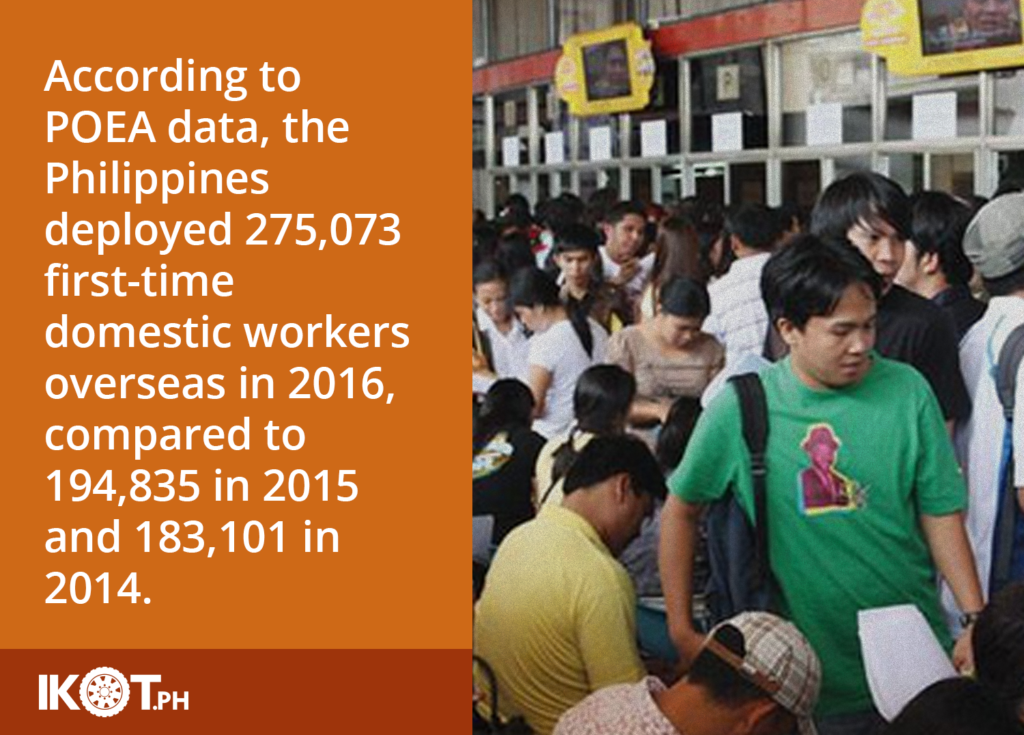 "For the first semester of 2017, the POEA has processed the contracts of 124,969 first-time migrant domestic workers. This means we may be sending 300,00 new-hires as overseas domestic workers by the end of the year. I find this quite alarming because the intention of our President has always been to find better and safer means of local employment especially for our women," she said.
Villar said cases of inhumane treatment and forced labor trafficking such as that of Joramie Torres underscore the need for the government to review its policy on overseas domestic work.
"Are we sending out more domestic workers than we can protect? The Department of Labor and Employment through the Philippine Overseas Employment Administration would have to review their existing policies on household workers because we cannot afford to see more "Joramies" stripped of dignity by foreign employers who think of our women as their slaves."
Villar said she intends to file a Senate resolution calling for an inquiry into the rising number of migrant domestic workers and instances of abuse and maltreatment concerning these workers on a per country basis.
"Indonesia has stopped sending domestic workers to the Middle East despite pressures from other governments. What exactly is the Philippine policy in relation to the deployment of overseas domestic workers? This is something that needs to be discussed because right now, the figures are quite alarming."