Senator Cynthia Villar recognized the crucial role of the Bureau of Agriculture & Fisheries Standards (BAFS) to ensure consumer safety while promoting the competitiveness of agriculture and fisheries products in the Philippines.
"It is a two-fold goal that should not be at the expense of one or the other," said Villar during the 19th Year Founding Anniversary of the BAFS.
The veteran legislator noted that safe and quality foods have remained to be the standard in the coming days.
In terms of food, the seasoned lawmaker, chair of the Senate Agriculture and Food committee, said food security is the primary topic.
"Many have cited and continue to cite that at the rate the global population is growing, there is a serious concern about food security worldwide," related the lady senator.
Based on estimates, she said there is a need to increase food production by over 60 percent to meet the expected global demand from a population of over nine billion in 2050.
Because of this, Villar said the agriculture sector has been promoting and implementing sustainable practices to hasten food production.
However, she said the food is not all about production since there is also the food safety aspect.
She acknowledges that BAFS has been giving many services to the public and the agriculture sector – from standards formulation, promotion, and information, to technical services, and registration of Organic Food and Input Producers/Establishments, among others, as well as accreditation of Organic Certifying Bodies.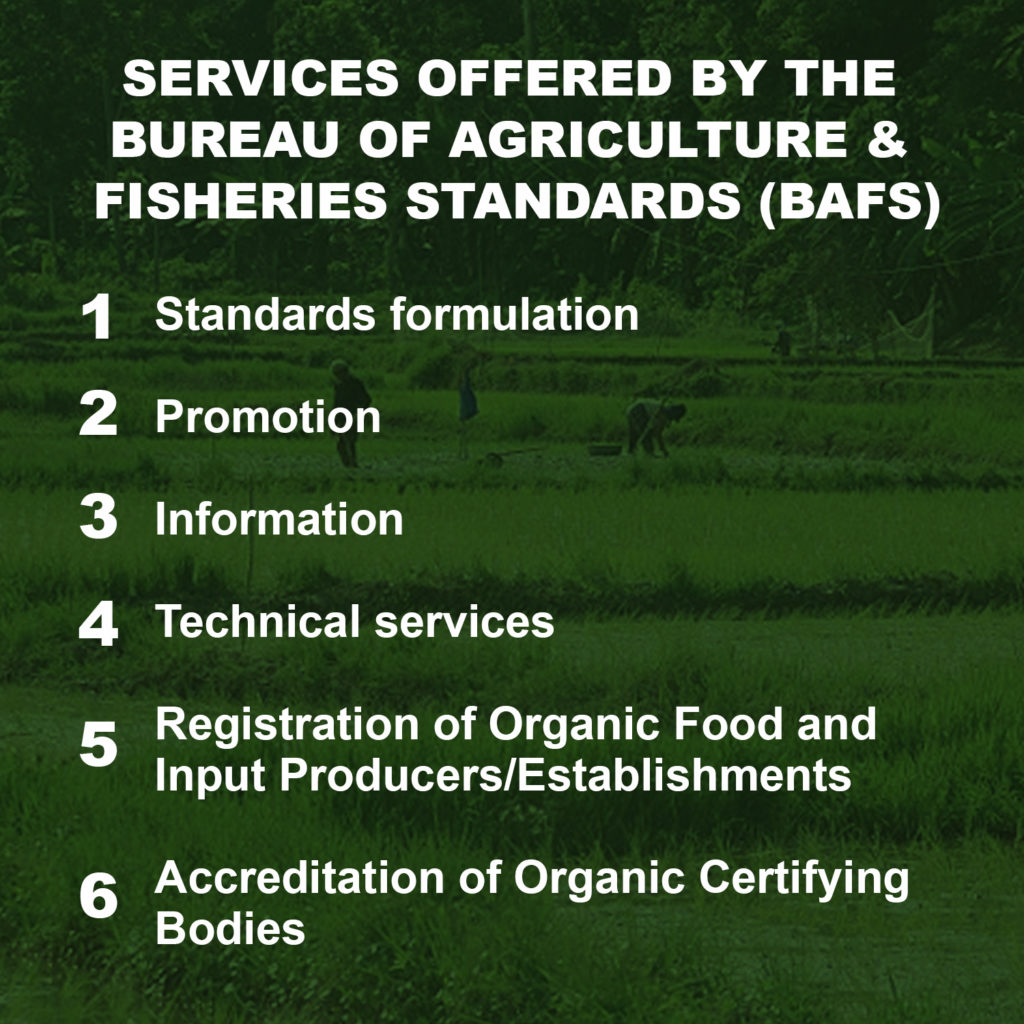 Villar said these services have important impact on the agriculture sector. The technical services for the implementation of agriculture and fishery product standards, Good Agricultural Practices (GAP), Good Animal Husbandry Practices (GAHP), are important, because "we are in the midst of the reintegration under the ASEAN Economic Community or (AEC)."
Focus on food safety, she said, is high on the agenda of the implementation of AEC.
ASEAN is moving towards standardizing practices and food safety systems such as GAP GAHP and HACCP-based systems among others.
Villar likewise said BAFS's role in the organic food sector including organic certifying bodies is also relevant as organic agriculture is becoming popular as we continue to promote it.
She said certification of organic bodies is also crucial. In fact, the international community is watching us closely about it.