The Senate Committee on Youth chaired by Senator Joel Villanueva tackled a bill seeking to exempt first-time job seekers from paying fees and charges collected by various government agencies for the issuance of documents needed for employment.
Under Senate Bill No. 1426 or the "First-time Jobseekers Assistance Act", exemption from paying government fees and charges are granted provided that such fee or charge is paid in connection with the application for and the granting of licenses, proofs of identification, clearances, certificates, or other documents usually required in the course of employment locally or abroad.
Villanueva said that the waiver of fees and charges will serve as an effective "activation strategy" to connect first-time jobseekers to job opportunities in the country.
"Ang hirap naman pong isipin na iyong mga kabataan natin, may skills pero dahil walang pera upang makakuha ng NBI clearance, birth certificate, at iba pa, ay hindi makapagtrabaho," the legislator stressed during the hearing.
The lawmaker shared that at present, first-time jobseekers face serious challenges especially in the production of pre-employment documents which include clearances from the Police and the National Bureau of Investigation (NBI), birth certificate from the National Statistics Office (NSO), Tax Identification Number from the Bureau of Internal Revenue (BIR), Community Tax Certificate, among others.
"The fees and charges collected by various government agencies for the issuance of the aforesaid documents add to first-time jobseekers' burden most especially those who come from lower and middle-income families. For students who were forced to take a leave of absence because of their fragile socio-economic situation, the cost is particularly burdensome," the senator lamented.
He added that the struggle poor fresh graduates and early school leavers or dropouts face when securing the required documents might not only make them feel "a loss of motivation to join the labor force" but also contribute to long-term joblessness that could result into skill depreciation and lower confidence to face the world of work.
"Exempting new graduates and most especially, early school leavers and dropouts from fees and charges on mandated pre-employment documents will surely lessen their economic woes, minimize the risk of being unemployed in the long-term, and maintain their motivation to actively pursue employment," Villanueva further explained.
If passed into law, the bill exempts first-time job seekers from paying (a) Police Clearance Certificate: (b) National Bureau of Investigation (NBI) Clearance; (c) Barangay Clearance; (d) Medical Certificate; (e) Birth and/or Marriage Certificate; (f) Tax Identification Number; (g) Community Tax Certificate; (h) Certification of Eligibility; (i) Authentication and Red Ribbon of documents; and (j) Other documentary requirements issued by the government that may be required by employers.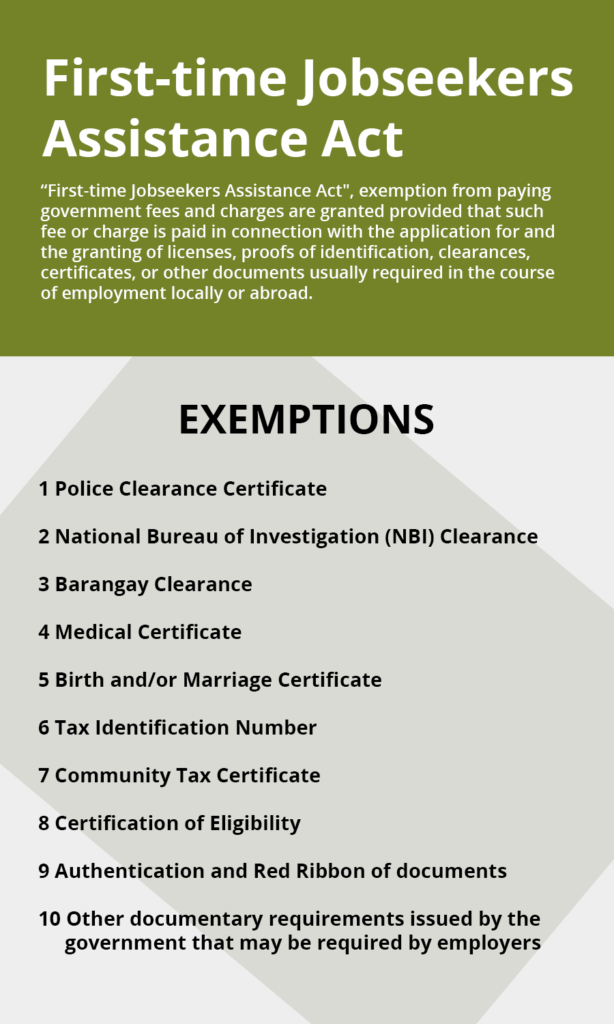 However, it is specified in the measure that the application for such license, proof of identification, clearance, certificate, or other documents shall be submitted within one (1) year after graduating or taking a leave from high school, college or any technical vocational course in any mode/s of learning.
The fees and charges to be waived do not include those collected in connection with an application to take a professional licensure examination conducted by the Professional Regulation Commission (PRC), application for a Philippine passport from the Department of Foreign Affairs (DFA), application for a Career Service Examination, and application for a driver's license from the Land Transportation Authority (LTO).
Moreover, the bill stipulated that before a waiver can be availed, a certified true copy of the first-time jobseeker's diploma, certification or leave of absence (LOA) from the concerned academic, vocational or technical institution that the said individual has successfully completed the course required or has earned academic units must be submitted by the applicant.
"I hope that with the passage of this measure, we would be able to help our young people enter the country's workforce without placing additional burden to their pursuit of finding gainful employment. The passage of this bill is earnestly sought to the best interest of the youth," he concluded.