With the worsening problems of obesity and improper nutrition among Filipinos, Senator Leila De Lima has filed a measure requiring all fast food and restaurant chains to disclose nutritional information in the menus of food they serve to public.
In filing Senate Bill No. (SBN) 521, De Lima said consumers need to be informed of the calorie content from food and beverages they take from fast food and restaurants chains to help them monitor their weight and avoid health risks associated with obesity.
"Weight gain occurs when more calories are consumed than are expended. Eating out, and eating extra calories while eating out, contribute disproportionately to the excess calorie intake that fuels the rise in incidence of obesity," the legislator said.
Under SBB 521, also known as "Nutritional Information Disclosure Act of 2017," fast food and restaurant chains are mandated to display calorie content information on the menus of "away-from-home" foods sold in most fast food and restaurant chains
Also covered are food sold at salad bar, buffet line, cafeteria line or similar self-service facility where calorie content information should be clearly and conspicuously displayed on their menus or menu boards.
"Nutrient content information provided at the time of food selection in food service establishments would enable consumers to make more informed and healthier food choices, promote health awareness and proper dieting, and assist consumers who are monitoring their diets or dealing with chronic diseases, such as cardiovascular disease and diabetes," the lawmaker said.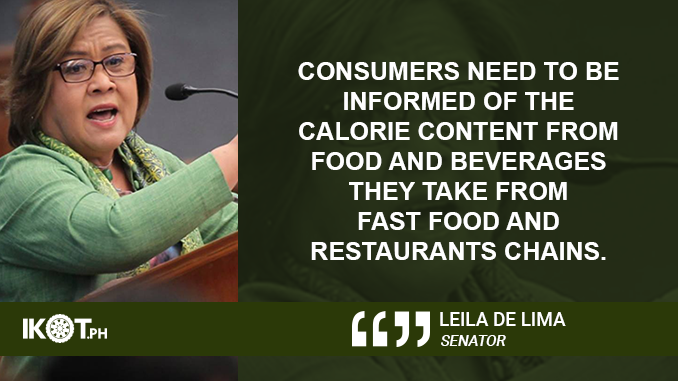 While most packaged foods are already required to disclose nutritional facts, the lady senator noted that those meals sold through food service establishments which serve food that is easily available, inexpensive and high in calories do not contain such disclosure.
"The health conscious have to guess at the nutritional content of meals taken in restaurants. On the other hand, those who are less aware of the need for proper dieting are left unaware of the nutritional values that they intake," she said.
Based on the 8th National Nutrition Survey conducted by the Food and Nutrition Research Institute in 2013, three out of ten – or 31 percent of – Filipino adults are overweight or obese. The same report stated that 22.3 percent of the adult population is considered hypertensive, as hypertension prevalence tends to increase with wealth and is slightly higher among rural versus urban residents. Meanwhile, diabetes prevalence is at 5.4 percent and increases among the rich and urban dwellers.
According to De Lima "nutritional information" includes total number of calories, total number of grams of carbohydrates, total number of grams of saturated fat, total number of grams of protein and total number of milligrams of sodium.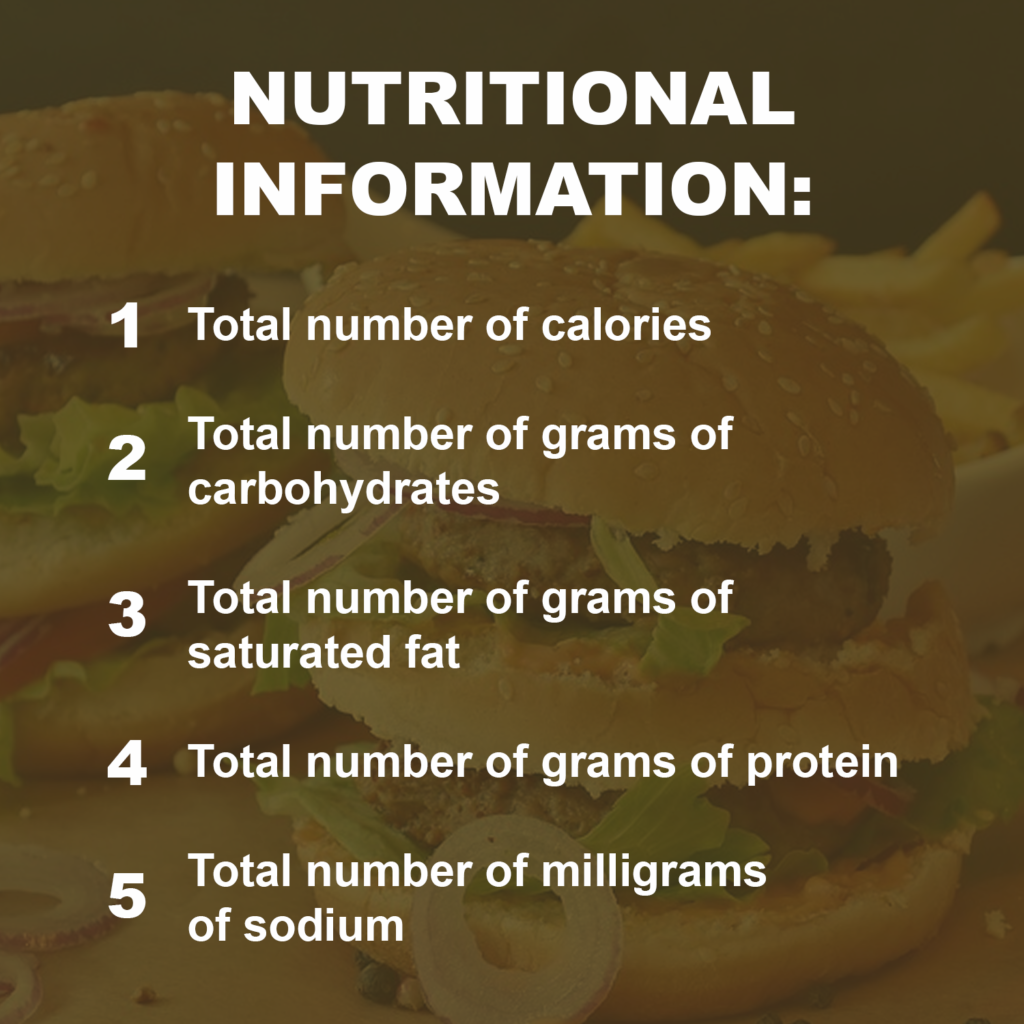 In cases of non-compliance, business operations may be suspended and the owner of the branch needs to pay a fine of not less than PhP300,000 for the first violation; not more than PhP600,000 for the second violation; and not more than one-million pesos for the third violation.