"The Ninoy Aquino International Airport (NAIA) is suffering from worsening congestion problems as its four passenger terminals serve about 40 per cent more than its designated capacity."
This according to Quezon City Rep. Winston "Winnie" Castelo, Chairman of the House Committee on Metro Manila Development.
"NAIA was designed to accommodate only up to 30 million passengers per year. This number was already exceeded in 2012. According to the Manila International Airport Authority (MIAA) website, the total passengers in 2012 was 31.9 million; in 2013 was 32.9 million; in 2014 was 34.1 million; in 2015 was 36.6 million; in 2016 was 39.5 million; and in 2017 was 42.0 million. This is an average growth rate of 5.7 per cent," said Castelo.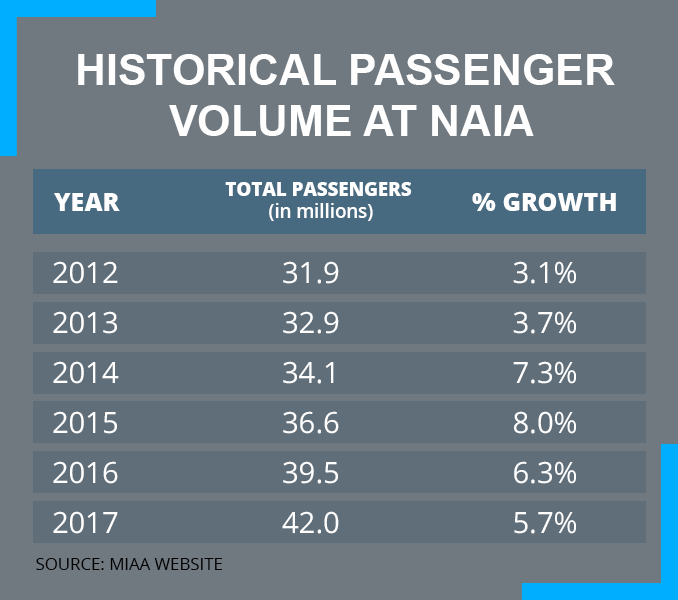 Presently, there are proposals to rehabilitate and expand the NAIA, move some flights to Clark, build new airports in Bulacan and in Cavite, among others.
"The airport congestion is one thing, the traffic in the metro is another. In 2014, it was estimated that the airlines using NAIA lose an average of PhP 7 billion pesos a year from the massive fuel expense alone. In the same year, a Japanese International Cooperation Agency (JICA) study reported losses of PhP 2.4 billion per day in lost opportunities due to traffic. In the latest study of JICA released February of this year, the amount is already a whopping PhP 3.5 billion per day," added Castelo.
"This is not the direction towards becoming a world-class society. This looks more like the road to perdition," lamented Castelo.
Currently, there are two proponents for the rehabilitation and expansion of NAIA. These are the consortium of Aboitiz InfraCapital, AC Infrastructure Holdings, Alliance Global Group, Asia's Emerging Dragon, Filinvest Development, JG Summit Holdings, and Metro Pacific Investments, as well as the partnership between GMR and Megawide.
For the new airport in Bulacan, the proponent is San Miguel. For the airport in Cavite, the proponent is the consortium of All-Asia Resources and Reclamation and Belle.
Our people deserve better service for better business and a better life.
"We have to find a solution to this metro traffic and the airport congestion. Our people deserve better service for better business and a better life. Our country deserves a better face in the eyes of the world," stressed Castelo.
Our country deserves a better face in the eyes of the world.
"I urge the executive department to fast track the consideration and implementation of these proposals for rehabilitation and expansion of old ones and the construction of new ones. These projects will definitely provide a life-changing welcome relief to Metro Manila residents as well as foreign and domestic tourists, not to mention accelerating economic growth in the provinces outside of the National Capital Region," concluded Castelo.