In celebration of the National Autism Consciousness Week, Senator Sonny Angara has called for the passage of a bill providing free and appropriate public education to children and youth with disabilities and special needs through the establishment of inclusive education learning resource centers throughout the country.
"While the right to education of our children and youth with special needs is guaranteed by several laws, studies have shown that many persons with disabilities do not complete any primary education at all due to cost and social barriers. Hindi na dapat maging hadlang ang kanilang kalagayan, pati na ang kahirapan, para sila ay makapasok sa eskwelahan," Angara said.
Senate Bill 1331 seeks to establish Inclusive Education Learning Resource Centers in all public school divisions in the country so children and youth with special needs could be integrated in regular classes from kindergarten, elementary to high school.
According to a news report, only 620 out of 34,000 public elementary schools across the country either have a Special Education (SPED) center or at least offer a SPED program.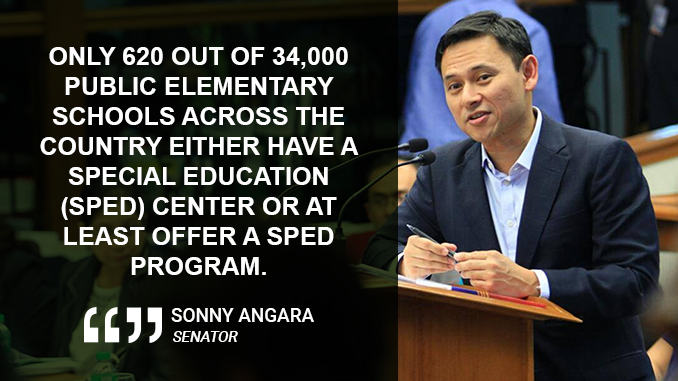 Under the bill, children and youth with special needs refer to those who are gifted or talented, or with neuropsychological retardation, learning disabilities, autism, emotional or behavioral disorders, speech and language disorders, hearing and visual impairments, deaf-blindness, physical or health disabilities, and multiple handicapping conditions, and are in need of special education as well as services for rehabilitation.
"These children should be provided with education in accordance with their needs to ensure that they fully develop their potentials toward self-sufficiency in preparation for adult living and to become participative members of society," the veteran legislator said.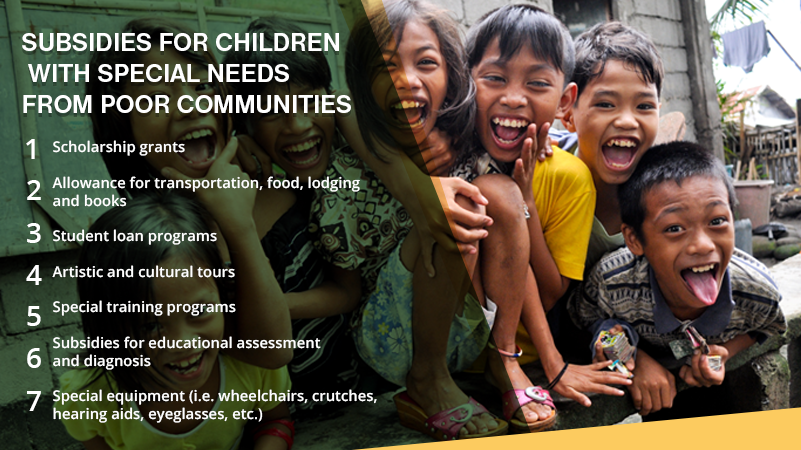 SB 1331 further provides that marginalized or disadvantaged children and youth with special needs coming from indigenous communities will be given priority in the grant of assistance which may come in the form of scholarship grants; allowance for transportation, food, lodging, and books; student loan programs; artistic and cultural tours; training programs; subsidies for educational assessment and diagnosis; and, other incentives.
Special equipment such as wheelchairs, crutches, special toilet and hygiene requirements, hearing aids, eyeglasses, learning devices, and other assistive devices required by students to optimize education and participation in the education process shall also be provided for free or at discounted rates to deserving students.
Moreover, the Alternative Learning System would be an integral component of the Inclusive Education Learning Resource Center. There shall be mobile SPED teachers who are tasked to find and identify children and youth with special needs in isolated and remote areas who are unable to attend formal schooling due to accessibility and mobility limitations, and determine appropriate learning modalities for them.
"Parents, siblings, and caregivers should also be equipped with a working knowledge of special education, an understanding of the psychology of children with special needs, and the awareness of their crucial role as educators," the seasoned lawmaker said.