The 29th National Astronomy Week is just around the corner!
On the third week of February, the country will celebrate its annual National Astronomy Week, a celebration aiming to broaden the public interest and understanding of astronomy, especially in our unique Filipino experience. In line with this, the University of the Philippines Astronomical Society will host a series of activities to promote astronomy and space education to Filipino students and the general public. Starting this February 19 up to March 5, get ready to enjoy and learn from these astronomical events!.
The theme for this year's NAW celebration assigned by PAGASA is "Maglayag Tayo Sa Mga Tala", a fitting theme to go along with UP AstroSoc's chosen theme which is Space and Sustainability and the relevance of space exploration to society. It's a fitting reminder as we set sail to go further into space and explore the universe more, we must never lose sight of what it is for and that is for the betterment of society and its people.
In true astronomical fashion, we introduce Big Bang, an astronomy-themed quiz show for a team of high school students that aims to showcase their knowledge about all things related to space and astronomy. Get your space-hats on because this competition is surely going to be both fun and thrilling!
If that piqued your interest but you're not a high-schooler, worry not because Orionids is for you, a week-long online trivia quiz game that will be held on the organization's Facebook page open for the general public. Engage with fellow astronomy lovers, test your general knowledge about space, and win some amazing prizes in the process!
If you are an educator, be it from traditional classrooms or your own unique platform, and you want to learn from experts from the industry and academe about communicating science and astronomy, Parallax is here to help, a webinar workshop pushing educators to keep on learning and develop instructional skills to foster curiosity to their students and/or audience.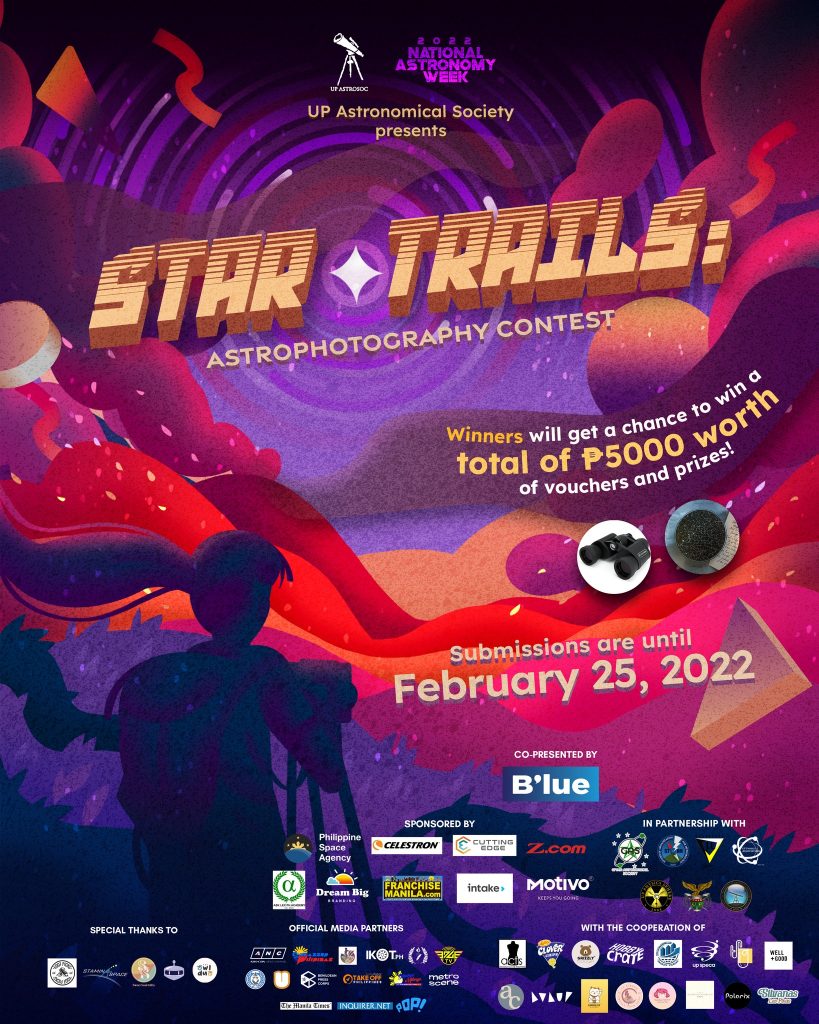 Maybe these events are still not up your alley, maybe you want to express yourself through the lens of your camera pointed at the sky. Explore this curiosity through Star Trails, an astrophotography contest for amateurs and hobbyists alike. If you're an artist with a different medium, through your sketches, words, or different creations, and one of your favorite subjects is the cosmos beyond, you can also submit your wonderful works to us for Star Trails: an astronomical art showcase.
There is something for anyone and everyone at UP AstroSoc's NAW 2022 celebration, so see what interests you and we hope to see you there!
For more information and updates about the sign-up links for each event, follow the UP Astronomical Society on Facebook, Twitter (@upastrosoc), and Instagram (@upastrosociety).