The House special committee on food security chaired by Rep. Leo Rafael Cueva (2nd District, Negros Occidental) approved a substitute bill seeking to promote integrated urban agricultural development in all metropolitan areas nationwide to address food security concerns.
The unnumbered bill titled "Integrated Urban Agriculture Act" substituted House Bills 2818, 4337, 4354 and 4422 authored by Reps. Estrellita Suansing (1st District, Nueva Ecija), Orestes Salon (Party-list, Agri), Michael Romero Ph.D. (Party-list, PBA), and Harlin Neil Abayon III (Party-list, Aangat Tayo), respectively.
Suansing said the bill seeks to institutionalize integrated urban farming in the highly urbanized cities and municipalities nationwide. This in turn will help address food security concerns and regenerate ecosystem functions.
Suansing, chairperson of the committee on ecology, said world population has been projected to double in 50 years. Relatedly, studies have shown that new land will be needed to grow enough food for everyone, she said.
"Urban agriculture and vertical farming will not only clean our environment and further avoid climate change, but also provide residents with safer, healthier food, at the same time keep farmers in business. Furthermore, urban agriculture and vertical farming will help reduce poverty," said Suansing.
Salon said that while the Philippines was hailed as one of the fastest growing economies in Asia for gaining 6.9 percent domestic growth product (GDP) in the first quarter of 2016, there is undeniable food shortage in the country as shown by its dismal ranking of 74th among 109 countries studied in the 2015 Global Food Security Index.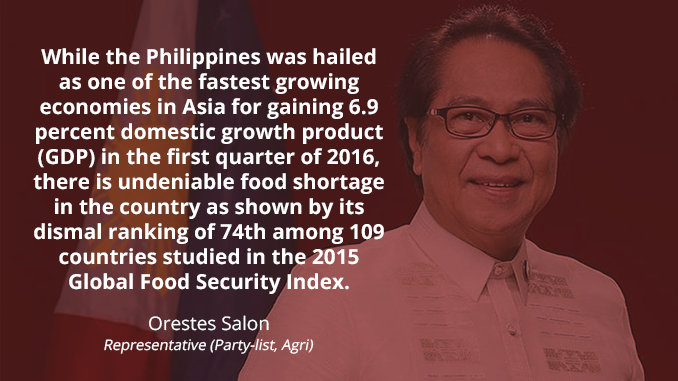 "Urban agriculture is a food-producing activity that is community-based and would definitely help an urban area in its quest for sustainable development," said Salon.
The bill declares it is the policy of the State to reaffirm the fundamental right of every person to adequate food and be free from hunger. As such, the achievement of self-sufficiency and sustainability in food production and security is hence adopted as a primary State policy.
Toward this end, the State shall develop climate change resilient communities in the metropolitan areas through the promotion of modern, appropriate, cost-effective and environmentally safe agriculture technologies to ensure food security, promote a healthy citizenry, and advance an improved quality of life for urban dwellers.
The measure defines integrated urban agriculture as the development paradigm that encompasses principles, management, technologies, and the policies relating to the practice and application of agricultural production of food and goods in urban areas.
It refers to food security as a situation wherein foods are available and affordable at all times and where all people have access to sufficient, safe, and nutritious food to maintain a healthy and active life.
The bill provides that urban agriculture shall apply to all urban spaces such as idle, government or private lots or buildings, available land resources in state or private universities and colleges suitable for growing crops and raising poultry and livestock, and for agriculture.
It mandates the Department of Agriculture (DA) Secretary to establish an office to be known as the Office of Urban Agriculture (OUA) to be under the DA. The OUA shall formulate the implementing guidelines, programs and operating principles consistent with government policies and objectives of the Act.
It also mandates the Philippine Council for Agriculture and Fisheries (PCAF) to monitor and ensure proper implementation of the Act. The PCAF shall have as members the Department of Health (DOH) Secretary, National Anti-Poverty Commission (NAPC) Chairperson, Presidential Commission for the Urban Poor (PCUP) Chairperson, representative from the private sector who has expertise in urban farming and vertical farming, and Lead Convenor of the Urban Agriculture Practitioners Network of the Philippines.
The PCAF shall ensure that programs established by the Act are implemented in ways consistent with the goal of poverty reduction, food security and healthy eating habits in urban communities.
Meanwhile the OUA, in coordination with the Department of Science and Technology (DOST), the Department of Environment and Natural Resources (DENR), and the DOH shall develop the research agenda on urban agriculture in the country's metropolitan areas.
Idle and/or abandoned government lots and buildings owned by either the national government or local governments or available land resources in state colleges and universities shall be considered for growing crops, raising livestock, and producing food.
Safety standards, good agricultural practices, and handling practices must be emphasized and promoted at all times. The OUA, DOST, DENR, DOH, and the local government units (LGUs), together with the pertinent agencies shall oversee the promotion of agriculture and minimize risks of microbial food hazards.
The bill also mandates the inclusion of urban agriculture in the academic curriculum for elementary, secondary and tertiary level students of both public and pivate academic institutions offering courses in Agriculture, Practical Arts, Home Economics and other agriculture-related subjects. A course curriculum on gardening shall be developed and included in the regular curriculum of elementary and secondary education.
For universities and colleges, urban agriculture shall form part of the required period of time spent by students in the National Service Training Program or the Citizens Military Training.