Senator Cynthia Villar has proposed for the use of locally-produced milk in the National School Feeding Program to help solve malnutrition among school children and to provide livelihood to poor dairy farmers.
During the period of amendments on Senate Bill 1279 or the "Pagkaing Pinoy para sa Batang Pinoy Act" sponsored by Senator Bam Aquino, Villar proposed for the insertion of a new section mandating the use of locally-produced milk in government's feeding program.
Under her amendment, the Department of Education (DepEd)shall collaborate with the Department of Social Welfare and Development (DSWD), the Philippine Carabao Center (PCC), and the National Dairy Authority for the incorporation of a milk feeding program into the proposed National School Feeding Program.
Further, the use of locally-produced milk in cycle menu and recipes, such as milk-based soups, breads and viands, shall be encouraged and developed in order to increase livelihood opportunities of dairy farmers and boost the local dairy industry.
"This program will not only provide an opportunity for the children of less privileged families to improve their nutritional status but will also motivate farmers to produce more milk because of the ready local market where they can supply their products," Villar said.
On many occasions, the chairperson of the Committee on Agriculture and Food has expressed disapproval over the dismal output of the dairy industry, which stands at one percent of the demand.
She suggested tying up the government's Pantawid Pamilyang Pilipino Program with a milk-feeding program using locally-produced milk, which prompted the PCC and the DSWD to hold supplementary feeding program for 10,000 children in pilot areas in Nueva Ecija, Bohol and Bukidnon from November 2016 to May 2017.
Under the program, 2,019 liters of milk per day were purchased from poor or smallhold dairy farmers in the communities.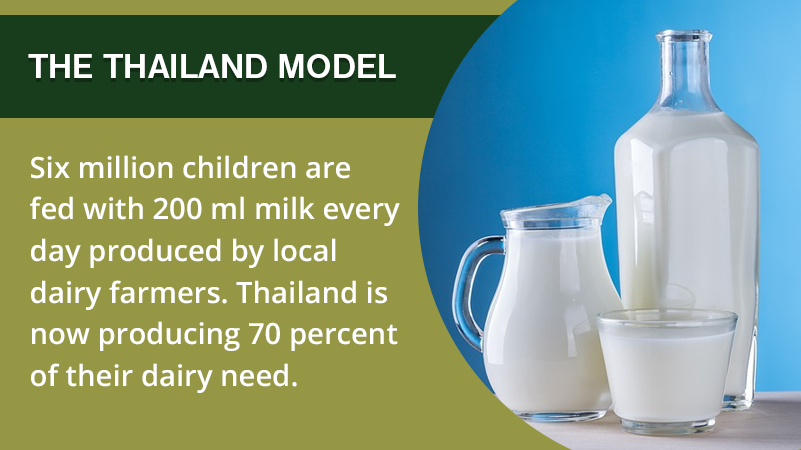 Villar also cited the Thailand model where six million children are fed with 200 ml milk every day produced by local dairy farmers. The model proved to be successful with Thailand now producing 70 percent of their dairy need.
"With this practice institutionalized, I am optimistic that we will be able to address two problems simultaneously – malnutrition among our children and poverty among farmers," she said.