By The University of the Philippines Mining Engineering Society (UP MINERS)
The University of the Philippines Mining Engineering Society (UP MINERS) will conduct the online Mining Talk 2023, with a theme "True North: Transforming Local Communities Through Mining" on September 28, 2023 (12:00 PM–4:00 PM).
As the highlight event of MINERS Week 2023, Mining Talk will emphasize the discussion on the sociocultural impact of mining on the local communities in the Philippines. Representatives from the government, industry leaders, legal experts, and indigenous advocates will share their valuable insights, undergo intense discussions, and answer some questions from the audience.
This event has produced successful stories, one example of that is the created partnership between the National Coalition of Small-Scale Miners and the Apex Mining Company through its Big Brother-Small Brother (BBSB) Program during the talk's 2021 installment which tackled the role of mining in the economic recovery of the Philippines during the pandemic. UP MINERS strives to create and provide more opportunities for the marginalized sector of the mining industry.
Interested participants can register here. Additionally, the event will be livestreamed on the UP Mining Engineering Society (UP MINERS) Facebook page for those who want to tune in.
MINERS Week 2023 is a flagship event of UP MINERS to commemorate its anniversary week. This year, they will be celebrating their 20th Founding Anniversary through a series of events.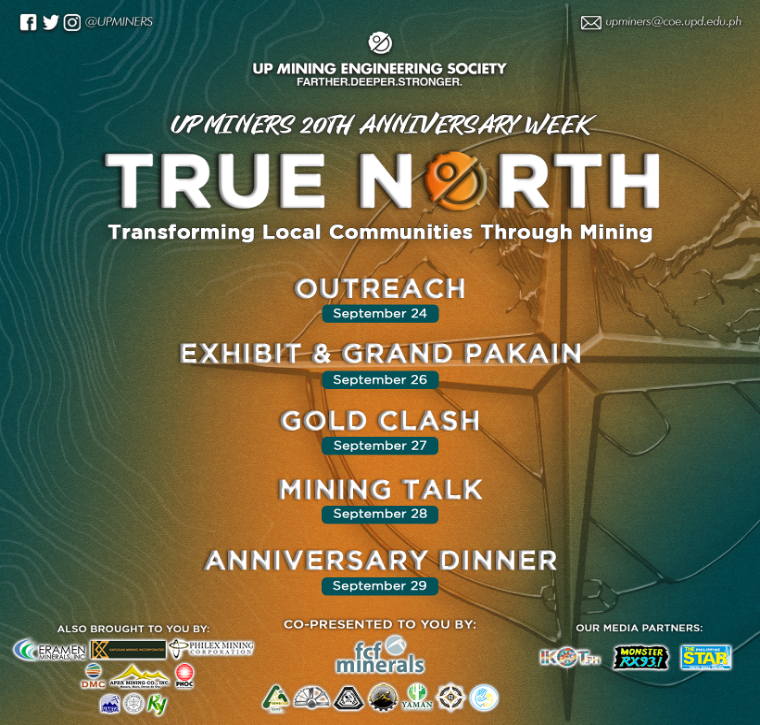 Aside from the Mining Talk, MINERS Week 2023 is also comprised of the following events: Outreach, an outreach program for Grade 1 students of Krus Na Ligas Elementary School; Exhibit and Grand Pakain, an event which showcases the events and activities of the organization all throughout the years; Gold Clash, a quiz bee open for all UP Diliman students; and finally, Anniversary Dinner involving members and alumni of the organization to conclude the week-long celebration. These events will be held on September 24-29, 2023.