I was scheduled to go to Legazpi City for a business trip (naks, that just made me sound rich, even if I am not).
Anyway, I do not know if anything big was up, but all the flights on the day of my meeting were fully booked. The options left to me were either to fly to Naga City (actually, Pili) then travel by land all the way to Legazpi City on the day of my meeting, or to fly to Legazpi City a day in advance and have extra time for whatever. Since I have nothing much to do in Manila anyway, I decided to fly to Legazpi City a day earlier. And so I did.
Upon arrival at the airport, I immediately checked in at my hotel, then I was free to go anywhere.
Having been to Legazpi City for countless of times (this trip must have been my fifth or even tenth time already), I decided to go elsewhere. So off I went to the neighboring province of Sorsogon for a day trip.
This is the story of how that short, but wonderful trip, went.
—
I was not in the mood to get wet, so swimming and diving with the whale sharks in Donsol was out of the question.
Disclosure, I do not know how to swim, and how to dive. And, no matter how many times my friends tell me that I do not need to know how to swim for me to learn how to dive, I would not dare risk it.
Admission, I love the beach, or even just the view of the beach and the sea on the horizon. If I can, when I can, I even stop at national highways or wherever I can find one, stare at the sight of the beach and the sea, from left to right, from near to far, and repeat it several times over, just to savor the moment of having the time and chance to be right where I was. It is the view. I love the view.
And so I decided to check out the nearest beach along my route where I could stop and be amazed.
BARCELONA
First stop was St Joseph Parish Church. Yes, this is a church, not a beach, but it is right in front of Barcelona Beach that is just across the street. In any case, I went to pray first, just for a while, but still a while. And then I crossed the street.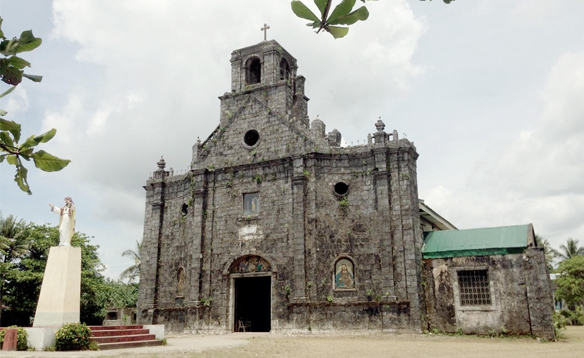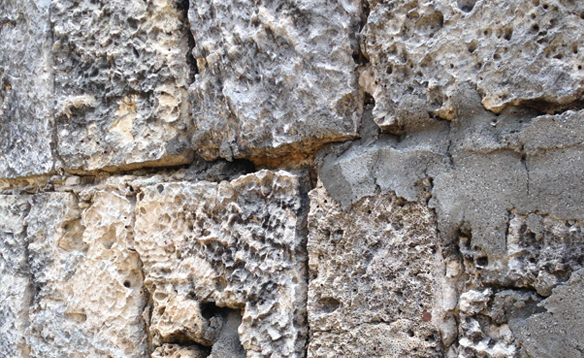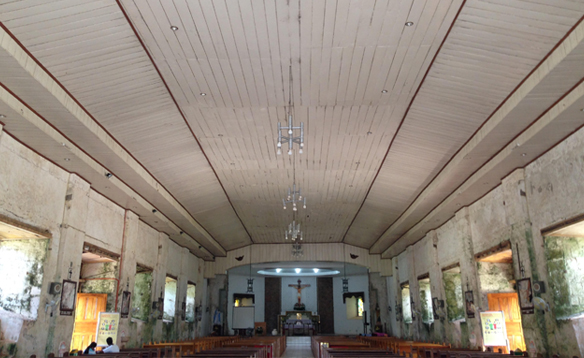 St Joseph Parish Church is a 143-year old church (built by the Spaniards in 1874). Townsfolk say that the structure was built out of a combination of corals (solid rocks and pulverized pieces), egg whites (roughly beaten) and tubâ (coconut wine). Supposedly, neither cement nor steel were used in its construction. 
Second stop was Barcelona Beach. Not the one in front of the Barcelona Church though. I had to jump off before I could savor the moment because the food was getting cold.
Nearby was the house of a friend of a friend. Free lunch. Too bad I did not have the time to enjoy the view in front of the church, though. But, it turned out, missing that one became too good to be true, for little did I know that the house that I was going to was a beach house, right where the waves were just a few meters away. Perfect. Free lunch. Free view. And free conversations about the beauty of the province and its people that I barely, or even never, knew before. I almost did not want to leave anymore but, of course, all good things must come to an end, but only because better things are on their way.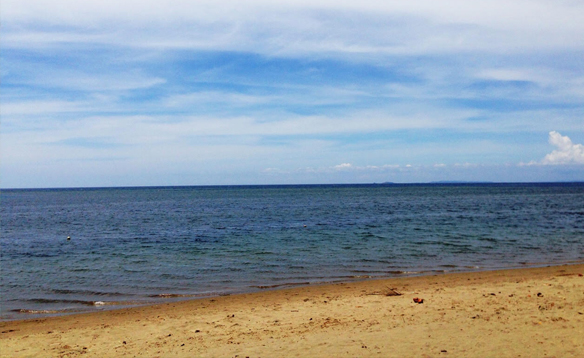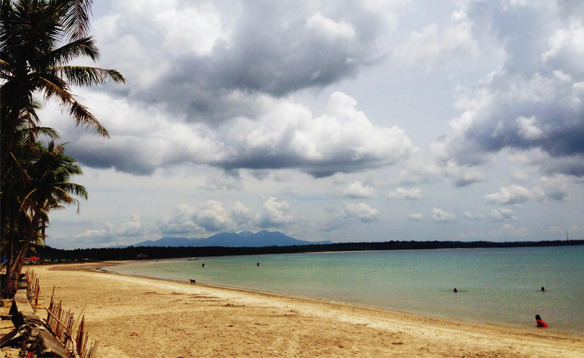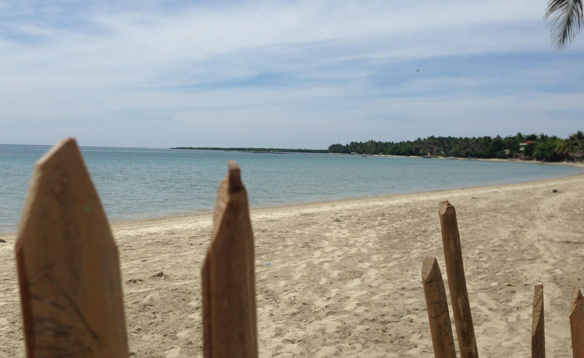 Barcelona used to be named Danlog (after the name of a local river) when it was still a part of Gubat and Bulusan. 131 years ago (in 1886), it became a pueblo civil. A Spanish official recommended the change of name to Barcelona because of its striking similarities with the topography of Barcelona, Catalonia, Spain. It has, however, the nickname of "The Little Switzerland of Asia".
BULUSAN
Third stop was Bulusan Volcano Natural Park. Now this one was a surprise. Hiding behind a thick rainforest (not just forest) was a lake. And, when the clouds parted, the peak of Mt Bulusan showed up. Wow. I was that near.
Anyway, the park has what they call a loop way, and I was encouraged to walk the trail. I politely declined. Not that I did not want walking because I like walking. It was that my time was limited and covering an area of almost 4 hectares (3,673 hectares to be exact) would mean I would need to spend the night there (and maybe even the next day or two). I walk really slow.
As an alternative, I was asked if I wanted to ride a boat (there were colorful boats parked along the lakeside) to go to the other side of the lake so I could have an even nearer view of the summit. I politely declined, again. Secretly, though, I really wanted a nearer view, but the zoom function on my camera would do. It was already time to go down the mountain, for there were still so many other sights to see, or at least as much as my remaining time allowed.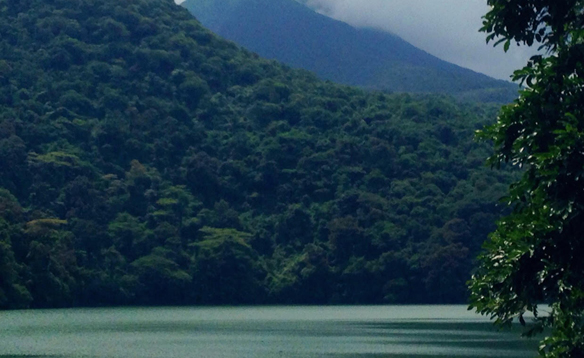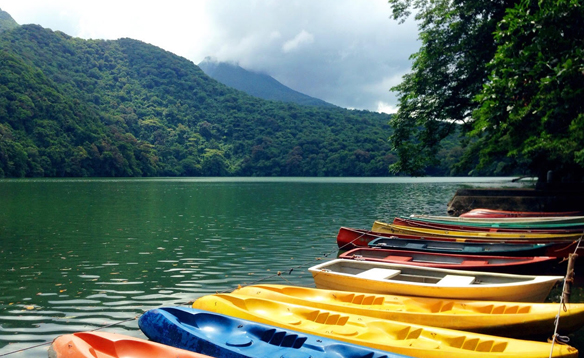 Bulusan Volcano Natural Park is composed of not just Bulusan Volcano but also two other mountains (Sharp Peak and Mt Hormahan) as well as two lakes (Bulusan Lake and Lake Aguingay). It also encompasses not just Bulusan but also Barcelona, Irosin, Juban and Casiguran.
IROSIN
Fourth stop was Valley View Park. From where I stood was a valley as far as my eyes could see. And, in the distance, was the volcano where I just came from. Now I was too far away and even the zoom function of my camera could not help me get a close enough view. But it was fine. I was told that my next stop would be a place to behold, something beyond unexpected, and some other superlatives that I can no longer remember because I was that excited. Actually, more curious than excited, but still excited beyond the ordinary.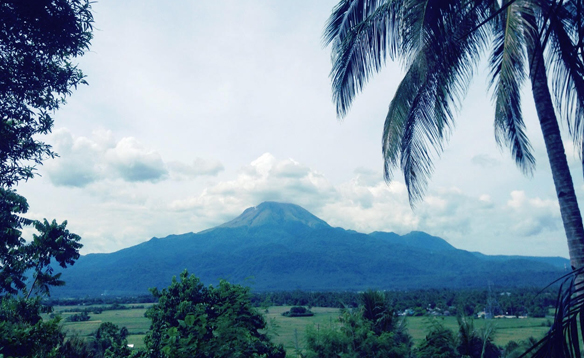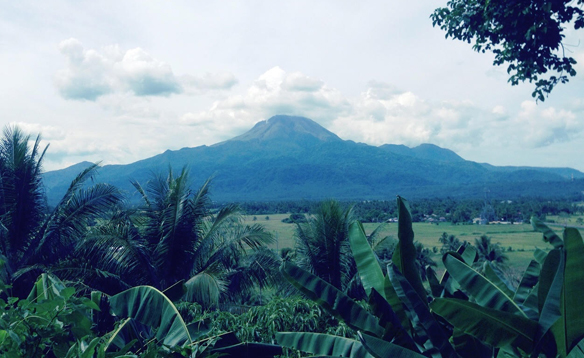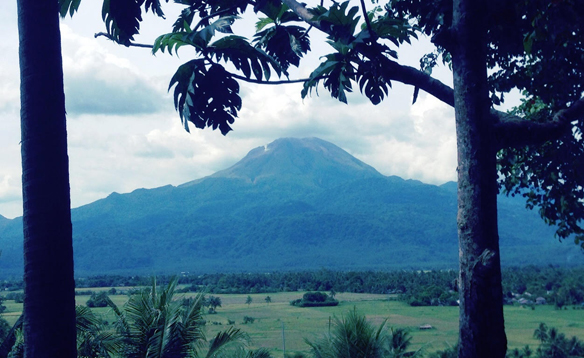 Irosin is the only land-locked municipality in Sorsogon (Sorsogon has 14 municipalities and one city). Irosin derived its name from the local term Iros (meaning: to cut-off a part). This is because Irosin used to be a part of Bulusan until 138 years ago (it only became a duly constituted pueblo civil in 1879). It is said that Irosin is one of the last places, not just in Sorsogon but in the whole Philippines, to be populated, because most of our ancestors in the 1800s preferred to live in the coastal areas and Irosin (at that time named Hin-ay) is an inland valley.
SORSOGON CITY
Fifth stop was Siama Hotel. It was every bit what I expected, based on the buildup, but so much more. Maybe I should let the photos speak for themselves? Perhaps I could insert a few notes here and there as introductions to, or captions of, the photos? Here they are.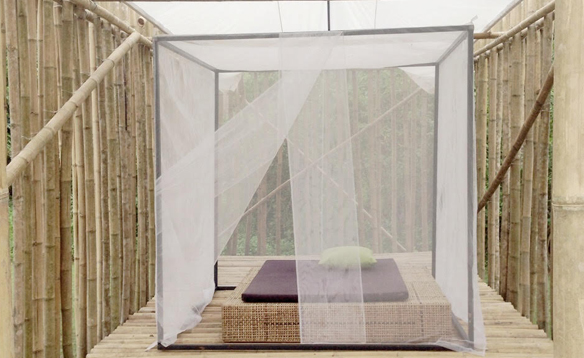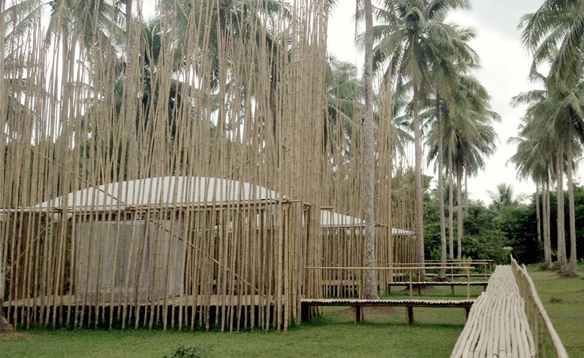 This is the outdoor spa, located in the middle of a coconut plantation, but elevated so you would not need to stand or walk on grass or soil. The roof (well, there is no roof) is the pale blue sky and the cottony white clouds, partially covered once in a while by coconut leaves dancing with the wind. The wall (it is still technically a wall despite the fact that it does not cover much) is composed of bamboo poles attached to one another without any rhyme or reason, as if they are still alive and each one racing towards the sun. The room has neither doors nor windows, and it does not need any, for each one is far from the other, you would never hear the snore or sneeze of anybody nearby. The bed (it is just a bed but it is huge by industry standards) looks so inviting one could not wait to lie down and get that signature massage.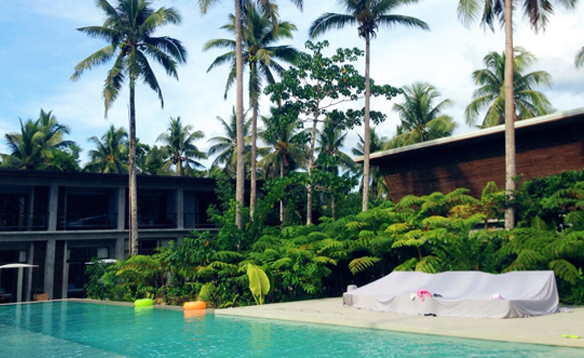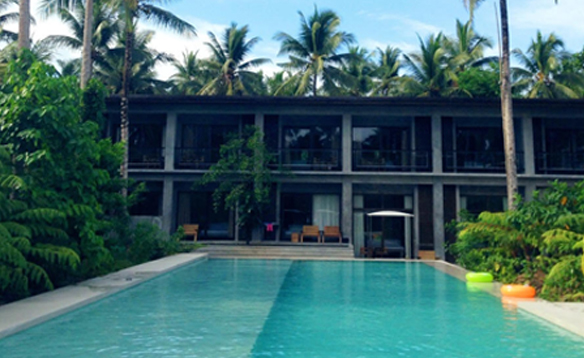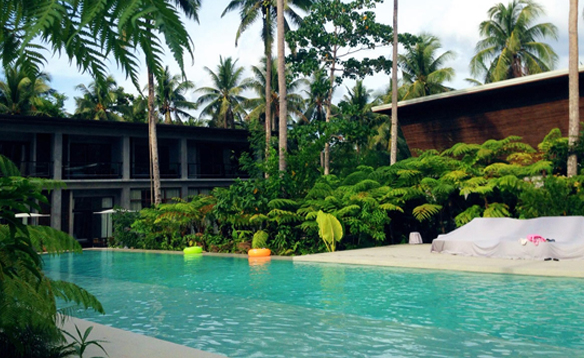 This is the swimming pool, located in the middle of the resort. Except for its rectangular shape, its modern tiles and its crystal waters, you could and would imagine yourself to be dipping in a surprise lagoon in the middle of a forest. It is surrounded by gardens and trees. And, or course, the well-appointed rooms that are very heavy on glass to have a clear view of everything. For many rooms, the pool is just a meter or two, or a few more, away. No need for a parade, or a procession. Just a few steps would do and, voila, you are there.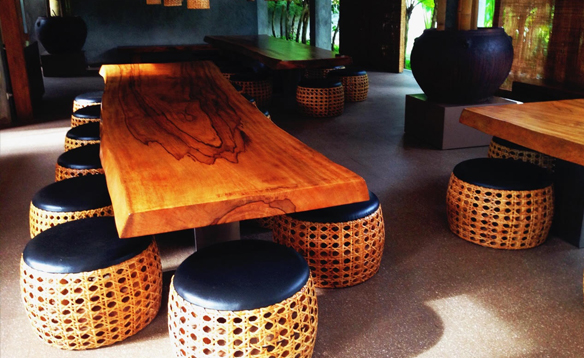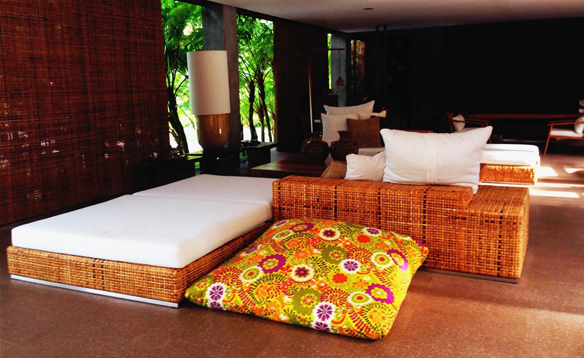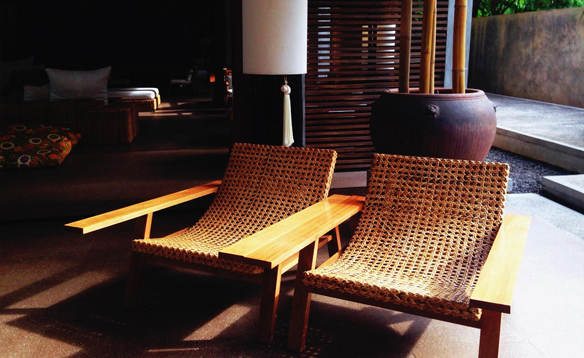 These are the furnitures at the lobby. Oh my, each piece is a work of art. You would be confused where to sit. You could even sleep in some. Looking at them, amazed at what you see, you would feel that you are not in the Philippines and, certainly, definitely, not in Sorsogon. But you are. 
—
What a day: my one day in Sorsogon. You want one day more, or more one days? I have also spent one day in many other places, but these stories will have to be in other stories. Abangan!