The National Electrification Administration (NEA) has received its new ISO 9001:2015 certificate confirming that the agency's quality management system is compliant with international standards.
Issued by TÜV Rheinland, NEA's certifying body, the certificate is valid for three years (from February 2018 to February 2021) subject to annual surveillance audit.
NEA Administrator Edgardo Masongsong said this achievement reflects the electrification agency's continued commitment to providing the highest standards of corporate governance.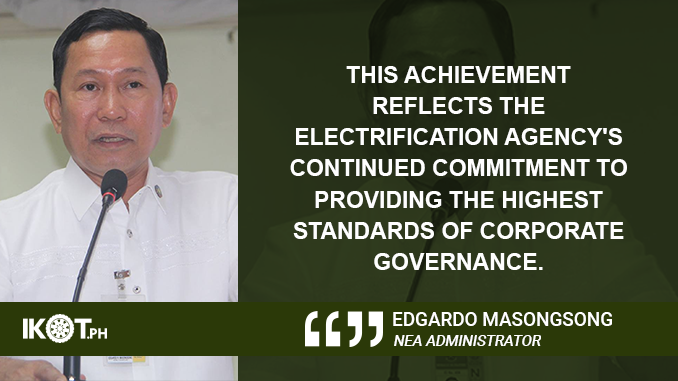 "This ISO 9001:2015 certification demonstrates our unwavering commitment to excellence. This is a proof that the services we provide to electric cooperatives and their member-consumer-owners adhere to international standards," the NEA chief said.
The audit was conducted by TÜV Rheinland last November 21 to 22, 2017. The certifying body, in its confirmation letter dated December 6, recommended the state agency for recertification to ISO 9001:2015.
The scope of the certification covers the provision of NEA services in the area of "financial, institutional, technical and legal assistance to the electric cooperatives which in turn undertake power distribution on an area coverage basis."
In its recertification audit report, TÜV Rheinland noted that "the organization has established and maintained an effective system to ensure compliance with its policies and objectives."
"The audit team confirms, in line with the audit targets, that the organization's management system complies with adequately maintains and implements the requirements of the standard(s)," the certifying body added.
In passing the recertification audit, NEA registered zero nonconformity in the processes surveyed and showed a number of positive findings which backed its application for the new certificate.
"This is an evidence that we are continuing to upgrade the delivery of service to our clients based on international standards. We need to sustain the track record of NEA," said Engr. Francisco Caymo, NEA Quality Management Representative.
The certifying body likewise, in its report, made some recommendations and opportunities that can contribute to the improvement of the electrification agency's quality management system.