MARK THE DATE AUGUST 21, 2021 7:00 PM
Things are looking better and better for SugboAnon Social's E-HUB's concert for a cause! Just recently, a new set of TALAs were revealed! Just like a meteorite, these TALAs are here to make a BIG EXPLOSION on the night of the event sharing their talents, stories, wisdom, and more!
Check their Facebook page here!
NEW TALA REVEALED!
First in line is Miss Everything whose catch phrase, "How are you to find out?", reached international borders, even Anne Marie took notice. Next is Andrea Badinas whom we first know from ABS-CBN's Philippine version of the Voice Teens.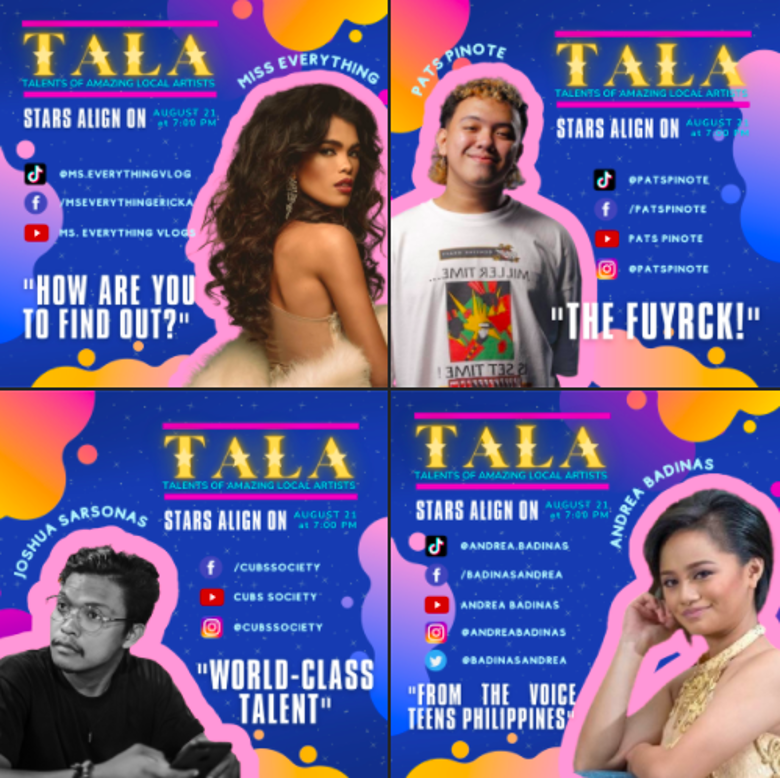 Also watch Pats Pinote known for his absurd but funny Bisaya comedy skits on TikTok. And lastly, Joshua Sarsonas of Cubs Society whose dancing skills are popular locally and internationally.
Additionally, SugboAnon Social's E-HUB also revealed some of the best talents from Cebu last week. Here's the complete list: Champagne Cabido, Josie Rodriguez, Claire Yongco, Glennjoy Amoin, Jayrald Espinosa, Rache May Parco, Shawn Viño, Angela Carasco, Mach Band, Lloyd Abesia, Kyla Dizon, Mary Tuburan, Cubs Society, Vanessa Parame, Mystique, Mikee Allago, Sphynx, Edrhea Barolo, and Ghea Vilvestre.
During the concert you can donate any amount to SugboAnon Social. All proceeds go to Project HYGO – a project that strives to distribute basic healthcare and first aid kits to selected beneficiaries, the homeless, the needy, and those who are most vulnerable especially considering the increasing number of positive cases in Cebu. The concert also aims to acknowledge local performers, promote their talents and stories to how they cope with the new normal.
Root for your favorite TALA today (Saturday), at 7:00 PM, as you enjoy a front row experience of their special performances at the comfort of your home! This event will exclusively stream on SugboAnon Social's FB page at https://www.facebook.com/sugboanonsocialofficial. LIVE updates coming from their IG page at https://www.instagram.com/sugboanonsocial/. See you there!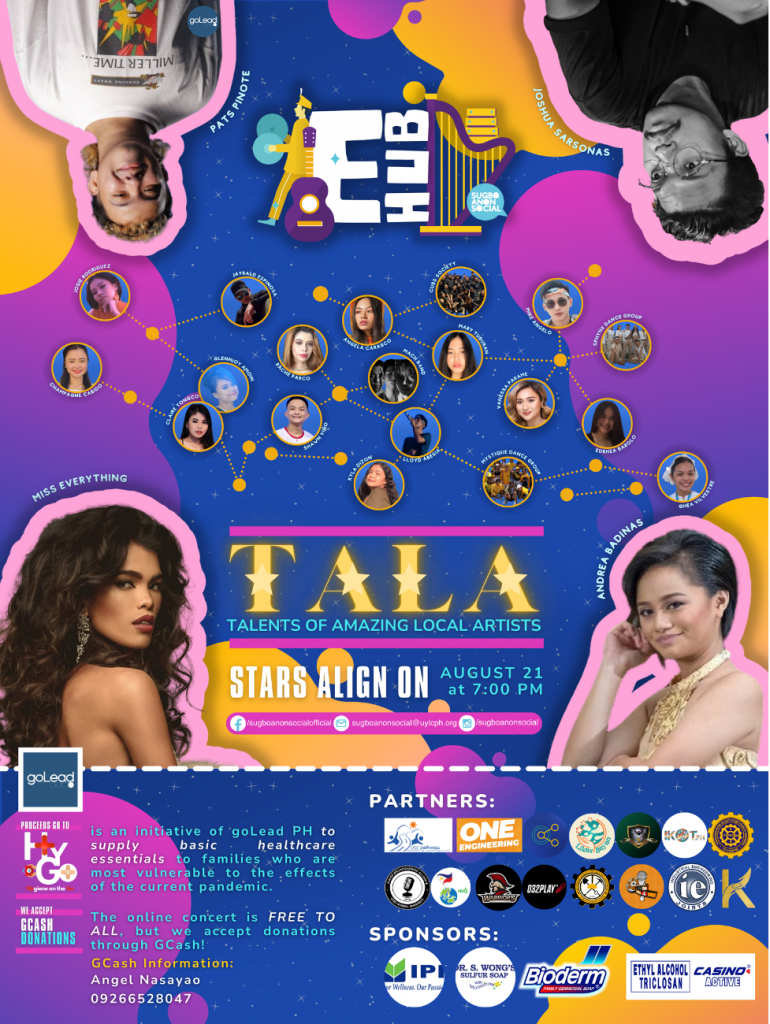 Share this article: