Cabinet Secretary Karlo Nograles, speaking at a gathering of government-led vegetable and planting advocates, said that urban gardening can help achieve food security and provide solutions to the increase in prices of food items.
Nograles attended the Buhay sa Gulay Project Harvest Festival last February 18, 2021 as part of the national government's coordination efforts with LGUs in the effort to ensure a steady food supply during the ongoing Covid-19 pandemic.
"We see the project as a highlight of the Duterte administration's Kontra Gutom advocacy."
"The Buhay sa Gulay Project is a concrete solution urban dwellers can resort to in easing the challenges posed by rising commodity prices. It also develops self-sufficiency and concern for the environment. We see the project as a highlight of the Duterte administration's Kontra Gutom advocacy," the Malacañang official noted.
Nograles was joined by Quezon City Mayor Joy Belmonte, Vice Mayor Gian Carlo Sotto, DAR Secretary Atty. John Castriciones, DAR Usec. Emily Padilla and Usec. Virginia Orogo, DAR CALABARZON Director Rene E. Colocar, DSWD Director Restituto Macuto, Nonong Velasco of Task Force QC Food Security and barangay officials from Bagong Silangan.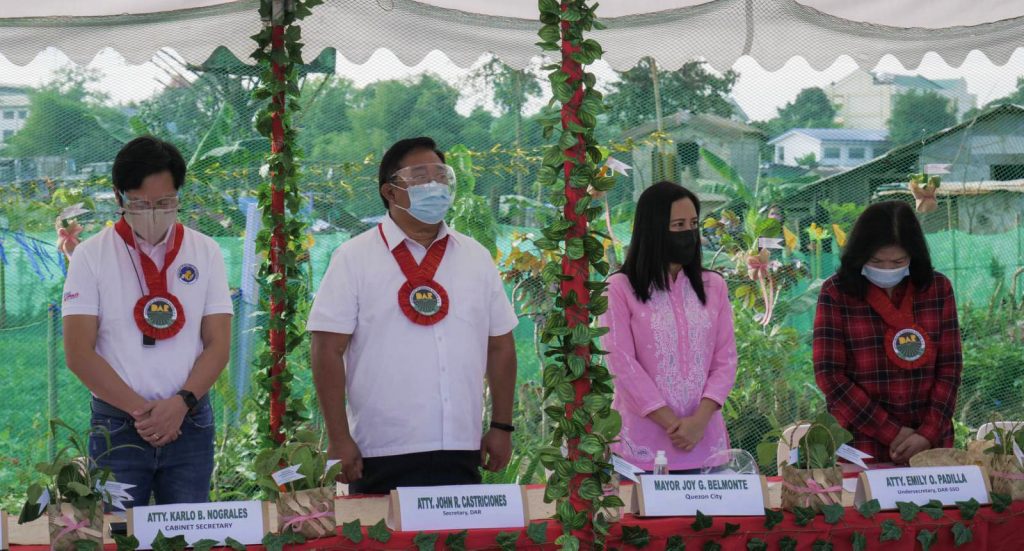 A 7-hectare urban gardening center is a joint project of the Quezon City LGU and the Department of Agrarian Reform (DAR), Department of Agriculture (DA) and the Technical Education and Skills Development Authority (TESDA). It has received support from the Task Force on Zero Hunger, which Nograles heads.
In praising the gardening effort, the Cab Sec remarked that Quezon City was among the world's sustainable cities that effectively balanced revenue generation with protecting the environment, championing sustainable development and providing a balanced quality of life for its residents.
"Quezon City, through the leadership of Mayor Joy Belmonte, is an example of good governance that should be emulated. We see these efforts being continued beyond the Covid-19 pandemic," the former legislator said.
Nograles additionally thanked Secretary Atty. John Castriciones for implementing the succesful city planting endeavor and expressed optimism that similar projects will be pushed in other cities in Metro Manila.
"Growing your own food reduces our carbon footprint, drives us to be self-sufficient, and directly empowers the citizenry in the fight against hunger and poverty."
"We must make our communities more aware of urban gardening. Growing your own food reduces our carbon footprint, drives us to be self-sufficient, and directly empowers the citizenry in the fight against hunger and poverty."