Author: Jamaima Lacsinto
One Dream. One Passion. One Anthem.
After 8 years of working together, One Anthem stays dedicated to its team's mantra. They started with their dream of uniting the efforts of different youth artists on a local to national scale. Often, they were asked about their motive in pursuing this movement, this drive. Their reason is not about getting fame nor they are after money. One thing is for sure, it is that one thing beyond and deeper than passion – they aim to project change.
Through their small steps, they connect people. For them, a single step forward is a big leap to their vision of bringing this community to life. Now, they have already included the bigger picture of art in their dream. Different art forms are accommodated and welcome in this haven.
This team knows that art is not confined to colored pens and sketchpads. One Anthem Project believes that the performing arts should also have their own stage, their own spotlight, and their own name. And eventually, it paved the way for busking.
Music and art busking. Events after another.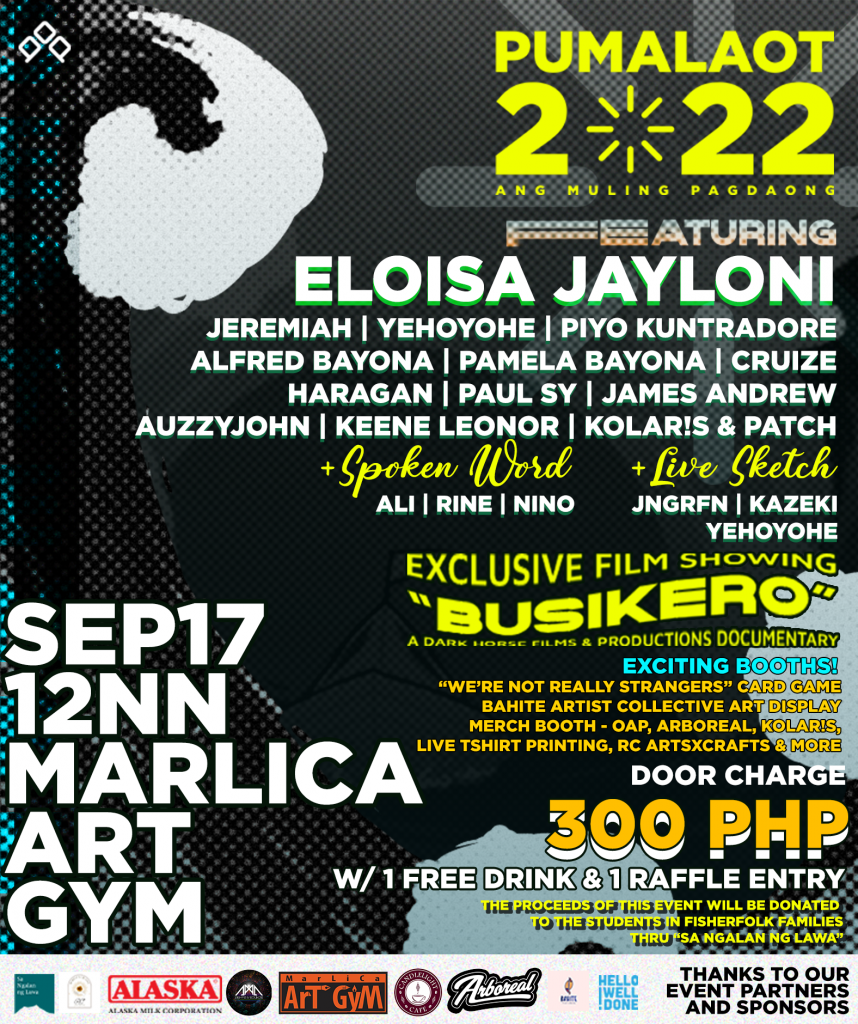 The One Anthem Project conducts a yearly event, Pumalaot. This movement is an annual event that seeks not only the people who have talent but all the people who have a heart for their arts.
This year's Pumalaot event will be on the 17th of September in Marlica Art Gym at 12 noon. Different personalities are invited, including the Queen of Busking in the Philippines, Eloisa Jayloni, James Andrew, Keene Leonor, Yehoyohe, Auzzyjohn etc.
This event highlights the busking community from different provinces in the Philippines. Adding more to that, an exclusive film showing "Busikero" will also be showing on this day. This documentary film was made by the De La Salle-Lipa students.
Aside from the musicality, the event also features a lot of spoken word artists, graphic artists, and dance performers. Various booths also cater to the interest of the attendees to enjoy this event. Some of these are on-the-spot sketching booths, "we're not really strangers" card game booths, Bahite art collective booths, and so on.
Ambitious as it may seem, Pumalaot is a non-profit organization but a fund-raising event. All the proceeds will be forwarded to a specific beneficiary. For this year, the proceeds of the event will be for the students who are the kids of the fishermen folks in Taal, Batangas in the care of Sa Ngalan ng Lawa.
Looking back to the first Pumalaot event in the year 2018, all the funds raised were given to Pinagpala Children's Home. Big artists were also invited to the previous Pumalaot events: Munimuni (Pumalaot 2021), Antonio Bathan (Pumalaot 2018, 2019, 2020, and 2021), Martin Riggs, Carlo Hornilla, and Keene Leonor.
This isn't a show-off; this is an art revolution. 
We are artists. We are One Anthem Project.