In line with providing the Armed Forces of the Philippines (AFP) adequate wherewithal to achieve the goal of having a credible military, Senator Dick Gordon proposed to allocate an additional P464-million for the construction of barracks for military personnel.
Gordon made the proposal during the period for individual amendments on the proposed General Appropriations Act of 2018.
The veteran legislator has earlier pointed to the need for additional barracks or housing for the military, citing the shortage of quarters in the country's military camps that has constrained some military personnel to sleep in the offices.
"You will recall that the military tasked us that there were no barracks for the military. In most of the camps in the country, they have no barracks, in Camp Aguinaldo they have no barracks. I was surprised, I lived with the US Navy all my life and these people had BOQs, bachelor enlisted men's quarters, they have Navy housing, and yet we are so niggardly providing for our military," the seasoned lawmaker said.
The P464-million additional allocation will be used for the construction of the following: enlisted personnel male barracks, amounting to P99-million; enlisted personnel female barracks, which would cost P49.5-million; four-story female officers' barracks, P50.5-Million, four-story male officers' barracks, P101-million; two 16-door married officers' condominium, P114.9-million; and a 16-door NCO condominium.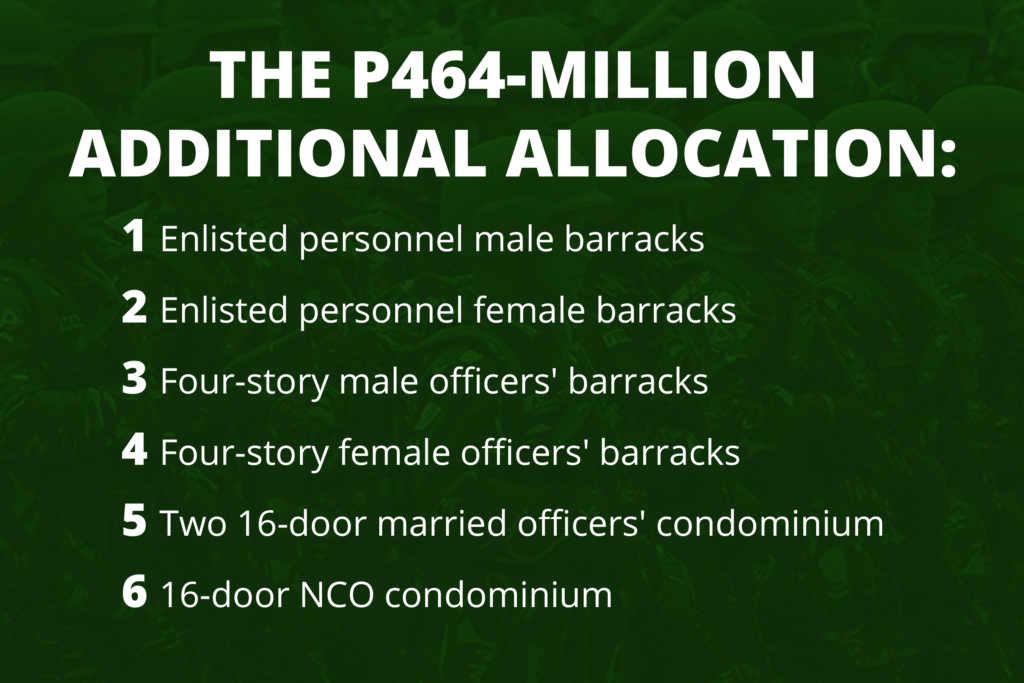 The senator from Olongapo and Zambales said the proposed allocation, which is supported by Senator Gregorio Honasan, chairman of the Senate Committee on National Defense and Security, could be sourced from the P32-billion lump sum appropriation in the budget of the Department of Public Works and Highways (DPWH).
"Their (military) morale will certainly go up if they have homes for their enlisted men and women, for their officers, which they don't have in any camp, practically. Nakita naman natin sa Marawi, ilan ang namatay na sundalo. This should be a good reward for our soldiers and I think this would be well taken by the military. I hope it would be admitted," he said.
Hearing no objections, Senate President Aquilino Pimentel III approved the inclusion of the amendments in the 2018 budget bill.