Senator Sonny Angara congratulated the Samahang Basketbol ng Pilipinas (SBP) for a job well done as the Philippine-led consortium won the rights to host the 2023 FIBA World Cup.
"Congratulations and many thanks to SBP former president and chairman emeritus Manny V. Pangilinan for devoting so much time and resources to produce a Philippine basketball renaissance. He is the real MVP. There were other strong bidders. But he was able to clinch it. In basketball terms, he made three-point shot after three-point shot," Angara said.
The Philippines finally clinched the hosting of the 2023 World Cup as its consortium with Indonesia and Japan got the nod of the majority within the FIBA Central Board over the intense, dual bid of Argentina and Uruguay.
"Millions of our kababayans I am sure are thrilled with the thought that they will be seeing the best basketball players in the world play in our very own soil," Angara said.
This marks the second time the country will be staging the world championships since hosting the 1978 edition.
"Under SBP and MVP's leadership, we made the first World Cup since 1978 in 2013 in Seville and our first win in many years vs Senegal," Angara said, pointing out that bringing the basketball World Cup to Manila is a 'world class coup" and "we must pull out all stops in staging an unforgettable tournament that will watched by billions of people."
The veteran legislator, who is a huge basketball fan, called on the government to go all out and "show the world not just world class basketball skill, but also world class RP hospitality."
"We have five years to prepare. Hopefully, by that time, train service in Metro Manila has improved, there will be less traffic, so we can encourage basketball fans from neighboring countries to come here," the seasoned lawmaker said.
Although the 2023 FIBA World Cup will be a private enterprise, the youthful senator called for "government equity."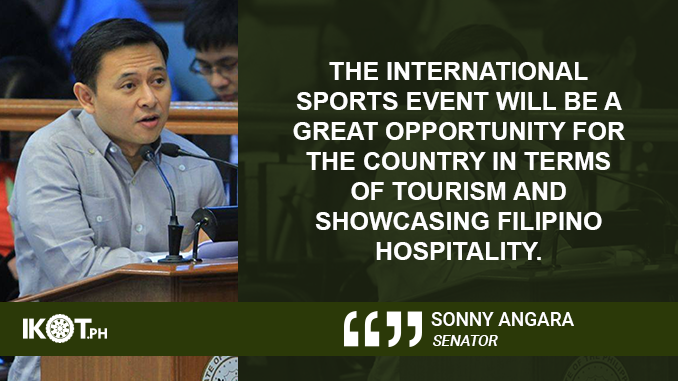 "What government can do, is to fix the roads, spruce up the city, and take charge of the security," he said, stressing that the international sports event will be a great opportunity for the country in terms of tourism and showcasing Filipino hospitality.