The House Committee on Appropriations approved a substitute bill seeking to regulate the practice of criminology profession in the country through the creation of the Professional Regulatory Board of Criminologists (PRBC).
The proposed legislation titled "The Philippine Criminology Profession Act" will repeal Republic Act 6506, otherwise known as "An Act Creating the Board of Examiners for Criminologists in the Philippines."
The unnumbered bill provides that the State recognizes the importance of the criminology profession in national security, public safety, peace and order, and in nation-building and development.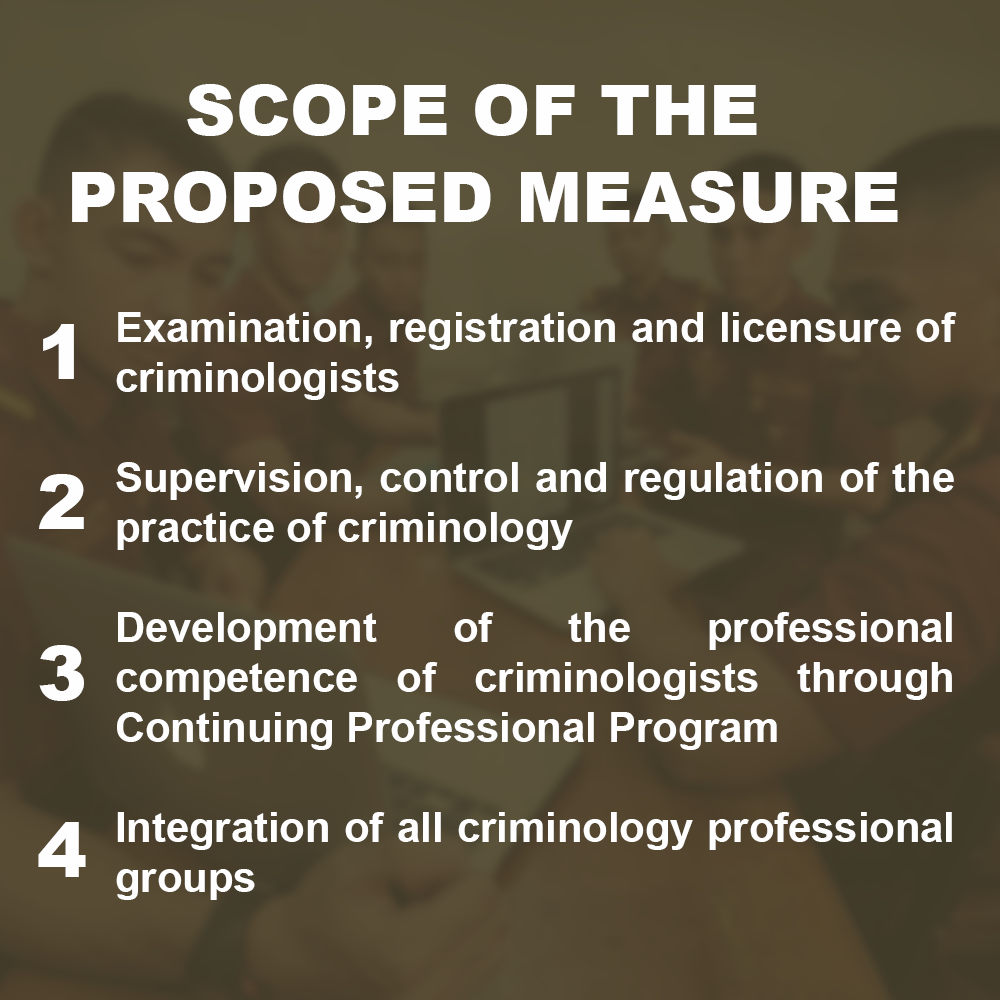 The State, therefore, shall develop and nurture competent, virtuous, productive and well-rounded criminologists whose standards of professional practice are at par with the Philippine Qualifications Framework.
This means future criminologists will be trained to become excellent, qualitative, world-class and globally competitive through honest and credible licensure examinations, coupled with programs and activities that would promote professional growth and development.
The bill defines criminology as the scientific study of crimes, victims of crimes and criminals in relation to society, which sets and defines rules and regulations for themselves and for the common good.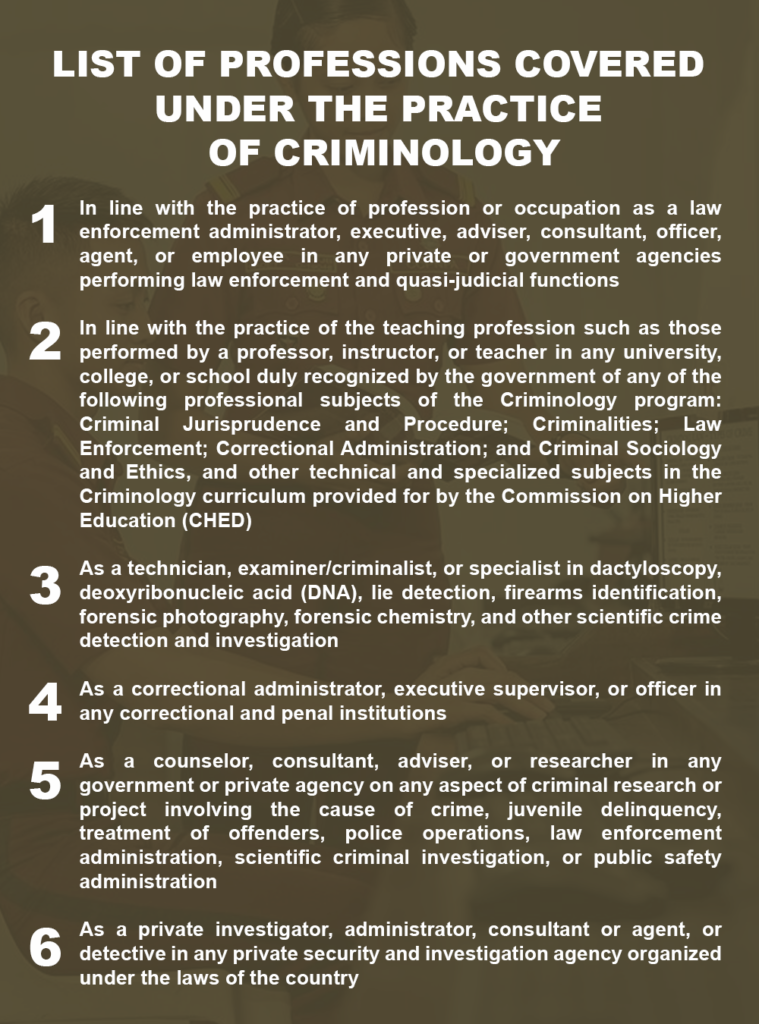 The committee retained the funding provision of the bill stating that the chairperson of the Professional Regulation Commission (PRC) shall provide a budget for its implementation, which shall be incorporated in the commission's annual General Appropriations Act (GAA).
The PRBC will be composed of a chairperson and four members to be appointed by the President of the Philippines. They will be under the administrative supervision and control of the PRC.
The collegial body is tasked to supervise and regulate the registration, licensure, and practice of Criminology in accordance with the provision of the proposed Act; promulgate and issue rules and regulations implementing the provisions of the proposed Act; promulgate and adopt a Code of Ethics and a Code of Good Governance for the practice of Criminology; adopt an official seal of the Board; and prescribe and promulgate guidelines on the conduct of a CPD program for criminologists in consultation with the Accredited Integrated Professional Organization (AIPO).
It shall also promulgate, adopt or amend the syllabi and tables of specifications of the subjects for the licensure examinations in consultation with the academe and the CHED, prepare questions for the licensure examination, as well as administer and correct and release the results of the licensure examinations; issue, suspend, revoke, or reinstate the certificate of registration of registered criminologists or cancel temporary or special permit granted to foreign criminologists; monitor the conditions affecting the practice of Criminology and, whenever necessary, adopt measures for the enhancement of the profession; ensure, in coordination with the CHED or other authorized government offices that all higher educational instruction and offering of Criminology shall comply with the policies, standards and requirements of the program as prescribed by CHED or other authorized government offices; hear and investigate cases on violations of the Act; and delegate to the PRC the hearing or investigation of cases against alleged violators.