After two years of hiatus, students from eight participating schools finally hit the court to showcase their talents, skills, and school spirit for the annual UAAP Cheerdance Competition. That said, it is also that time of the year when the battle on the dance floor extends to the benches with respective schools' students and supporters, screaming at the top of their lungs their school chants.
The UAAP Cheerdance Competition is a cultural representation of school pride and sportsmanship. Eight schools are housed together for a day of excitement, fun, amazement, some jeering here and there, and friendly (or not) trashtalkan.
With the 2022 competition finally over, hailing the FEU Cheering Squad as this year's kings and queens of cheerleading (after their 13-year title drought)—dethroning the 2019 champions NU Pep Squad who were gunning for their seventh crown and second three-peat, let's take a trip down memory lane with the most iconic moments since the start of the tilt in 1994.
Nestle Ice Cream (Crunch & Non-Stop) (1998-2005), Samsung (2007-2013), Oishi (2014-2015), or Yamaha (2015-2017)? These are just some of the major sponsors of the annual event, which started in 1994. If there is another way to find out a person's age, this could be it—Tell me your age without telling me your age.
España Supremacy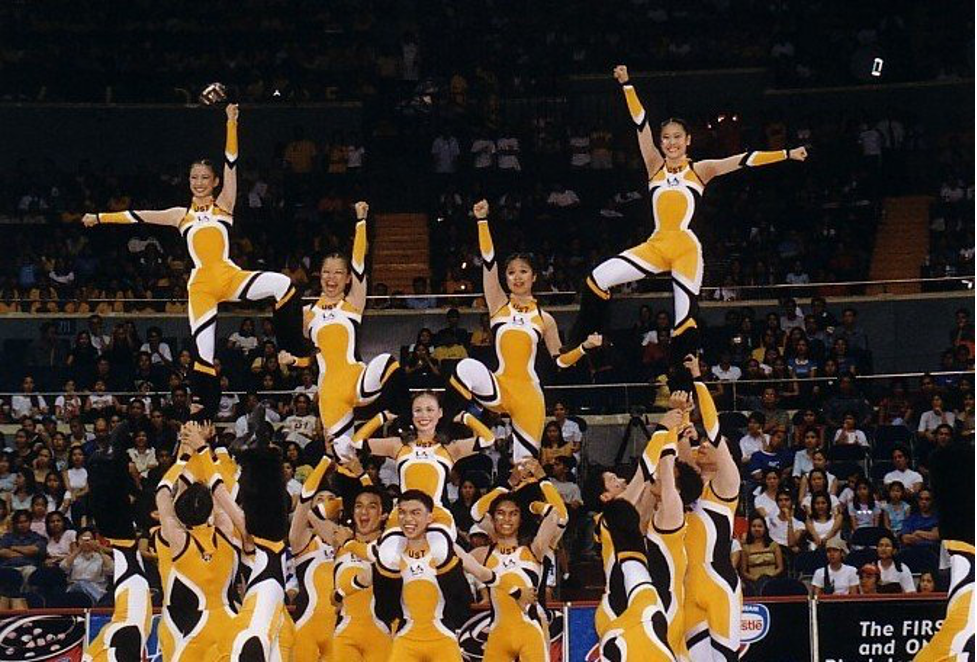 Before the rise of the Bulldogs, there was a time when a team would march to the court and send shivers to everybody else in the venue. The UST Salinggawi Dance Troupe made history after history. From winning the first three crowns from 1994 to 1996—the first three-peat in the history of UAAP Cheerdance Competition to breaking their own record five years later, with the historic five-peat run from 2002 to 2006.
The Gawi forged a dynasty under the heat of grit, mastery, and precision that, to this day, even the winningest team in recent years has not replicated or matched. They remain to be the sole bearer of the elusive feat.
The UP-UST rivalry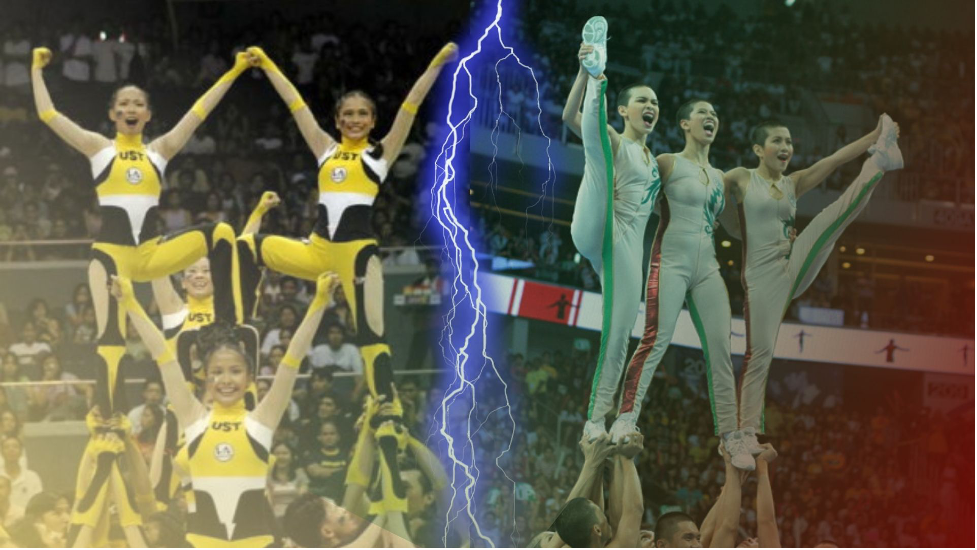 Like anything else in the world, dynasties fall, and a new breed and brand of excellence emerge with nowhere else to go but up. During the competition's first decade, with UST running with seven out of ten crowns, only two teams managed to break their dominance.
After the FEU Cheering Squad (1998) defeated UST following their first three-peat, it gave an opening to another dynastic team that the seemingly unbeatable is beatable. The UP Pep Squad hit the floor with its unique brand of cheerleading. Do you remember how they did it? They replicated the gold-white-black's feat with their version of three-peat—green and maroon style—a class act.
With every stunt pulled, every flexing of the muscles, every toss, jump, and run, UP looked like they were in a position to win it all and never look back. But in any competition with a household winner at bay, it was only a matter of time for the other squad from España to answer back by winning their second-three peat (2002-2004)—ending their four-year title drought, thanks to FEU and UP.
The battle intensified
Perhaps, 2005 is the most controversial year in the history of UAAP Cheerdance. Imagine two equally talented and skillful titleholders outclassing each other to break the tie and take the supremacy. UP and UST were both on fire, and the audience and supporters were at it, too. Together with their supporters, the two squads ate psywar, taunting, and intimidation for breakfast.
During UST's 2005 routine, one particular moment drew the ire of the people from the Katipunan side when they formed their first pyramid that looked like the school's main building. Why? Right in front of their iconic main building were three inverted cheerleaders that looked like UP's icon, oble. See 02:05 mark of the video above. From an audience perspective, it looked like UST was sending a personal message to UP during their tiebreaker season. UST took home the season's crown and stamped its reign over UP and the other six schools by bagging the five-peat record, which still has not been broken.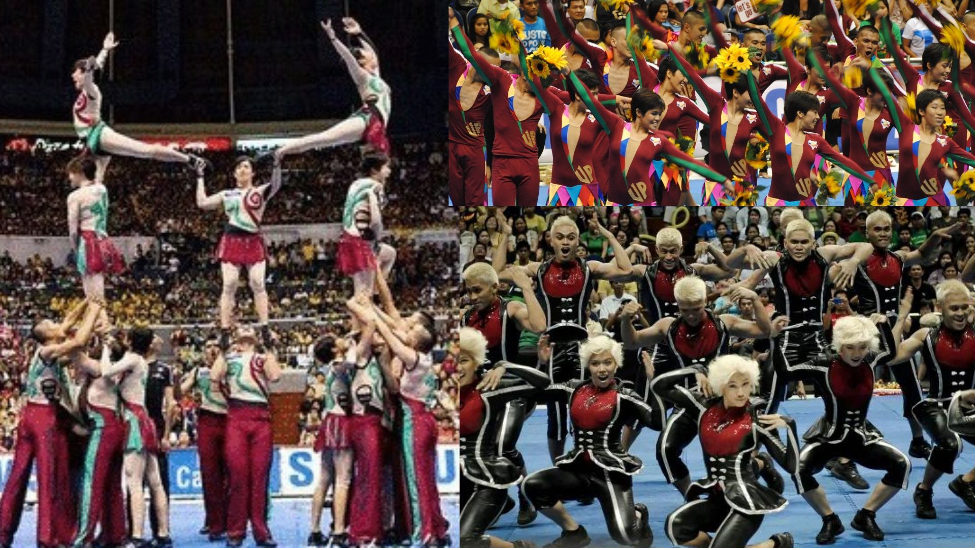 But of course, as Matatapang, matatalino. Walang takot kahit kanino, UP responded to UST's spine-chilling record by denying them their sixth straight crown. However, UP (2007-2008) fell short of redoing their three-peat run when FEU emerged as the winner during the 2009 edition. But with UP's persistence and drive for excellence and supremacy, they went back to the court the following year to win their second three-peat (2010-2012)—tying UST's record of eight UAAP titles. From the themes Madonna, Hala, Bira!, and Freedom, UP's routines during their three consecutive titles became so iconic—they became the benchmark of creativity and originality (Watch past performances here). They changed the way we see cheerleading until an unexpected game-changer emerged to end the golden era of UP-UST rivalry.
Feel the bite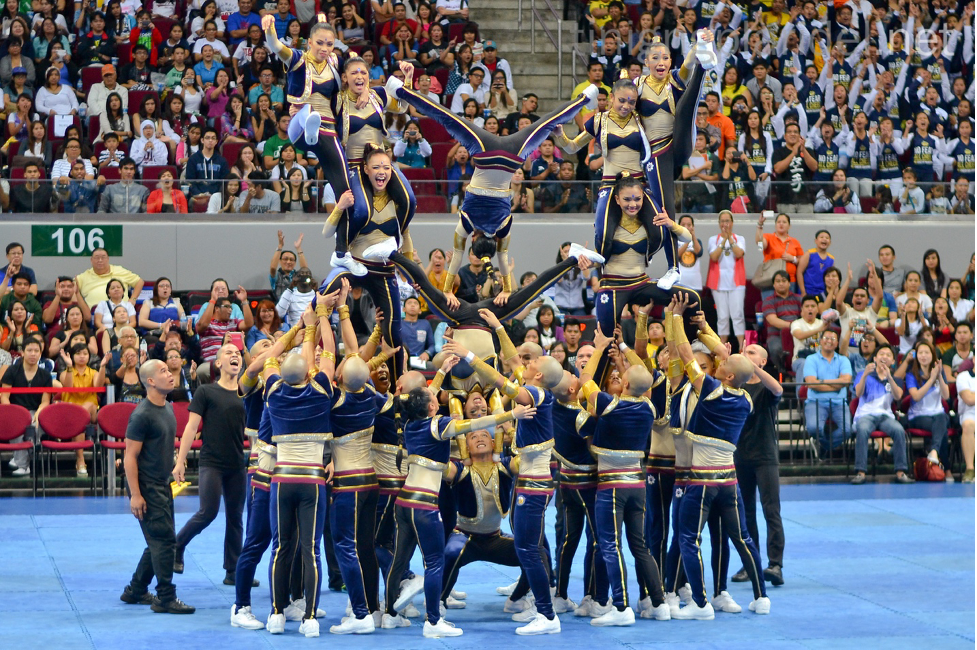 And bite, they did! While we were all busy eating popcorn as UP and UST tried to outwit each other, we almost forgot there were six other schools in contention. One came out of nowhere with fangs out. No one saw NU Pep Squad coming. Their first-ever UAAP title was not a win-from-behind. It was apparent then that they were going home with the crown, denying UP's hopes to continue their reign.
Though the win was so convincing, everyone thought it was just a fluke; case in point, the title breaks that FEU gave to UP and UST during their heydays. But when NU Pep Squad arrived on the 2013 podium, they ended all doubts by winning four successive titles. From 2013 to 2016, their wins were all painfully convincing—it looked like their dominance had no point of stopping. They looked primed, they looked unbeatable, they carry out their stunts in a way that was never done by any other schools in the competition.
The bar they sent is so high that the only time they would probably lose is if they flank their routine. This was the case the following year when Adamson Pep Squad pulled a surprising win against the heavy favorites. Redemption was in sight when NU Pep Squad came back to win the last two titles before the pandemic.
Records and how the future looks
With UP and UST tying the title count in the UAAP Cheerdance Competition with eight crowns, and NU with seven, it's interesting to see if an era has once again ended. With FEU Cheering Squad winning the recently concluded tilt, denying NU's shot at another three-peat, will the consistent podium finisher be on its way to forging its supremacy? Looking at the title trends, one can only speculate. We'll never know. It's for us to see and for you to find out. But borrowing the words of 2010 UP courtside reporter Riki Flores, the future looks so bright—you gotta wear shades.