Local government units (LGUs) now have access to an economic stimulus loan program that aims to provide LGUs with the financial resources necessary to fund LGU-led local economic development programs that intend to provide economic opportunities for Filipinos in the provinces amid the coronavirus disease (COVID-19) pandemic.
This is according to the Union of Local Authorities of the Philippines (ULAP) National President and Quirino Governor Dax Cua, who on Wednesday joined other LGU leaders at the online launch of the Restoration and Invigoration package for Self-sufficiency of the Economy/ towards local/regional UPgrowth for Local Government Units, or RISE UP LGUs, an economic stimulus loan facility that will be provided by the Land Bank of the Philippines (Landbank).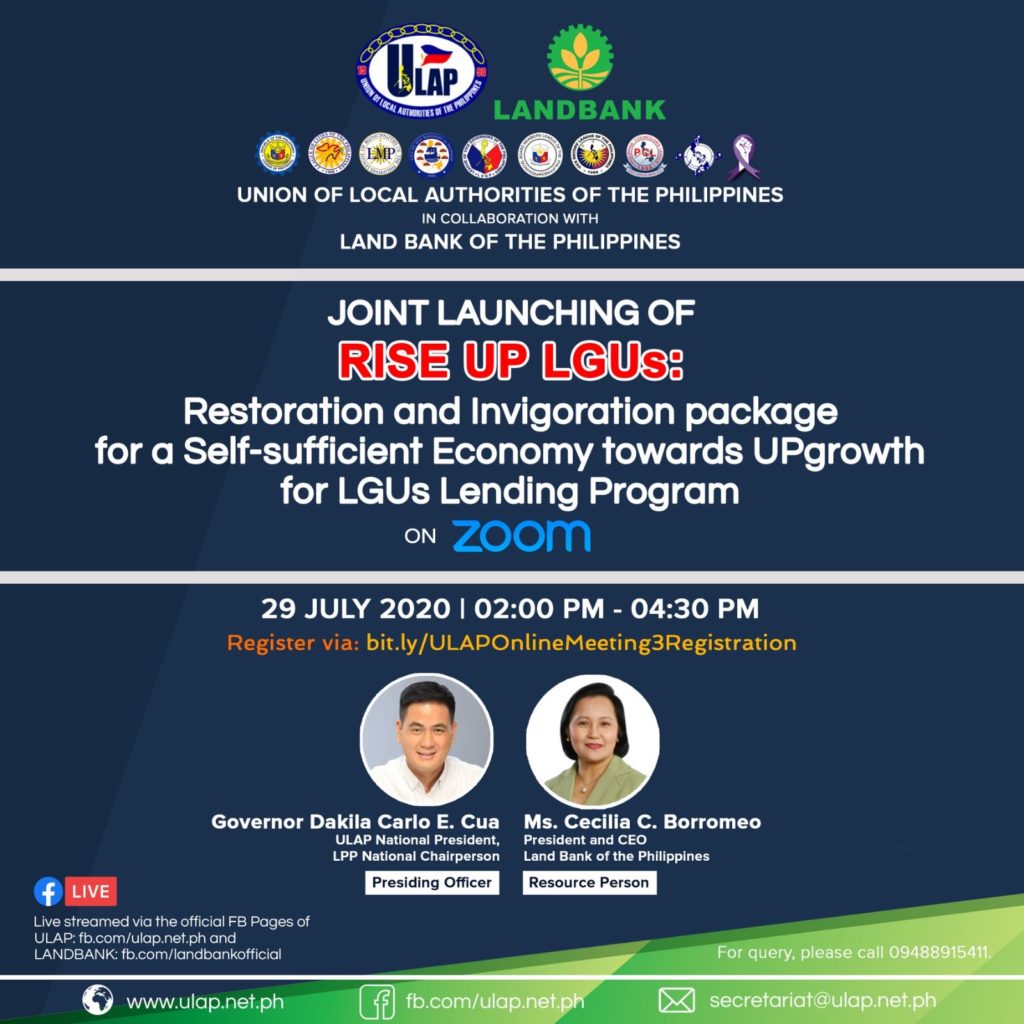 "RISE UP LGUs is a lending program conceptualized to complement economic stimulus packages."

Also at the launch were League of Provinces of the Philippines National President and Marinduque Gov. Presbitero Velasco, Jr., League of Cities of the Philippines Secretary-General and Calapan Mayor Arnan Panaligan, League of Municipalities of the Philippines National President and Narvacan Mayor Chavit Singson, and Landbank President and Chief Executive Officer Cecilia Borromeo.
Cua explained that RISE UP LGUs is "a lending program conceptualized to complement economic stimulus packages that may be developed by the national government for LGUs."
The former legislator added: "With LGUs feeling the adverse economic impact of the COVID-19 pandemic, this loan program is a way we can help LGUs improve their capacity to provide basic services for their constituents as they respond to the effects of the COVID-19 pandemic, as well as fund support services for local enterprises to stimulate local economies."
"While the majority of COVID-19 cases are in Metro Manila and other urban centers, this pandemic has affected the whole country, especially LGUs that are dependent on industries like tourism," lamented Cua, who obtained his business degree from the University of the Philippines.
"With the country expected to experience its first economic recession in two decades, interventions are needed to help prop local businesses and create alternative economic opportunities. RISE UP LGUs should help capacitate LGUs to do just that."
Aside from helping spur economic activity in the provinces, Cua said the loan facility can also assist LGUs to cope with the demands of the "new normal," such as the adoption of alternative modes of education in light of the government directives that have put on hold face-to-face classes.
"The loan facility can also assist LGUs to cope with the demands of the 'new normal.'"

Cua pointed out that LGUs "will have to work with DepEd to ensure that students in their jurisdiction continue their education."
"Some of these alternative modes will require investments in information communications technology (ICT) infrastucture to facilitate online learning. Kailangan din ang pondo para siguraduhin din na ma-distribute ng maayos ang mga offline modules, kung ito naman ang gagamitin," said Cua.
Cua also urged LGUs to use the loan facility to fund e-governance initiatives that will make their LGUs more accessible online.
"As the President said in his State of the Nation Address (SONA), we have to improve our services so that our constituents need not have to physically fall in line. We have to adapt with the times and maximize the technologies available to us, especially if we want to make it easier for our constituents to do business in our localities," stressed Cua.
In his fifth SONA, President Rodrigo Duterte said: "The national government shall lead the way in our transition to online systems. I reiterate my call for all government instrumentalities to implement systems that shall make physical queuing a thing of the past."