Department of Environment and Natural Resources (DENR) Secretary Roy Cimatu said that there could be cease and desist orders and other actions issued to erring businesses in Boracay very soon.
"We are fast tracking our processes, and we'll probably see sanctions handed out before the end of March to businesses that fail to roll out remedial measures to their Notices of Violations (NOVs)," Cimatu said.
The environment chief is currently in Boracay overseeing the DENR's mission team aiming to restore and rehabilitate the island, which is facing issues of overcrowding, inadequate sewerage and solid waste management facilities, and forestland and wetlands encroachment.
As of February 24, the DENR said it has issued 181 NOVs to 161 establishments found violating environmental laws and have already surveyed 562 others. Some of these establishments, which included resorts, hotels, spas and restaurants, were already repeat offenders.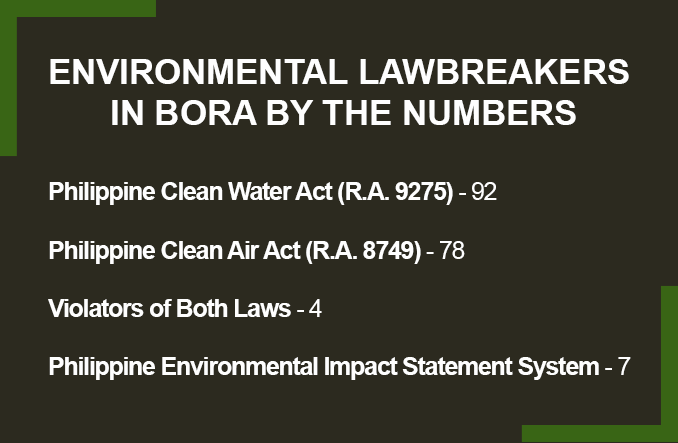 Of the 181 NOVs issued, 92 were for violations of the Clean Water Act (expired discharge permits/no discharge permit), 78 were for violations of the Clean Air Act (no permit to operate), 4 were for violations of both the Clean Water and Clean Air acts, and 7 were for violations of the Philippine Environmental Impact Statement System (no environmental compliance certificate).
The DENR's mission team is looking for violations of environmental laws such as failure to connect to the island's sewage system, wastewater with excessive effluents, failure to secure or update their environmental compliance certificates (ECCs), and illegal constructions in forestlands and wetlands, among others.
The environment head ensured that they will follow due process throughout their operations.
"Even if we are fast tracking our investigation processes, we will still follow the rules and will call those with NOVs to a technical conference, where they will need to present their remedial measures," he said.
The businesses will then be given ample time to implement the remedial measures they have agreed upon.
"If they fail to comply after that time, they could face closure, fines, or a cease and desist order, once we elevate their case to the Pollution Adjudication Board," the environment secretary added.
Cimatu clarified that the DENR is not against business, but is rather looking after the interests of the environment and the real residents of Boracay.
"To be fair, there are businesses that have successfully complied and rectified their violations. The point here is they have to comply with environmental laws. If they can't comply, they have no business having business there," he said.
Cimatu said the DENR is bent on completing on time President Rodrigo Duterte's directive to clean up and rejuvenate Boracay in six months.
Keeping businesses and residents in line with environmental laws is just one of the DENR's measures in this regard. Aside from this, the department is calling for a moratorium on tourist arrivals, reclamation of wetlands and forestlands in the island, and the completion of solid waste disposal and sewerage infrastructure, among others.
"We are committed to restoring and rehabilitating Boracay, and these are some of the things we can do now to give Boracay a chance to thrive and flourish as paradise again for us and for future generations," Cimatu said.