Senator Joel Villanueva called for the immediate prioritization of a bill promoting a safer workplace following the recent fire mishap at the NCCC Mall in Davao City.
The tragedy left 38 fatalities, one of them worked as a safety officer of the mall and 37 are all employees of Research Now SSI, a Texas-based call center company which rented the whole fourth floor of the mall.
Among those who did not survive the incident was Maryjoy Hope Daluro, a youth church leader of Jesus Is Lord (JIL).
"My deepest sympathies to the families who were affected by this tragedy. We constantly pray for your strength and resilience in this difficult time," Villanueva said.
According to Bureau of Fire Protection Director Wilberto Kwan Tiu, all 37 may have died due to suffocation.
Meanwhile, accounts from concerned individuals point to violations on safety standards as some survivors lamented the impassability of some fire exits in the building.
"These testimonies substantiate the lack of compliance of some companies on our occupational safety and health standards. We already need a stricter law that would penalize erring employers and impose more stringent regulations on OSH standards," the legislator emphasized.
The lawmaker authored Senate Bill No. 1317 or "An Act Strengthening Compliance with Occupational Safety and Health Standards (OSHS) and Providing Penalties for Violations Thereof" that seeks to amend the 41-year old Labor Code of the Philippines which, at present, does not declare unlawful violations of OSHS.
The bill is currently up for second reading.
For the longest time, violation of occupational health and safety standards has no fines or penalties. The Department of Labor and Employment (DOLE) only issues a Work Stoppage Order (WSO) if there is an eminent danger or would result to disabling injury.
"Obviously, this practice has not been successful in inculcating culture of OSH compliance nor in addressing wanton disregard of OSH standards," the senator from Bulacan said.
Based on the record of the Bureau of Working Conditions under DOLE, 52 fatal and 54 non-fatal workplace accidents were reported in 2014. The number increased to 125 fatal and 69 non-fatal reported workplace accidents in 2015. Meanwhile, as of October 2016 the bureau recorded a number of 22 fatal and 18 non-fatal workplace accidents.
Under the proposed measure, an amount of P100,000.00 will serve as an administrative penalty for the erring employer for every day of non-correction of violation while an amount ranging from P250,000.00 to P500,000.00 will be meted out if a worker dies.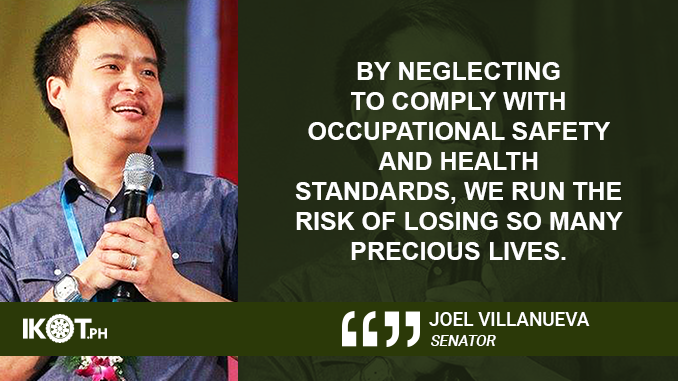 "By neglecting to comply with occupational safety and health standards, we run the risk of losing so many precious lives as proven by the recent fire tragedy in Davao City. We hope that another similar incident in the future would soon be prevented by enacting a stricter law that ensures the safety and well-being of our workers, and promotes their right to safe workplaces," Villanueva said.