Senator Cynthia Villar, representing the Villar SIPAG Farm School, recently launched the Farmer's Field School on Sustainable Pig Farming (FFS SPF), in partnership with the Agricultural Training Institute of the International Training Center on Pig Husbandry (ATI-ICPH).
Fifty participants from Cavite, Laguna, Batangas, Rizal and Las Pinas have signed up for the 20-week training which aims to provide an alternative, sustainable and affordable swine raising technology for commercial and backyard swine farmers.
The Farmer's Farm School is the second instalment of the program in partnership with the Villar SIPAG farm School. The project involves various training methodologies which intends to enable farmer participants to see and experience swine raising using the Sustainable Pig Farming System. The FFS SPF program began as a re-entry plan of the Provincial Veterinary Office of Laguna during the Training Course on Project Formulation, Management, Implementation and Monitoring for Region IVA Agriculture and Fisheries Network (AFEN) in 2011.
Two years later, it was launched at Magdalena, Nagcarlan and Majayjay, Laguna.
To date, twenty FFS SPF batches have already been conducted and have shown positive results from the participants and partners. The most obvious success signs were the lowered feed cost, improved swine weight and better quality of the meat.
Participants also shared that the FFS SPF program is environment friendly and provides a healthier option for consumers.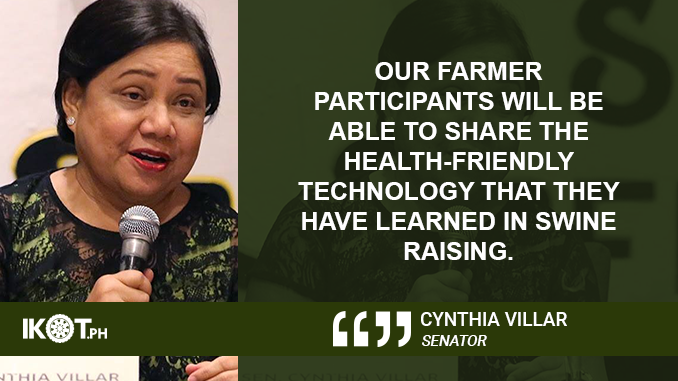 "We are happy to launch the Farmer's Farm School on Sustainable Pig Farming System here at the Villar SIPAG Farm School. We are optimistic that after the weeks of training, our farmer participants will be able to share the health-friendly technology that they have learned in swine raising," Villar said.
The veteran legislator added that through this project, backyard swine raisers will also be able to compare the economic benefits of swine production raised in the conventional way and the technology of sustainable pig farming of ITCPH.
"Villar SIPAG is pleased to partner with ATI in this training as it has been our thrust to provide farmers and swine raisers various opportunities to address the challenges of their industry in response to changing environments and situations," the seasoned lawmaker said.