Coffee has always been a part of everyday Filipino life. The taste and aroma of a good cup bring a sense and feel of home – a feeling of warmth and comfort that can get one through the toughest of times.
A usual early morning starts with a big mug to awaken the senses and warm up for a long day. From the 8-5 shift, office workers squeeze in breaks for a breather, grabbing a convenience store blend to break the monotony of emails and meetings. During exam season, college students storm cafés to pull all-nighters, fighting to stay up with a single shot of espresso. And on special holidays, the same places get a share of the gossip dramatically told by reuniting titas and titos.
Coffee shops are popular and favorite spots among people of all ages for several special reasons. The smell and sound of brewing beans. The ambiance of luxury. The faint chatters and the acoustic background playlist. The peaceful immersion in a diverse crowd. And the soothing flavors in handcrafted drinks.
However, the pandemic forced coffee joints and similar businesses to limit operations. While the health crisis tested the vulnerability of the food and beverage industry, it also proved the adaptability and resilience of the Filipino people to create the same products, services, and sensations offered by coffee shops, in the comforts of one's home.
The year 2020 gave rise to Barako Bama – a team of resourceful and innovative entrepreneurs who aim to replicate the café experience with a simple pack of beans.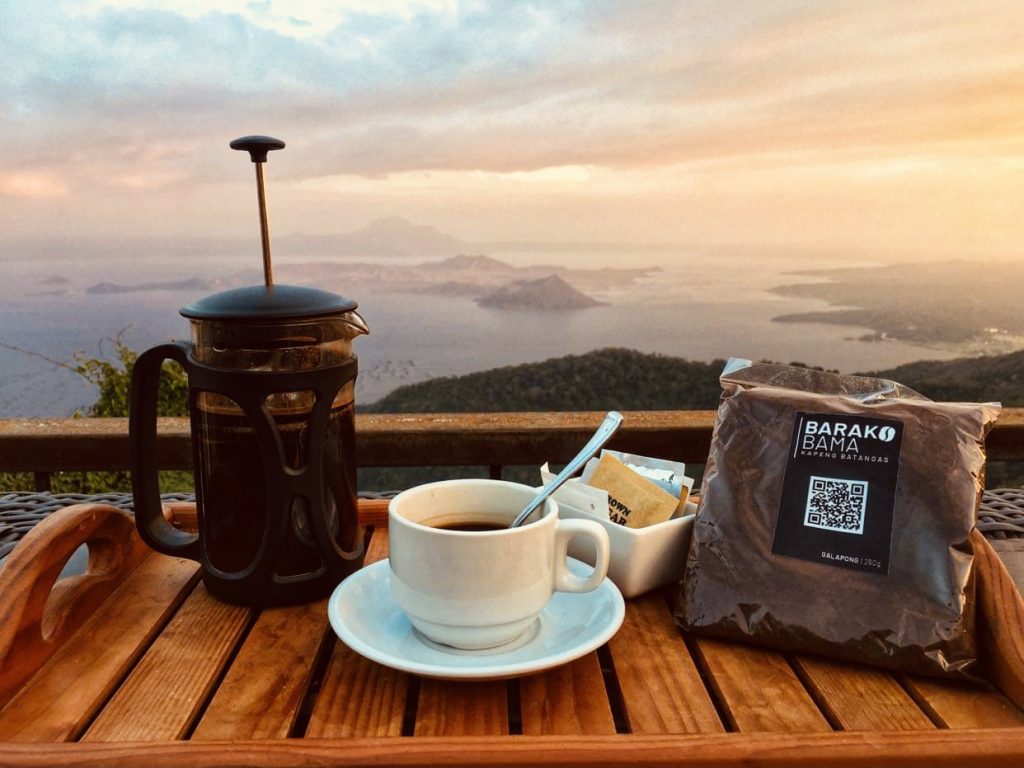 Deliberately Random yet Clever
An obvious word play, Barako Bama was the sole but confident name choice to step into the market. It sounds absurd at first, but the whole picture reveals a clear identity that sets the brand apart. Impressively, all aspects of its marketing form a consistent image – straightforward, down-to-earth, but captivating and enjoyable in every way.
To start with, the overall product design is clean and cohesive – from its minimalist two-toned printed labels to its solid, deep black packaging. But inside this understated style are the powerful yet addictive scent of newly-ground beans and the well-preserved taste of pure Barako coffee. Even with less frills, the brand delivers the richness and comfort that the famous coffee variety is known for.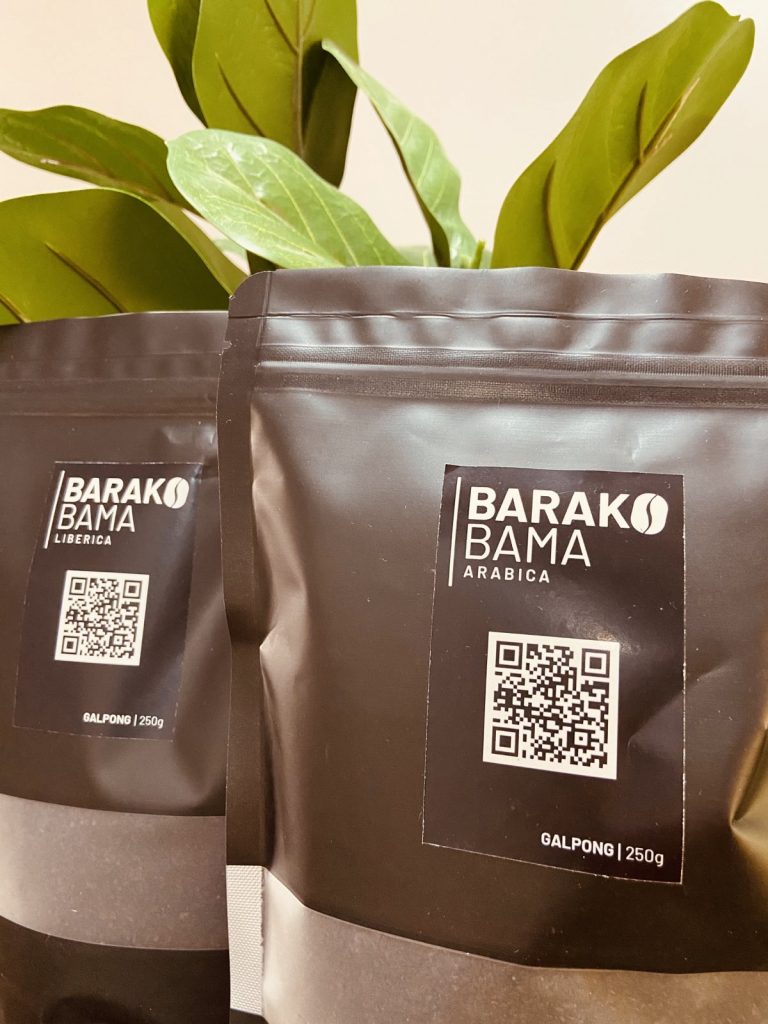 The social media presence of Barako Bama exudes the same ingenuity of its identity; beyond the classy and sleek logo on its Facebook profile is a creative mix of classic memes, original poems, and delightful photos that bring out the diverse character of the brand. Scrolling through its online page resembles being seated around a family table of witty banters and bittersweet stories.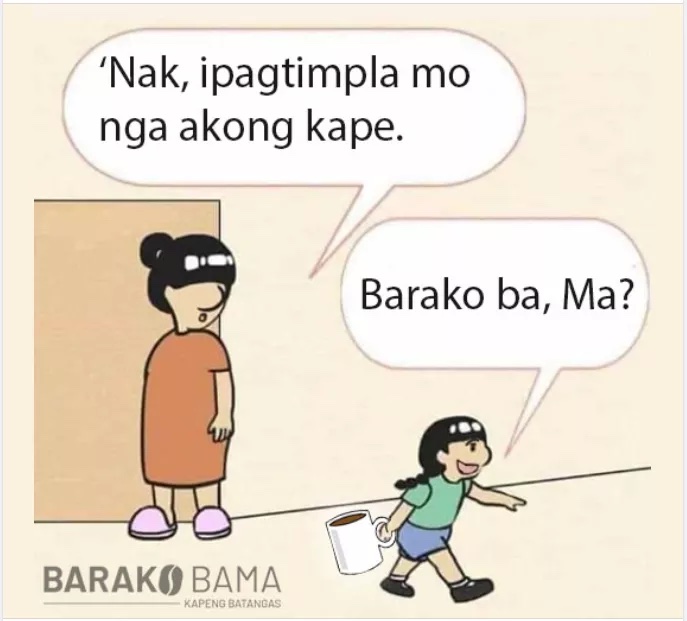 Ultimately, the name makes a whole lot of sense. Imagine hearing the word "Barako", a local term that depicts masculinity and strength. Just when a mental picture of a Tagalog stud is formed, a sucker punch of "Bama" messes the serious imagery and creates a comical character out of it. Random but deliberate, the clever branding works, and you'll find yourself engrossed in the small coffee start-up.
The Truth behind the Coffee Identity
United by a fraternal bond and shared love for coffee, Barako Bama is an interesting yet compatible five-man team with an engineer, law students, and… guapitos, as the two proudly proclaim. Some people say working with friends only results in conflicts and split-ups, but the established mutual respect among the owners brings the complete opposite. Their social chemistry is balanced and strong, and it translates to the charisma that Barako Bama bears.
"Gusto kong magkaroon ng opportunity na makabili ang mga tao dito sa Metro Manila ng kapeng sariwa at mura galing diretso sa bayan. (I want the people of Metro Manila to have an opportunity to buy fresh and affordable coffee that comes straight from town)," the Lipeño said. Home of the first coffee seedlings that were introduced and grown by Franciscan friars in the 1700s, Lipa City boasts as a major producer of coffee in the Philippines, with Barako as its greatest seller.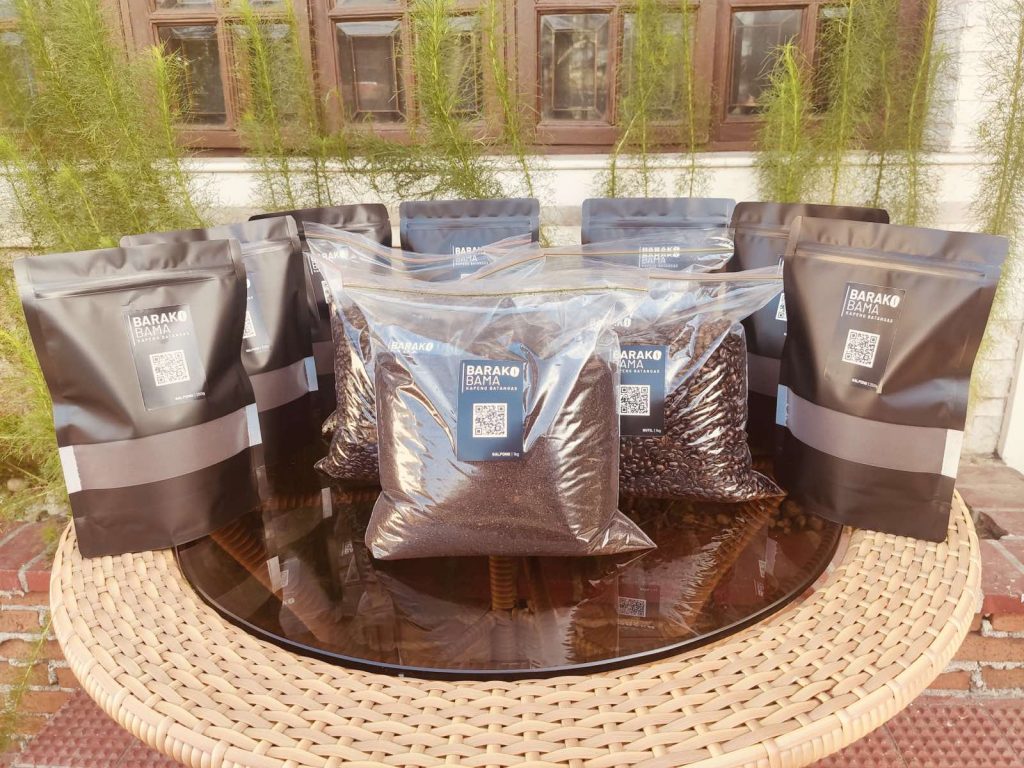 Unfortunately, visits to coffee establishments became less of a priority due to travel restrictions and remote work arrangements. Coffee, however, remains a basic need, especially with most people staying indoors, where their makeshift office desks are conveniently located near the kitchen. This setup sparked an interest to turn the situation into a potential business venture. From a few pasabuys, sales slowly grew to 20 kilograms. Eventually, the stocks were doubled and sold in weeks.
"Somehow, paraan ito para makatulong kahit papaano sa farmers natin. (Somehow, this is a way to help our farmers)," the lad shared with a soft smile, adding that the intention may be a bit idealistic. While hardly expressed in their socials, their genuine concern over small-scale industry players, particularly their partners, emanates during casual conversations. Even overheard phone calls with local suppliers revealed a rapport that is more profound than the typical seller-buyer relationship.
Just like the brand, the young entrepreneurs radiate feelings of familiarity and ease. Behind the visible elements are the real barakos – the founders who transformed a common idea into a memorable product, and positioned their values in the core of the business identity. They are sensible and warmhearted – a long-lasting impression similar to the lingering smell of freshly-brewed coffee at the first sight of the morning sun.
Grand Ambitions
"One of the biggest challenges that we have is how to make our brand well-known," the Parañaque-raised proprietor said about the boom of small and medium enterprises during the pandemic. As the genius behind the virtual antics, he capitalizes on digital platforms "to create more campaigns that will introduce locally-produced coffee beans, and to reach out to every Filipino household all around the Philippines."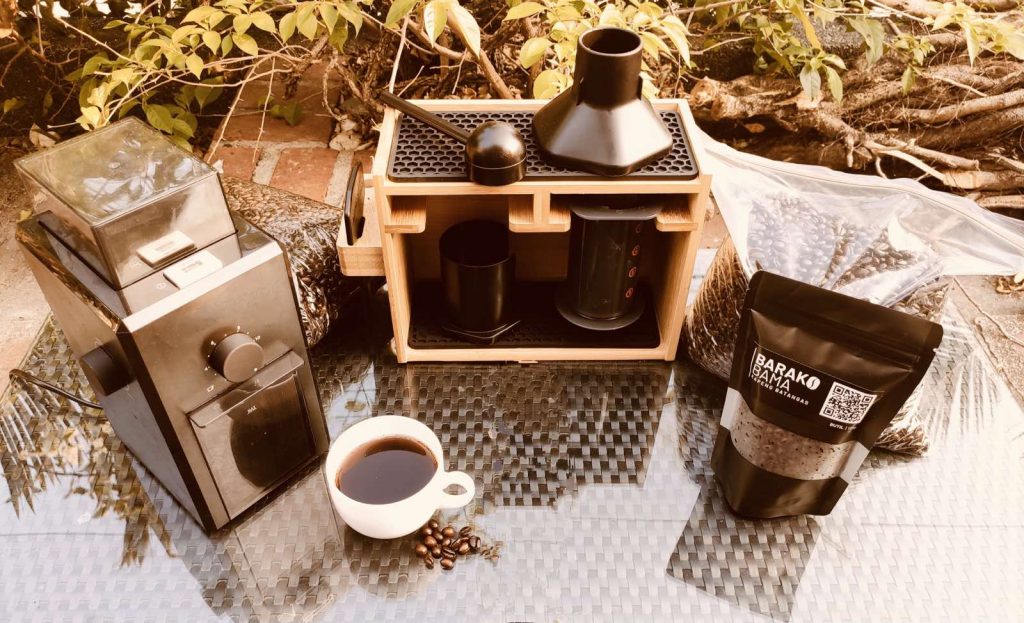 Given the market saturation and competition, Barako Bama still has a long way to go in creating an awareness that will generate lucrative returns and guarantee the sustainability of the business. However, the small yet significant wins of the brand within only two months of operations demonstrate that it is here to stay and strive towards a higher goal.
Similar to all start-ups, the owners dream big for Barako Bama. It is tempting to detail the schemes that they are roasting, but it will only spoil the joy of personally witnessing their realized vision. All there is to expect is that the brand will always stay true to the image they built. Without a doubt, a glimpse of their future success will make one say "Barako Bama nga."
For now, let us support the promising tycoons on their grand ambitions.
Barako Bama is available in three coffee varieties – Barakong Tagalog, Arabica, and Liberica. Select between its Galpong (ground beans) or Butil (whole beans) packs of 125 grams, 250 grams, and one kilogram.
Here is a full list of products and prices: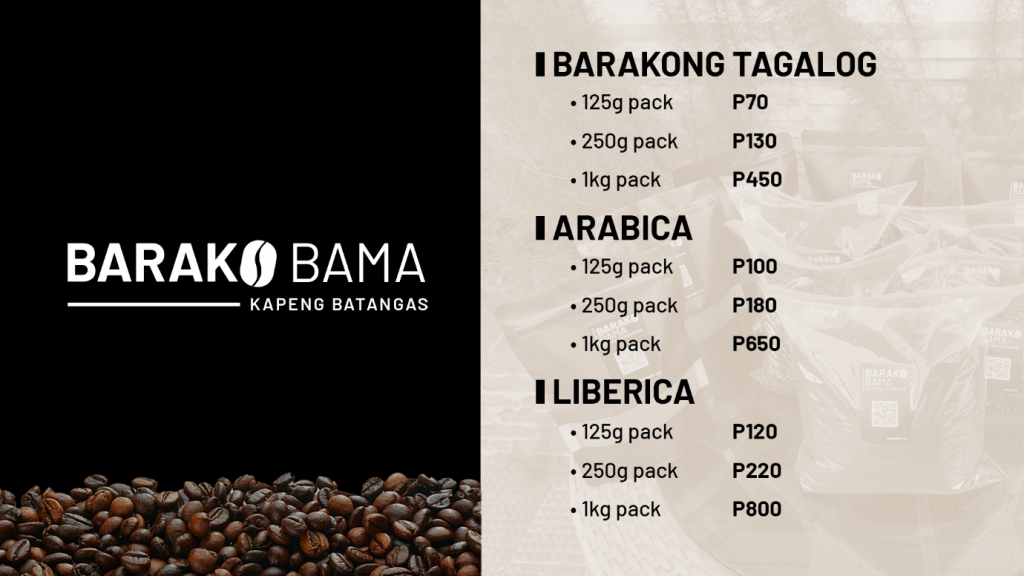 Barakong Tagalog is the right choice for the traditional Filipino hot drink. It has a spot-on balance of light and dark roast that can be enjoyed as a pure black brew or with a bit of sugar. It is easily prepared with a brewing machine for large servings, or with a French press for convenience and personal enjoyment.
Arabica, on the other hand, has a softer flavor and smoother texture. It is characterized by its naturally fruity and sweet notes, making it ideal for coffee lovers who prefer decreased bitterness in their drinks (and lives). Since it is delicate-bodied, the taste is best preserved by purchasing whole beans and grinding them upon use. For cold blends, combine Arabica with other coffee varieties to increase its depth and spice.
For a stronger experience, opt for the Liberica variety. Commonly used for espressos, its full-bodied coffee beans have a dominantly bitter and smoky flavor with a hint of flowers and spice. The generally earthy taste may seem "woody" at first, but its bold and aromatic brew can be addictive.
As shared by the engineer, "Barako Bama is perfect for those who source their caffeine needs from coffee shops. Normally, they would spend P100 or more for a single cup. With Barako Bama's 125g coffee packs, coffee lovers can enjoy up to five cups in the comfort and convenience of their homes."
The brand prides itself on its quality products and processes – "Our products are directly gathered from local provinces where the coffee beans are harvested. They ensure that the whole process is properly carried out from the roasting of the beans up and to its packaging and delivery to our customers."
Barako Bama is also open to resellers. Interested retailers can get discounted bulk orders to start their own line of coffee business.
For more information, visit their Facebook page at https://www.facebook.com/barakobama.ph, or leave a message at m.me/barakobama.ph
Make sure to place an order today because the best way to start the daily grind is a good cup of Barako Bama coffee.