Some places can really surprise us. In the kindness of strangers, I found warmth and comfort. I could only imagine the countless number of wandering souls— lost, joyous, or hopeful, that walked along the hallways of this special place—how they chose it as their sanctuary and home away from home. Despite the hotel's aesthetically pleasing design, what makes G1 Lodge unique is its genuinely kind and helpful staff— not just its perfect location nor its vibrant view. The true gem of this place is the very people who tirelessly work their wonders to make every guest feel like they're in the safest and warmest place in a city that is filled with other strangers hoping to find joy and peace, especially in these trying times.
What you see outside isn't always what's inside.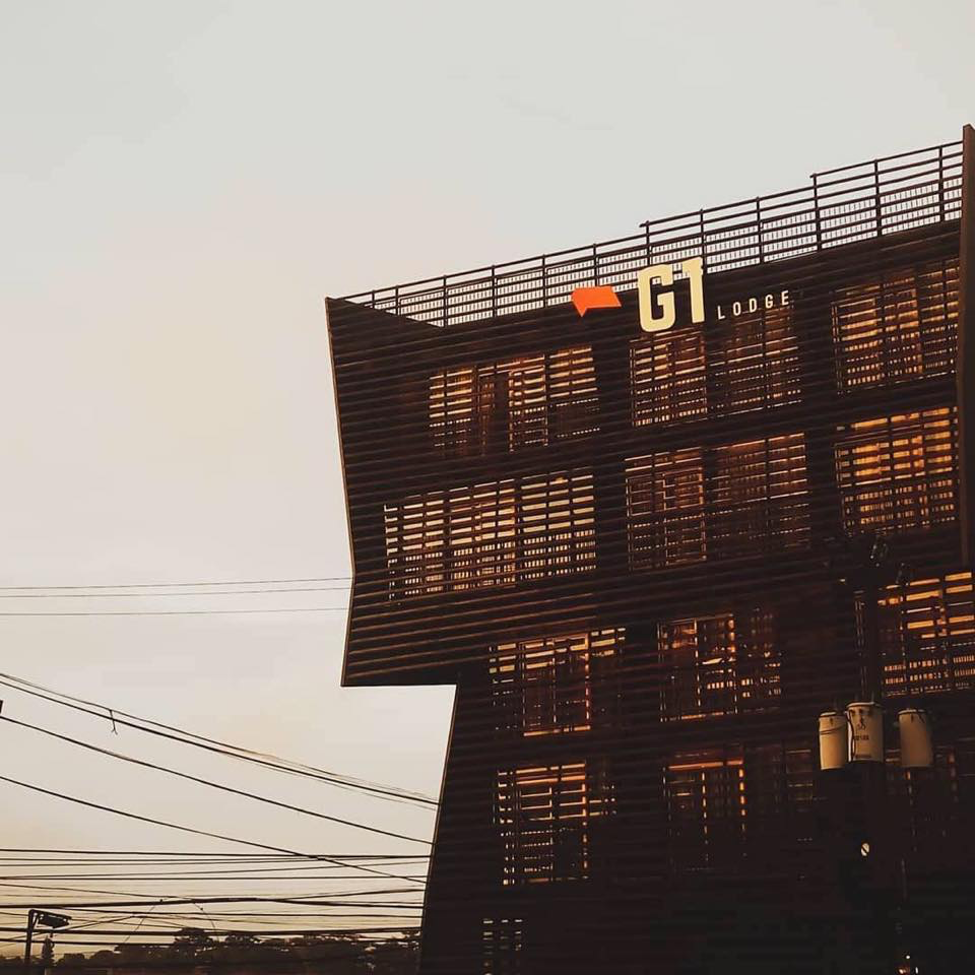 Back in February, with heavy baggage on my back, literally and figuratively, I stumbled upon this bold, abstract modernist structure along Leonard Wood. Smacked right against the busiest street in Baguio City, G1 Lodge Hotel stands tall and daring against the typical establishments nearby. At a glance, its geographic location is probably one of the best in town, right in front of SM City Baguio and 79 steps to reach the Upper Session Road (yes, we counted).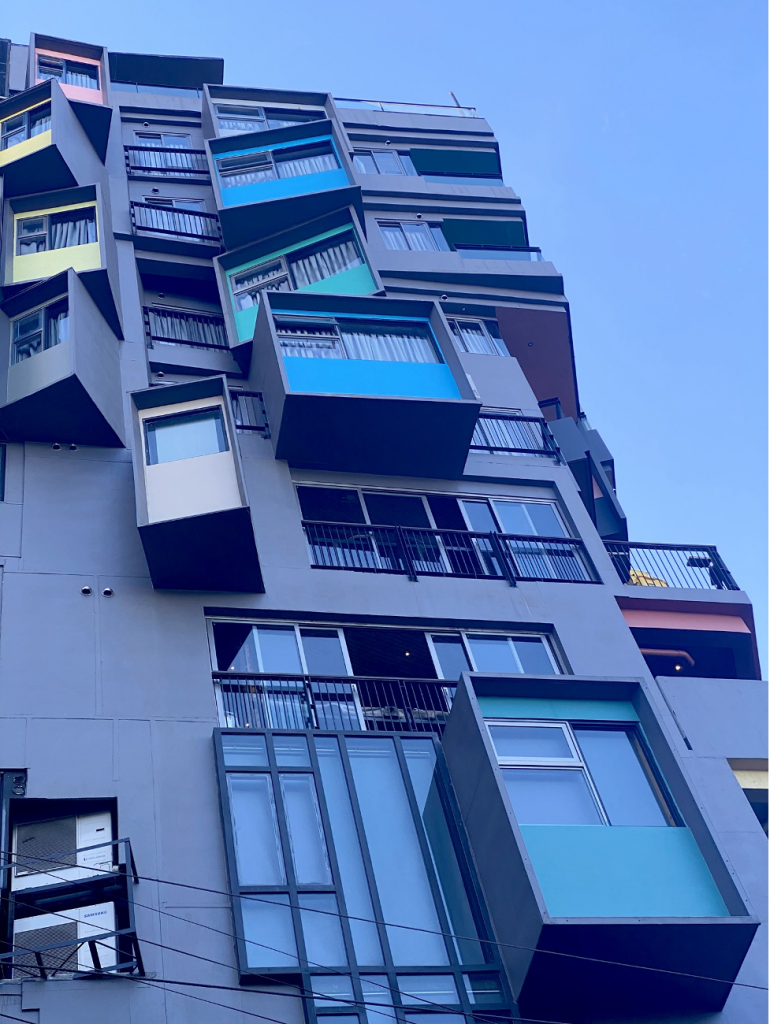 From the outside, with the upper floors appearing at odd angles from the lower floors, it cleverly plays with symmetry and what conventional Baguio accommodations offer. Its dark exterior is a poetic display of hard candy with a surprise centre. When you get inside, you start to see bright, warm colors and well-chosen fixtures like Hagabi. The wooden slats serving as a passive cooling alternative would give you the vibe of a modern Cordilleran home.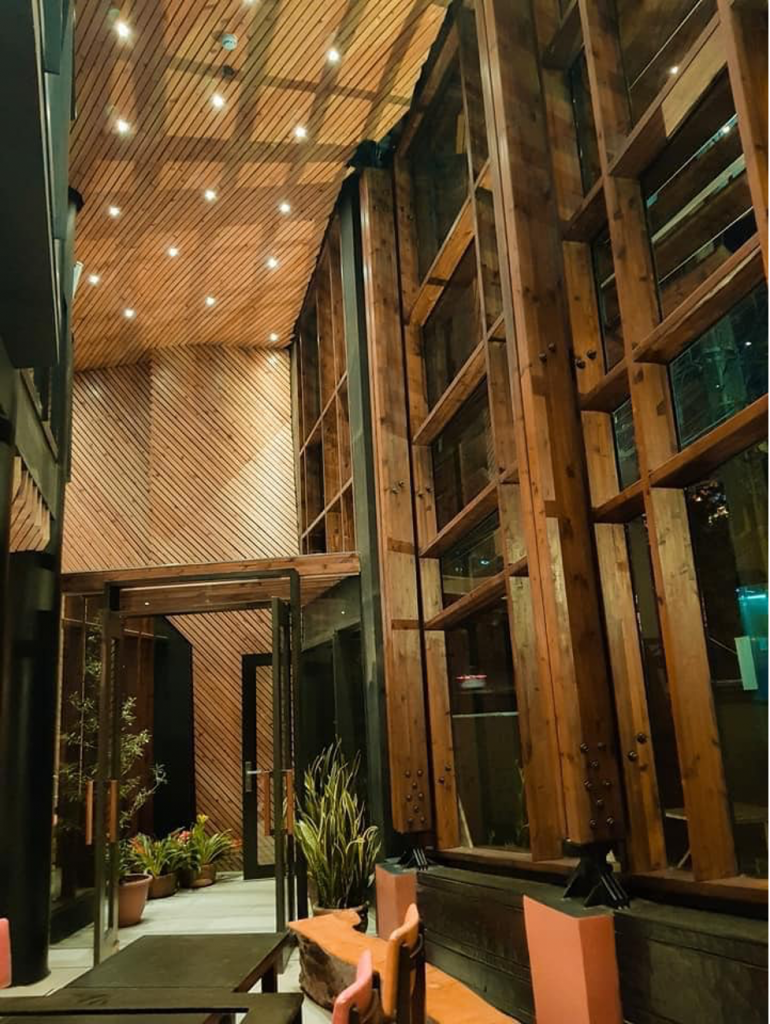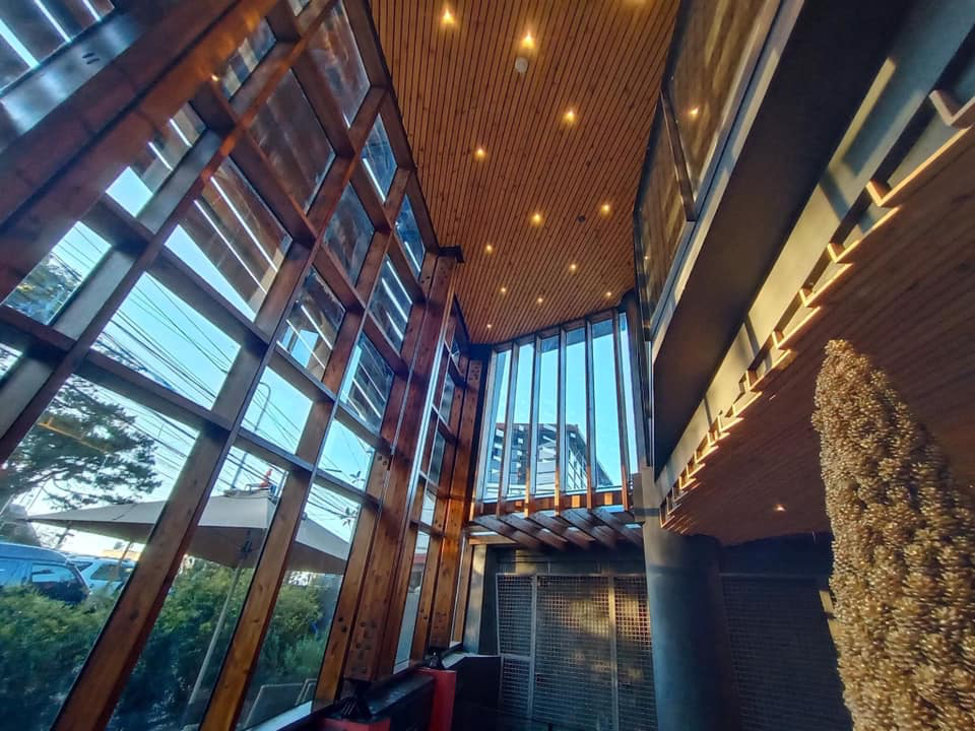 Vibrance and rawness inside
True enough, the moment you enter your room, minimalistic yet vividly-colored carpets and contemporary room cuts will welcome you. But soon as you reach the hotel's roof deck, you would understand why many people would opt to book their vacation in this place—a clear view of the Upper Session Road, mountain ranges, with fog (if you're lucky) seemingly blanketing the city proper with its cool air. It was perfect—a taste of calm and quiet up top from the crowd and noise below. With its double skin façade solution, the entire building is poetry. It seems as if it's suggesting that despite its cold, unlighted outward appearance, right inside of its 200 square meters real estate lies an abundance of light, warmth, and solace—a metaphorical rendition of what some of us are like.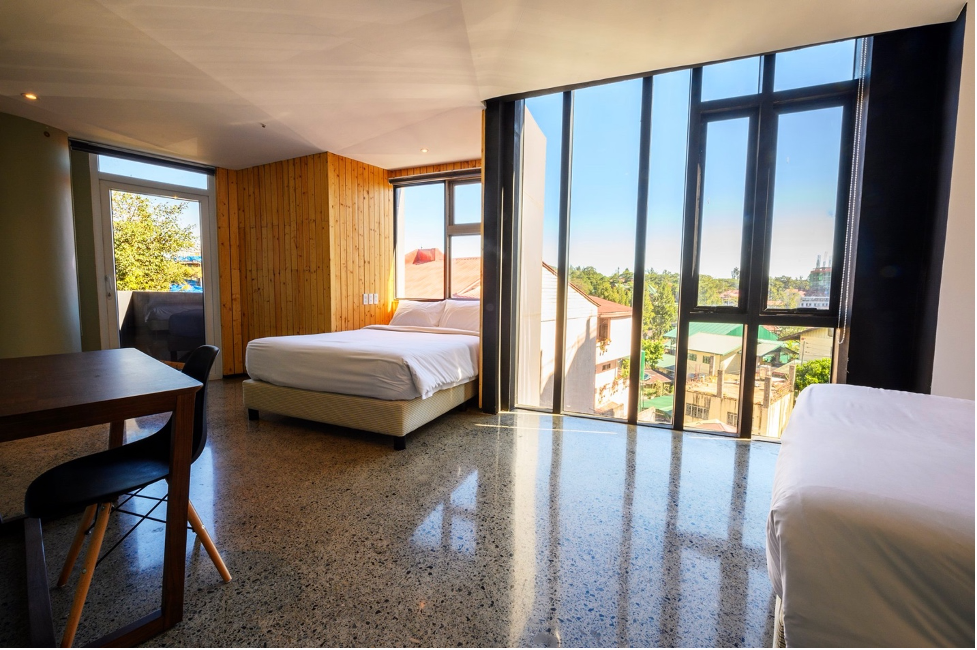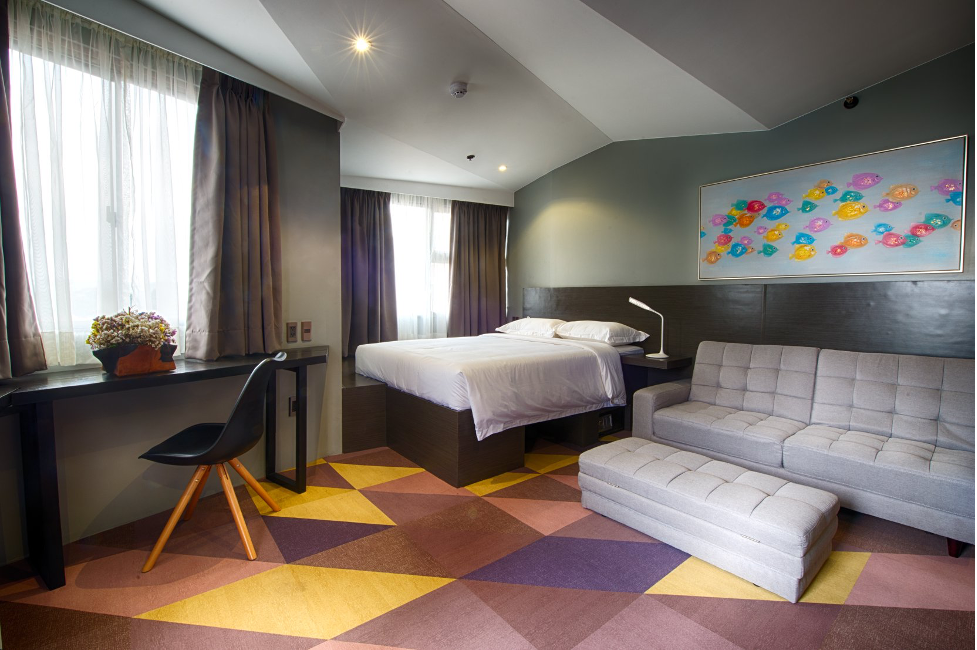 G1 Lodge is home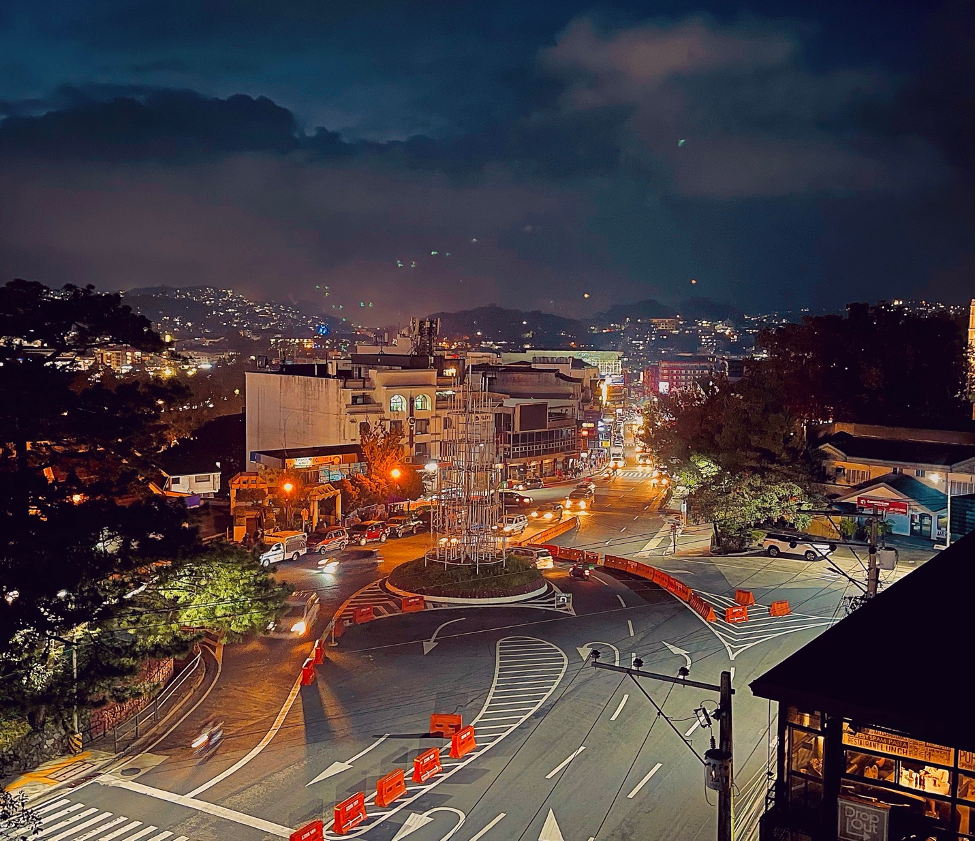 Home feels good to leave and feels even better to come back. That's at least how some of us would describe home. When you find a place that takes your mind off of the usual noise inside it, you never forget it. When we are challenged by many external factors, finding such a place is both a gift and a luxury. For me, G1 Lodge Hotel is that haven. It welcomed me when I needed a place to call home. It presented itself without being too unassuming, without overbearing promises—just comfort and genuine care through the people behind it.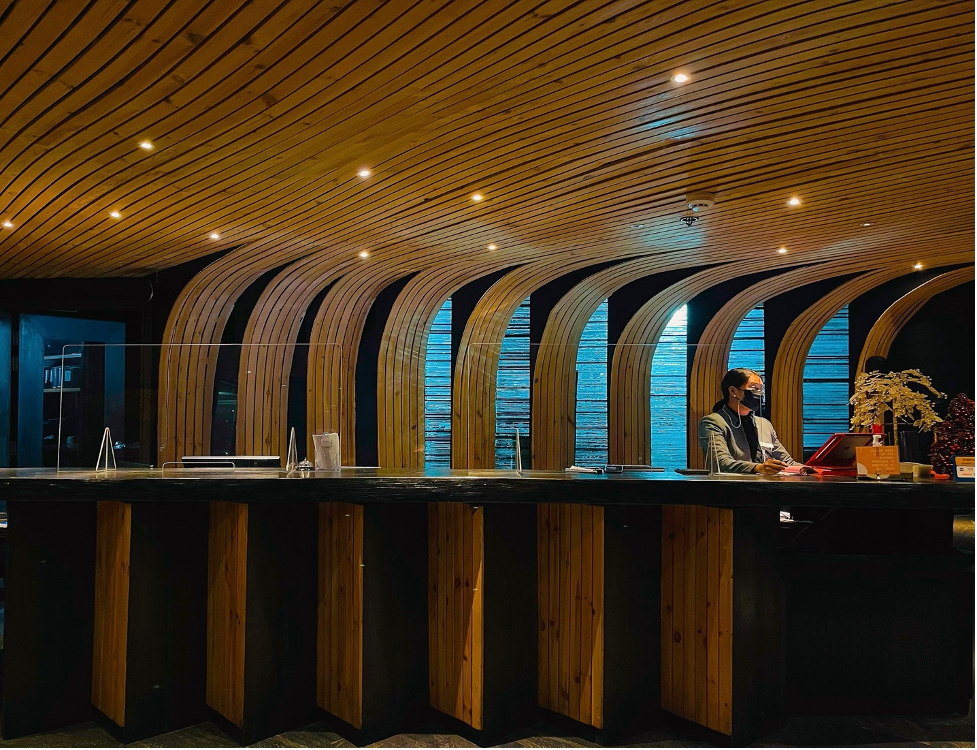 These strangers, Gian, Jean, Claire, Albert, Ramer, and the other hotel staff who swiftly tend to guests' needs—maybe they're not strangers after all. Braving the risks brought upon by an enemy in the air, through night and day, they never cease to exude what visitors and locals often look for when they go back to this place—the sheer abundance of kindness and harmony blending with the cool Baguio air. They are the beaming personification of what "at home" means up North. They are the warm blood that flows inside this seemingly cold exterior heart of G1 Lodge Hotel. The words that give form and color in this structured poetry. Like the poems we come back reading, time and again, for warmth and comfort, I'd go back to its concrete verses.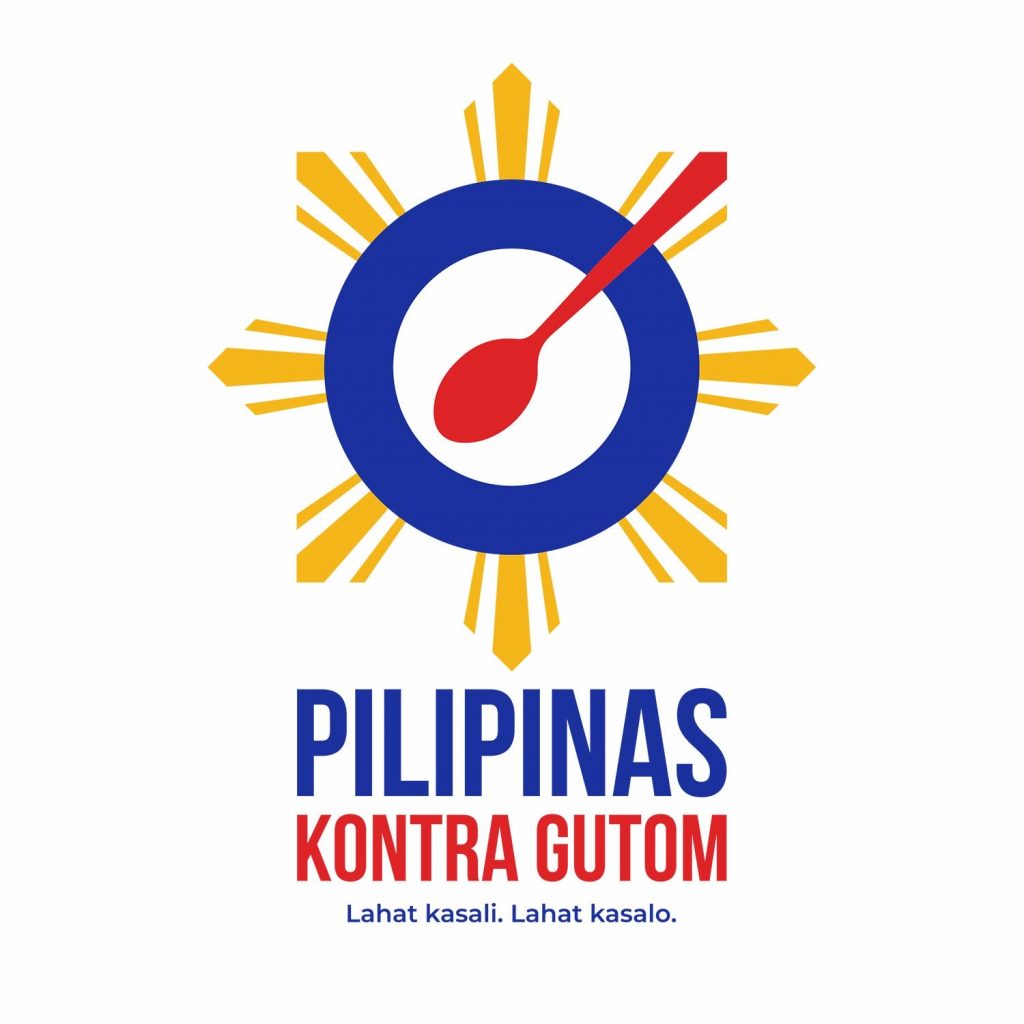 Share this article: