The gem of Luzon's southern tip is definitely Sorsogon. And as you go along and #SeeSorsogon; doing island hops, wakeboarding along the shores, bathing in its numerous majestic swimming spots, and interacting with the warm and festive locals, you should never fail to also indulge in the delectable food and drinks they offer.
Sorsogon is such a beauty and is filled with wonders, not only for your eyes but also for your tastebuds. As they say, every great adventure will never be complete without the experience of the mouth!
A few days is not even enough to scavenge the various experiences the province offers so here is a top 10 list of musts for your food trip. Ready your palates!
1. Mango Grill Restaurant
Working Hours: Mon – Sat, 10:00 AM – 10:00 PM
Contact: +63 56 421 6868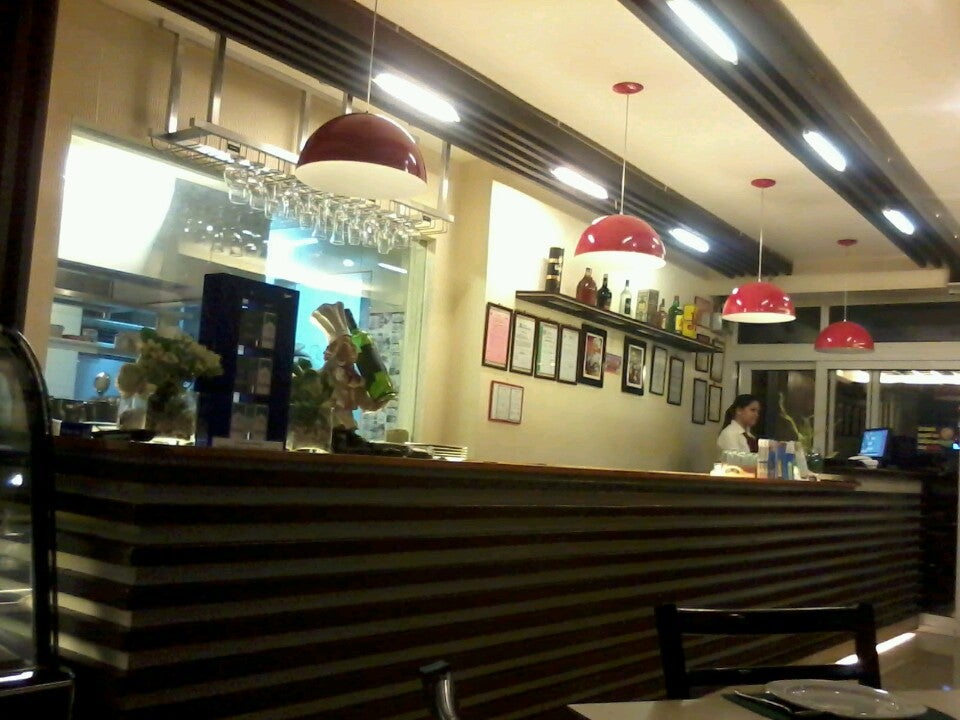 ( Photo fromJeanelle Mae Espinas via FourSquare. )
First on this list, is a classic Filipino Restaurant at the city's center which is really good for casual to fine dining with families, group of friends and even romantic dates! The restaurant has an elegant interior, with beige walls accented by black furnishing and furniture with the occasional splash of red accessories. There's also an outside facility for a more laidback and fresh ambiance, good for late night kulitan with the barkada over food and beer. The service is of your typical restaurants, slow food but the ambiance of accommodating staff and pleasant music excites and at the same time tames your hungry tummy. The menu is mostly consisted of classic Filipino dishes at a moderate price and offers a wide variety from seafood, pork, beef, chicken and vegetables.
What you should order:
( Photo fromGastronomida via Blogger.com )
Baby Back Ribs – Sweet and really juicy ribs. Very soft and melts in your mouth. Good for 3 – 4 people.
Crispy Pata – The crispy in its name is not just for show. Very tasty and more than your regular crispy pata. Good for 3 – 4 people.
Sisig Pizza – A unique fusion of sisig and pizza. Their sisigalone is already mouth-watering but served as pizza, it's an explosive experience. Good for 4 – 6 people.
Cheesy Cassava Cake – A traditional dessert in the province. It's milky and the right amount of sweet!
2. Café Isabelle
Working Hours: Mon – Sat, 9:00 AM – 9:00 PM
Contact: +63 56 421 5533
( Photo from the management via TripAdvisor.com )
Brought work with you on vacation? Left some unfinished business and need a working space? Or just want to hang out with friends over coffee? Just across the street from Mango Grill is a cozy brick-walled café serving your usual premium blended coffee favorites and tea, along with frappes, pasta, sandwiches and cakes. Not only that, but wi-fi with good quality internet connection and sockets are already available, air condition is well functioning, and the seats are comfortable for a couple of on vacation working hours or good and intimate conversations with friends. Prices are really affordable and food is more than worth the spend.
( Photo from the management viaCafé Isabelle facebookpage. )
What you should order:
Blueberry Cheesecake – The cheesecake serving is fair and the cheesecake is smooth and balanced.
Bacon and Mushroom Cream – Linguine pasta with white cream sauce, bacon bits, mushroom and parmesan.
Any of their coffee or frappe – Very much the same quality as the cafés in the metro. Their frappes are of unique combination flavors or of the classics, chocolate and vanilla.
3. Una Pizzeria
Working Hours: Mon – Sun, 9:00 AM – 9:00 PM
Contact: +63 2550942
( Photo from David N viaFungogo.xyz )
Una Pizzeria is not exactly at the heart of the city but still within the city proper, just at the other end of the previous entries. Una Pizzeria is the only restaurant in Sorsogon that will give you the authentic flavors of Itallian cuisine. It is also fine to casual dining. Aside from food, they also feature a delicate array of wine. The restaurant is a low ceiling suburban home creeping with green vines, giving that authentic Italian touch. Food quality is amazing and prices are set from moderate to fairly expensive.
What you should order: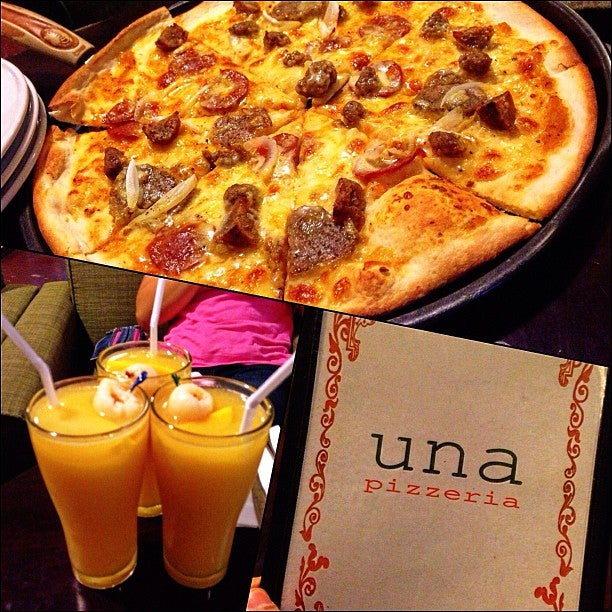 ( Photo from Leonard Mateos viaFourSquare. )
Any of their pizza choices (shout out to spicy tofu & shrimp pizza) – Choose one of your favorite combinations of pizza inclusions and you will surely fall in love.
Any of their smoothies/shakes – Made from real fruit and very tropical but subtle.
Any of their salad – The salad is fresh and crunchy with the vinaigrette mix having a flavorful punch.
4. Casa Dominga
Working Hours: Mon – Sun, 11:00 AM – 10:00 PM
Contact: +63 56 421 5587
( Photo from Louis Aninipotvia Instagram. )
Casa Dominga is a long-time family owned restaurant and remotely distant from the city center. It is a go to place to host as an events place for various occasions through the years. It played a central role in the lives of the town's people from birthdays, reunions, graduation celebrations and other gatherings. The place has different halls but the main hall is of circular orientation. The over-all ambiance is very welcoming and homey. The food choice is diverse and is a mix of western and Filipino cooking. The price is fairly expensive and it is slow-cooked food but the staff is super accommodating and helpful for all your needs. It is better to drop in with a reservation and a pre order for convenience.
What you should order:
( Photo from Patrik Stockholm via TripAdvisor. )
Baby Back Ribs – The meat is very tender and supple. The sauce soaks deep and is very rich in flavor. The best baby back ribs I have tested by far.
5. Leonardo's
Working Hours: Mon – Sun, 12:00 PM – 8:00 PM
Contact: +63 998 885 8308
( Photo from Christine T via TripAdvisor. )
Leonardo's is a new addition in town, it is family owned and controlled. It is a small house along Burgos St. and offers food from Japanese to Italian and Filipino. The owners are very hands on and attentive to their customers, as if you are a special and honored guest at their home. The food is delicious and a quick tip would be to have your visit announced ahead of time to cut the waiting and make the most of your time. The food is world-class yet the setting very personal and humbling.
What you must order:
( Photo from Bianca T via TripAdvisor. )
Ramen and Sushi – The dishes are prepared in the very same method from its origin. The ramen broth is mild and soothing while the sushi is intricately done. The only and best place to get Japanese food in the city.
6. Jane's Restaurant
Working Hours: Mon – Fri, 7:00 am – 9:00 pm
Contact: n/a
( Photo from Sorsogon's Jane's Restaurant Facebook page. )
Jane's is a long time running restaurant and caters to the masses. It is very affordable and has been there to feed most of the population of Sorsogon since its rural days until today. The food remains cheap and directed to the people. The store has undergone a lot of renovations ever since, but today it's relocated to the city center and has adopted a more chic diner vibe. It is of white walls and mahogany red wooden lining and furniture. It is a place of nostalgia and comfort for the locals. The food featured are more focused on noodles, shanghai, chopsuey, the typical Asian dishes.
What you should order:
( Photo from KruizaBaulkham via TripAdvisor. )
Pancit – Their pancit is a crowd favorite either to go or dine in. It is loved by many for its vegetables and meaty add ons. It is cheap and feeds many.
7. Balai Sugbahannan Pahuwayan
Working Hours: Mon –Sat , 9:00 AM – 9:00 pm
Contact: +63 917 887 8824
( Photo from the management viaTripAdvisor. )
Balai Sugbahannan Pahuwayan roughly translates to House for Grilling and Resting. True to its name, the far flung restaurant, away from the busy streets and located along the city's diversion road is really a special place of relaxation. The restaurant is embraced by the greenery of trees and shrubs and here you'll get to distinctly experience the cold and refreshing air of the province. Balai is in a Bahay Kubo architecture and its Filipino inspired dishes are served in clay pot, banana leaves and wooden table ware, for that rural Filipino lifestyle. No doubt the food is tasty and every bite brings memories. Prices are moderately pricey.
( Photo from BalaiSugbahan nan Pahuwayan Facebookpage. )
What you must order:
Bulalo – Unlike the usual bulalo, the meat is not gamey. Instead, it is chewable and enjoyable. The broth is also full of vegetables and umami.
8. Victoria's Grill
Working Hours: Mon – Sun, 8:00 am – 12:00 pm
Contact: 0998 865 3788
Another grillery in town and actually pretty close from the first one. Victoria's Grill however is unique for it is an actual grillery and serves you really fresh seafood from varieties of fish, squid, shrimp and crustaceans. Aside from that are the usual grilled chicken and pork and they also serve sinabawan at sinigang na isda. It is a newly opened store in town and is situated in an old structured house so the interior architecture is really interesting. It also hosts private events and have private rooms for dining. It is usually in a partnership with other hotels in the city where hotel guests are transported some time in their stay to have them a taste of Sorsogon's seafood. Prices are moderately pricey.
What you should order: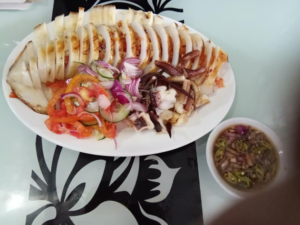 ( Photo from Victoria's Grill Facebook page. )
Grilled Squid – Their seafood is caught every day and straight from the wet market so it is guaranteed to be fresh. Fresh grilled squid is sweet, soft and juicy. The stuffing also provides unique aroma and flavoring for the grilled squid.
Sinigang na Salmon Belly – Another food with flavor intensified due to the freshness and premium quality of its main ingredient, salmon belly. The broth is rich and warms your tummy.
9. Rosario's Café and Restaurant
Working Hours: Mon – Sun, 7:30 am – 9:00 pm
Contact: 0920 880 5199
Rosario's home town was in Gubat, a district of Sorsogon. But there is a newly opened branch within the city proper and it is in a closed balcony setting with the interior mainly of shiny mahogany wood. Rosario's is well known for providing hot early morning and late afternoon coffees. Its main demographics are the middle aged to senior townsfolk who grew up in the presence of Rosario's coffee and tablea (a.k.a. hot cocoa drink) Prices are slightly affordable.
What you should order:
( Photo from Rosario's Café and Restaurant Facebook page. )
Crispy Flaked Tinapang Bangus – Aside from their coffee (which is an already given try) , the breakfast will be much fuller with Rosario's Tinapang Bangus with a side of salted egg and tomatoes, a perfect and traditional morning starter. The acidity, saltiness and crisp of the ingredients come together in harmony.
10. Tia Tinay'sKapihan
Working Hours: Mon – Sun, 5:00 am – 4:00 pm
Contact: n/a
( Photo from the Sorsogon City account via WordPress.com . )
Aside from Rosario's which was mainly catering to the Gubat towns folk, the Sorsogon proper has its own provider of coffee and morning or afternoon snacks. Tia Tinay's Kapihan withstood generations ever since 1957 and has always been there as a shabby store near the town's marketplace to welcome the moms and dads who just finished buying the family's food for the day or week. It has been there as a hub for the tired people to grab a quick bite of kakanin and coffee. Prices are very affordable.
What you should order:
( Photofrom the Bicolanon Man via WordPress.com . )
Coffee and Kakanin – Tita Tinay's recipe for their kakanin has been passed down from generations and has been consistent ever since. The stickiness, taste, and quality are without a doubt marked by a long history of honing and love.