Imagine yourself taking a road trip. Along the way, while blasting off the stereo, alas! Your car breaks down as you try to hit the winding road leading up to your destination. To stand in the middle of the road with a broken-down car is, perhaps, one of every car owner's nightmares. Like a scene from a movie where the driver attempts, but miserably fails, to revive a car with a battery that dies down midway through the trip.
There are many reasons why a car would break down or not start. When you determine that the problem isn't in your engine, after a quick system and physical check, one of the easiest culprits to recognize may lie in your vehicle's vital component—the battery. Back then, when a car suddenly stopped working, cleaning the terminals, adding some water, or letting it rest would do the trick. Modern vehicles carry various technological advancements that make our driving experience even more convenient and pleasurable. However, these new functionalities require a higher energy source for a car to work effectively. Simply put, your car battery provides power to start your engine. A good quality automotive battery will not only get the job done; it will ultimately give you peace of mind when you are on the road.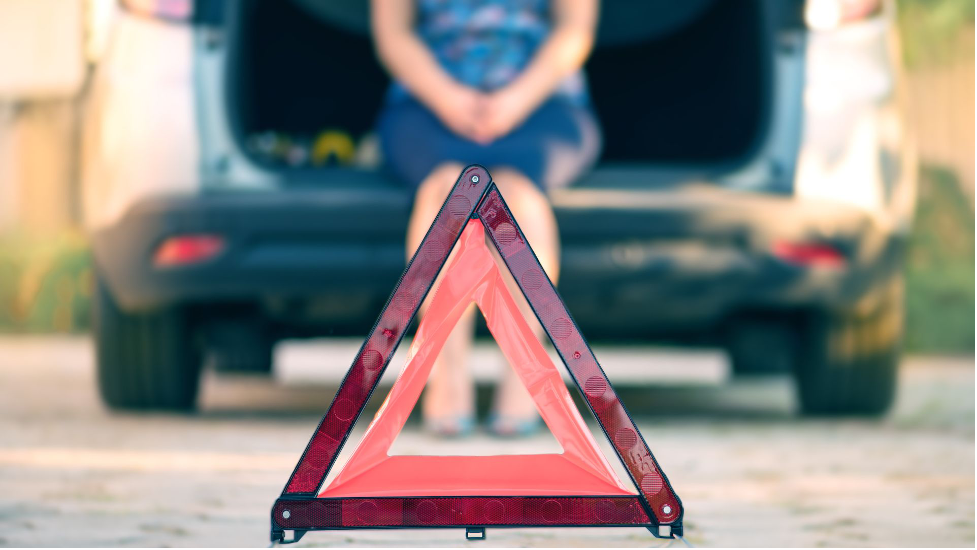 Lucky for us, there are high-skilled people who can help us answer our questions. Many mechanics can spot the problem with just one look. Some could even tell you what's wrong by simply listening to the sound of your car engine. It could be your first time having a car, and you might have questions about your car's battery. So, we have consolidated some of the questions you should ask your mechanic when you get your wheels checked.
Does my car require a specific automotive battery technology?
As mentioned earlier, today's cars are far more advanced than the ones we had decades ago. It also means that every car has specific requirements in order for it to perform as expected. From your car's lights to your dash cam and stereo, all electrical components of your car rely on the battery and alternator. Some of these features, like the dash cam parking surveillance, will continue running even when you are not using your car.
Of course, nothing beats knowing you have a good quality battery for your vehicle to function efficiently and with no frills. You may check the vehicle owner's manual to know your car's minimum battery requirement. The good thing is, regardless of your car's specifications, brands like Motolite have perfected products that could address the demands your car may have. If you have no idea what kind of battery you should get, this is one of the things you should ask your mechanic. More often than not, they have recommendations on what type of battery would fill your car's needs. You can also check Motolite's page for its product list.
How often do I need to change my car batteries?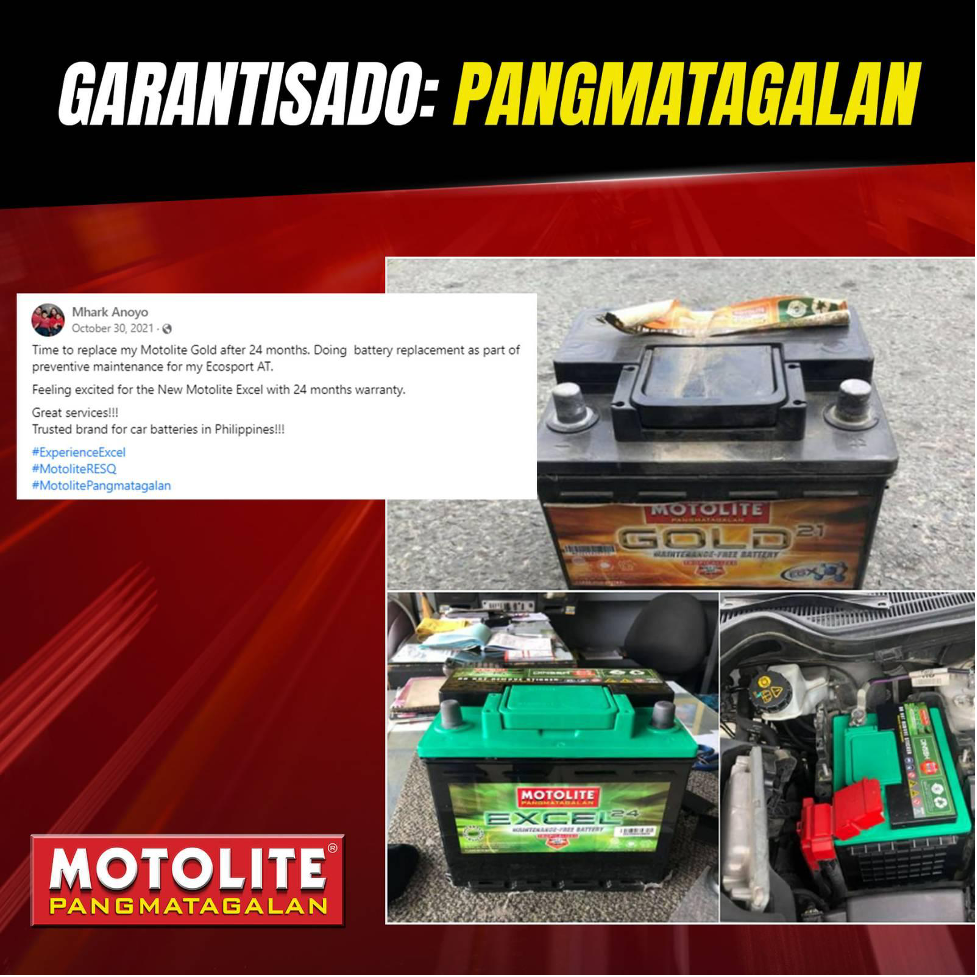 Many factors affect the service life of a battery. For Motolite batteries, they could last for two to three years— depending on the road, weather, and other usage conditions. The frequency at which your car battery is checked and cleaned can help extend its life span. However, there are things that you need to keep an eye on, as they could be telling signs that it may already be time for you to replace your battery.
Dimming of headlights when the engine is idling could be one of those signs. If you think there is something wrong with your battery, it is best for you to have it checked by a technician. On top of their industry-proven and quality batteries, Motolite also has a 24/7 hotline for customers who need assistance with their car batteries. Their highly- skilled technicians can help answer your immediate questions. They could also help you get a new battery delivered wherever you are in the country in case a replacement is needed.
Batteries seem too complicated. How do I care for it?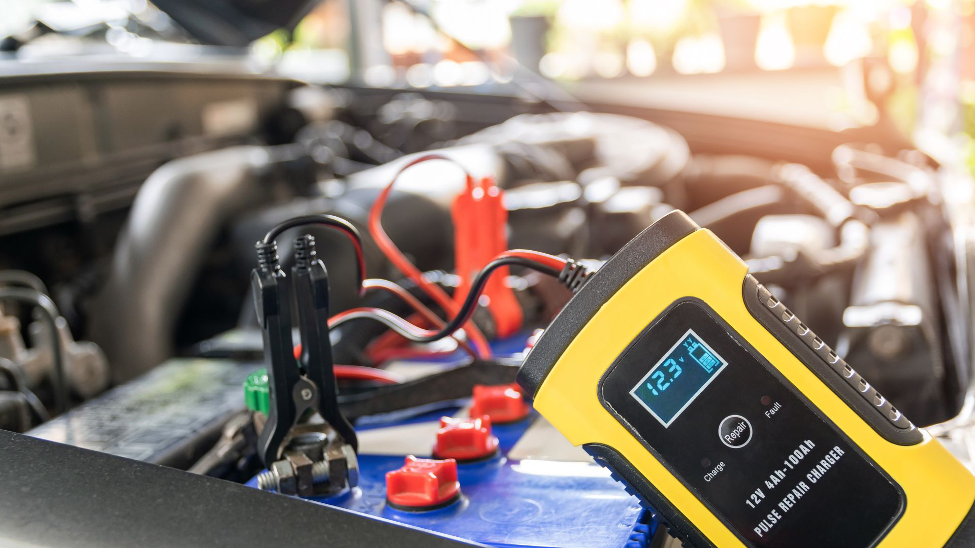 Like anything else, they will likely last longer and work efficiently when proper care is given. The same goes for your car batteries. Knowing how to perform basic maintenance like cleaning the corrosion residue with water and baking soda will help ensure you will not run into any trouble with your battery. If you can't perform a check-up by yourself, you may have someone or a technician determine the charge level using a voltmeter. Generally, when the voltmeter reads below 12.2 V, your battery has less than half its charge. Driving a car in this condition is not advisable for long, heavy-duty trips.
Avoid the broken-down car scenario above. You do not have to know all the specifics about your batteries (though it could come in handy); you simply need to understand your battery to build a habit around it. Let your battery take care of you by taking care of it, too.
Investing in quality batteries that can efficiently perform over a longer period of time can save you from spending more in the future. They yield better performance, giving you the peace of mind that they can take you where you want to go. A battery is one of the most critical parts of a vehicle. A lot is riding on it. Taking the time to understand it will help you avoid getting left stranded with a dead battery. If all else fails, Motolite is not just "pangmatagalan," it is also "maaasahan".