The dodge game with the rain has started. This time, it is highly recommended to bring an umbrella with you everyday for the next months. And, with all these unpredictable weather changes and heavy rainfalls, your umbrella should be the most invincible yet convenient umbrella there is.
Many innovative and creative umbrellas have been introduced and are continuously being improved – those that can withstand strong winds, dry up easily, and more. Here are some cool ones you would want to get your hands on. Not only will they protect you from the rain but their designs will surely brighten up your gloomy day.
1 The Senz Umbrella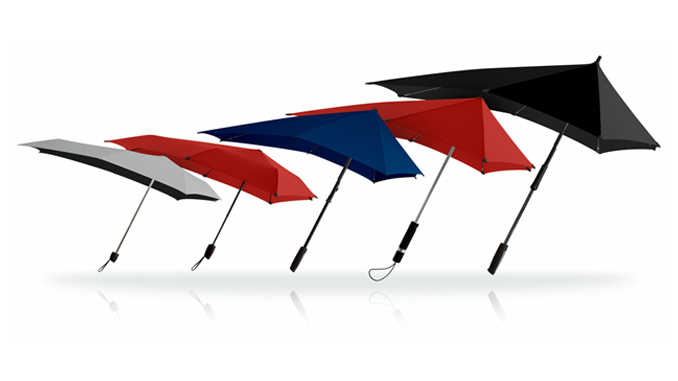 The Senz umbrella is specifically built for weathers with strong winds. It may look weird with its angular structure but rest assured it is backed up by aerodynamics (Cool, right?). It is designed to let air pass around it and prevent itself from being flipped when wind blows hard even at 70 mph (100 kph). Instead of going crazy being tossed around, you can keep control of your umbrella whether during a storm or a windy sunny day.
2 The Kjaro Umbrella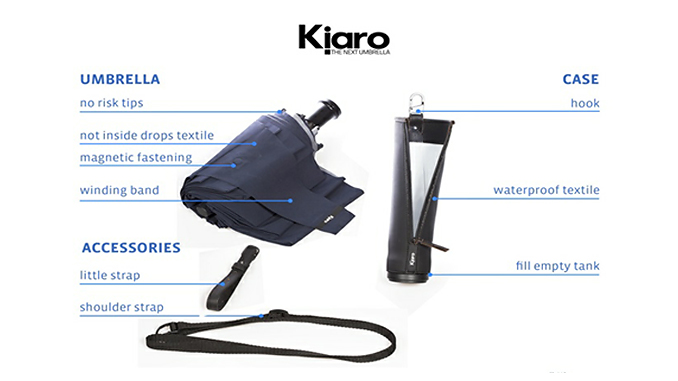 Unlike umbrellas you leave outside to dry after getting drenched in the rain, the Kjaro umbrella is equipped with a case which stores dripping water and allows you to bring your umbrella inside buildings without getting anything else wet. Just fold the umbrella after use and put it inside the case as it drains. When it is all dry, you can easily dispose of the water before facing the rainy weather again. The Kjaro umbrella is pretty handy with its loop made for hanging, and flat bottom design to keep it standing on its own. The case may also be used for other umbrellas because it looks like any other three-fold umbrellas.
3 The Davek Alert Umbrella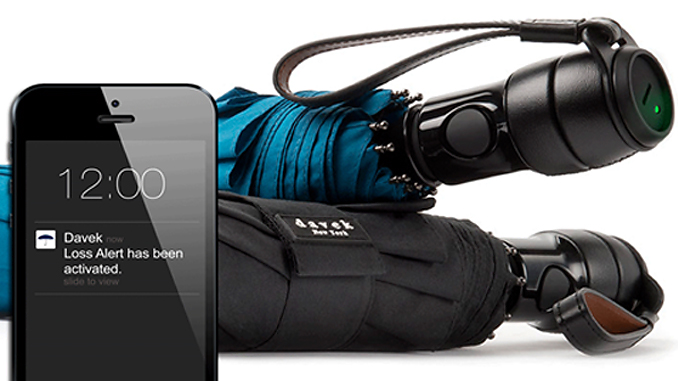 If you are that person who keeps losing an umbrella (Tragic!), then you will definitely love this one.
Built with a Bluetooth chip in its handle, the Davek Alert umbrella will notify you once you have left your umbrella behind. Having constant contact with your device once paired, it sends signals to keep track of your umbrella's location. So when you forget to take it with you, a phone app will send an alert that you are out of range. No more reason to lose that umbrella (whether you forgot it somewhere or someone else took it from you).
4 The Oombrella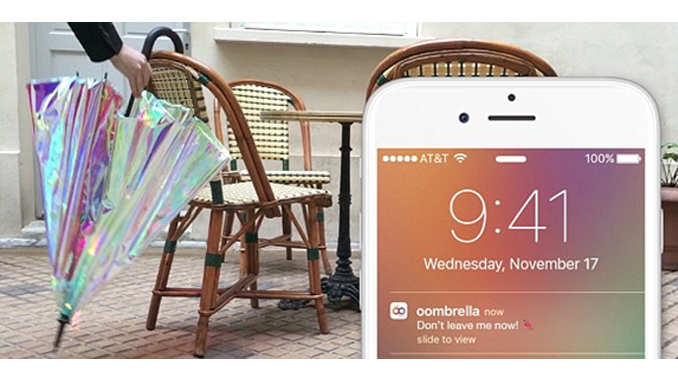 Similar to the Davek Alert umbrella, the Oombrella features a notification service for your phone to let you know if you have left your umbrella behind. What is more, it also sends an alert when rainfall is expected. With Oombrella, you will not have difficulty deciding whether to bring or leave your umbrella ever again.
Each oombrella has sensors in its handle which gather information on the current. This information is the basis of notifications on your device which can also be shared to other users through Oombrella's online weather forecast platform.
5 The Nubrella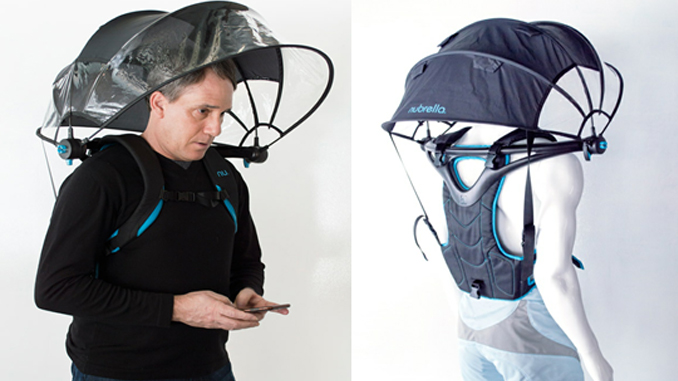 We are still talking about umbrellas even if there is a space helmet-looking thing here.
Meet the Nubrella: a half-hoodie, half-backpack umbrella. It lets you keep your hands free while being busy with other things such as carrying heavy groceries, riding a bicycle, and making home repairs outside the heat or storm, which means, "Look, Mom! No Hands!" The umbrella is attached to a backpack which keeps it steady despite strong winds or rains. There are also straps for the waist to keep the bag secure. After use, the umbrella can be pushed back in the backpack with a press of a button. Easy.
6 The Rainshader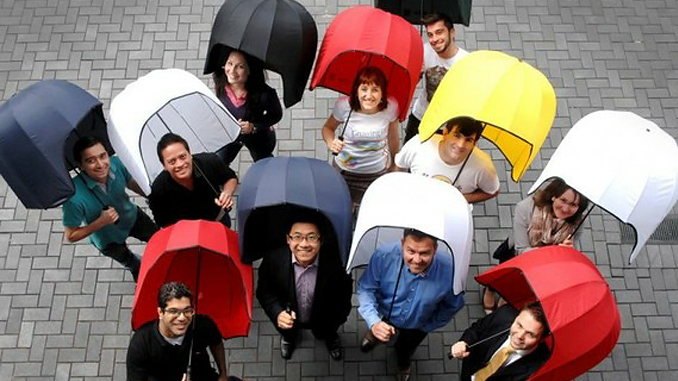 Another helmet? Nope. Still an umbrella. It may look like this umbrella was built for fun but it is more than how it looks. Designed to have greater coverage, the Rainshader protects you from rain and wind coming from different angles. Having a closed-up design also limits the chill you can feel from the cold winds, and prevents having the umbrella blown inside out. What is more, no one can get poked in the eyes as frames are kept low on the sides. It is just you and your helm… I mean, umbrella, now.
7 The Blunt Umbrella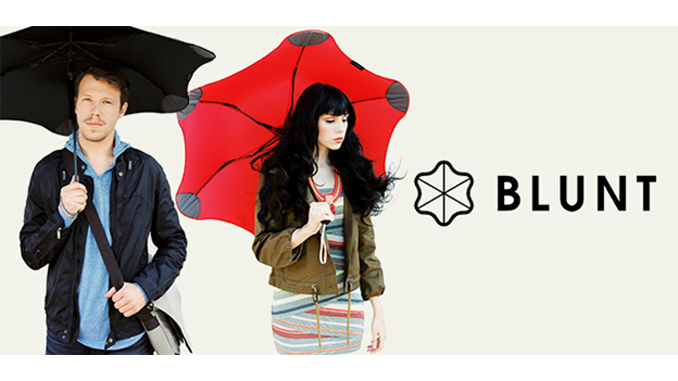 These umbrellas have both the features of the Senz and the Davek umbrellas: designed to withstand the toughest weather conditions, and built with bluetooth trackers. Blunt umbrellas have a patented 'Blunt Tips' that make up an important feature they call the Radial Tensioning System (RTS). It "redirects, transfers and distributes the effort used in opening the umbrella throughout the entire canopy surface." Sounds sturdy enough to me!
8 The Inside Out/Inverted Umbrella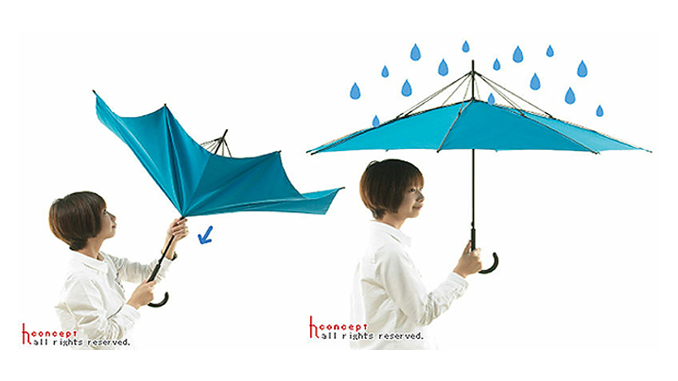 I know we will all agree that the most annoying thing with our umbrellas is when they get blown inside out during windy days. What is worse is when it happens on a storm and your umbrella just gives up on you. There you are: under the pouring rain. Alone in the cold. Broken just like your umbrella. So helpless and lonely.
Well, not anymore.
You will never have to struggle with a broken and flipped umbrella ever again. Nope. Because this time, you can get your hands on an umbrella that is already flipped (and it's good!) The Reversible Umbrella is designed to close inside-out which prevents it from getting blown out. This also prevents everything from getting soaked when left to dry as it is built to collect dripping water when closed.
9 The Handbag Umbrella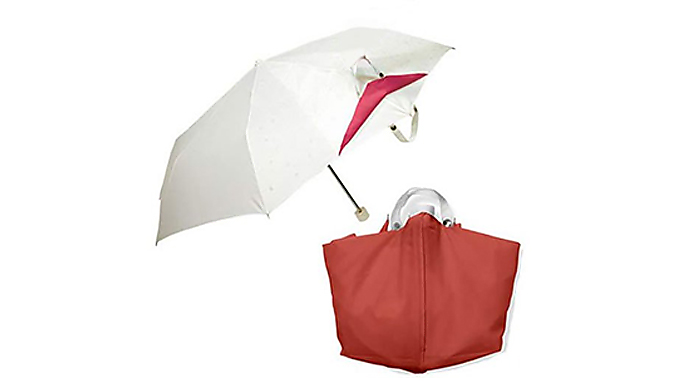 Just like the Kjaro, this umbrella collects dripping water when folded, only that this one is the bag itself. It is quite the independent umbrella. This umbrella is designed to easily transform into a bag. By just pulling one of the straps attached on the canopy, the bag is revealed, encasing the umbrella and ensuring that water stays inside.
10 The Cypress Umbrella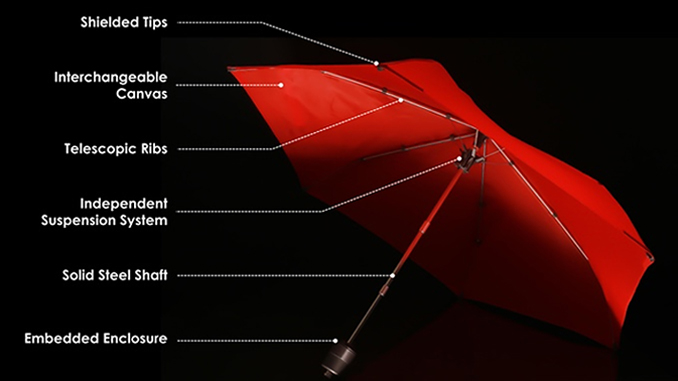 This umbrella boasts of a telescopic frame architecture which makes it sturdier than standard umbrellas.
It also features a suspension system that allows the umbrella to independently move with changes in wind direction in order to ensure stability.
The Cypress umbrella has an interchangeable canvas. Through the snap connections on the ribs of the frame, the canvas can be easily detached and changed into another color or pattern available.
Getting everything drip-free after a rain is also guaranteed with an expanding enclosure which can be easily pulled out from the handle.
Do you know of other cool umbrellas perfect for this season? Share your finds with us.