Look out, ASEAN Youth! Are you ready for another FRESH season?
UST Model ASEAN Meeting formally opens the 𝐝𝐞𝐥𝐞𝐠𝐚𝐭𝐞 𝐚𝐩𝐩𝐥𝐢𝐜𝐚𝐭𝐢𝐨𝐧𝐬 for 𝐔𝐒𝐓 𝐌𝐀𝐌 𝟐𝟎𝟐𝟑. All 𝙎𝙀𝙉𝙄𝙊𝙍 𝙃𝙄𝙂𝙃 and 𝑻𝑬𝑹𝑻𝑰𝑨𝑹𝒀 𝑺𝑻𝑼𝑫𝑬𝑵𝑻𝑺 across the 𝑨𝑺𝑬𝑨𝑵 are eligible to join. The conference proper will happen on February 16-18, 2023 via ZOOM.
UST MAM 2023 adopts the theme, "𝐑𝐞𝐝𝐢𝐬𝐜𝐨𝐯𝐞𝐫𝐢𝐧𝐠 𝐀𝐒𝐄𝐀𝐍'𝐬 𝐑𝐞𝐥𝐞𝐯𝐚𝐧𝐜𝐞 𝐢𝐧 𝐭𝐡𝐞 𝐏𝐨𝐬𝐭-𝐏𝐚𝐧𝐝𝐞𝐦𝐢𝐜 𝐖𝐨𝐫𝐥𝐝". Be prepared as we face a new era with a stronger and bolder fervor for ASEAN diplomacy!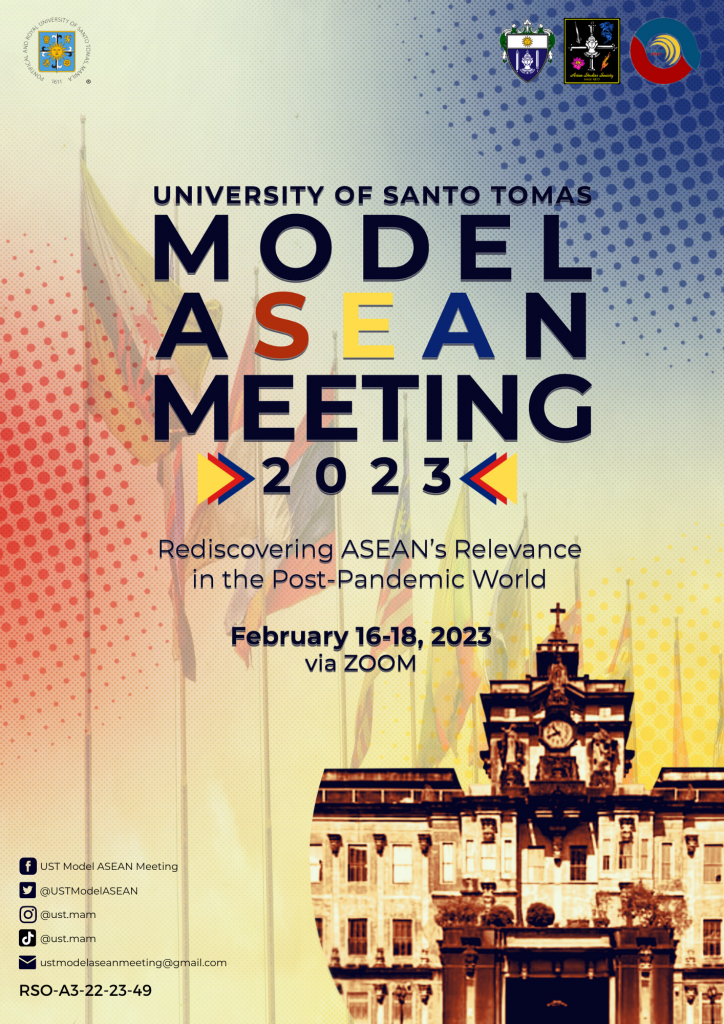 Delegate applications will be open from 𝙾𝚌𝚝𝚘𝚋𝚎𝚛 𝟷0 𝚝𝚘 𝙾𝚌𝚝𝚘𝚋𝚎𝚛 𝟹0, 𝟸0𝟸𝟸! Registrations will close on the dot at 11:59 PM (GMT+8).
For more details about the delegate applications, kindly view this link: https://forms.gle/jvpyPLUvBK5G3Wkb8
For more information about UST MAM 2023, check the primer here: https://bit.ly/3CJEGr8
You may reach the UST Model ASEAN Meeting through these accounts:

FB: UST Model ASEAN Meeting
TWT: @USTModelASEAN
IG: @ust.mam
TIKTOK: @ust.mam
E-mail: ustmodelaseanmeeting@cindy-villarica
Don't miss this chance and JOIN UST MAM! ❤️💙💛
#USTMAM2023
#USTMAMnifyingAt9
#SiyamWithUSTMAM