Are you looking for the nearest community pantry? Do you want to donate but do not know where to go? Do you need some help but cannot go far?

The pandemic has shown the worst, but also the best. Depending on where you are looking at, you see a lot of bad things happening, then you also see a lot of good things happening.
"Give what you can, take what you need."
Let us take, for example, the phenomenon called community pantry. "Give what you can, take what you need", has captured a lot of hearts, and fed a lot of stomachs. From one to one hundred, and more. From that very first one in Maginhawa Street in Quezon City, there are hundreds now in Metro Manila, and some have likewise sprouted already in other provinces as well.
To be sure, without a doubt, like wild fire, it has spread across the nation, proving once again that while many unfortunate people cry for help, there will always be fortunate people who will heed the call.
"Aside from the one in Maginhawa, where are all the others?"
The question now is, "aside from the one in Maginhawa, where are all the others?"
Thankfully, some volunteers created a free, mobile-friendly, and periodically-updated app that will point those looking for a community pantry in the right direction.
Accessible through Facebook Messenger and Viber application: Kyusi Community Pantry, it shows the location of the community pantry, where to donate supplies, how to build your own community pantry.
Developed by Whiz Philippines, they previously created Sak.AI QC, that app providing the best commuting directions and multi-modal routes that can be used by healthcare workers, other medical frontliners, and the general commuting public for their transportation options during the pandemic, using conversational Artificial Intelligence (AI) incorporated in messaging platforms.
Thinking that the same technology they used to build the commuting routes and directions can also be used to establish a community pantry tracker, they tweaked their existing AI setups and here we are now.
"We recognized that we could make use of the available and emerging technologies in the market such as AI, machine learning, geolocation, among many others, to show where these community pantries are," said Jay Pineda, Chief Dream Enabler of Whiz Philippines.
"Aside from helping citizens locate the nearest community pantry, we also feature other information like where to donate, how to trade goods, how to build your very own community pantry, among many others," added Pineda.
To use this new feature, just take the following steps:

To use this new feature:

1. Search for "Sak.AI QC" on Facebook Messenger or click on this link Sak.AI QC.
2. Click the "Get Started" button and wait for the automated response.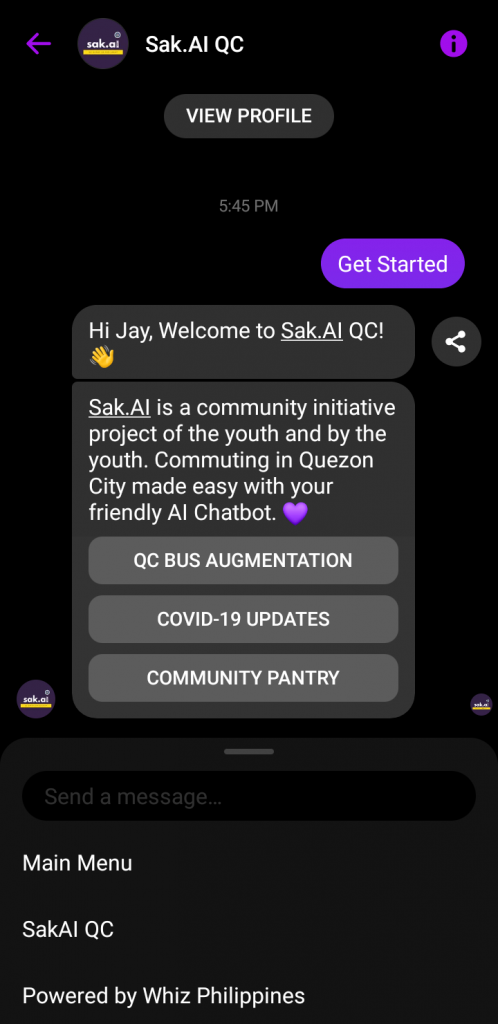 3. After it shows the three options, click the "Community Pantry" button.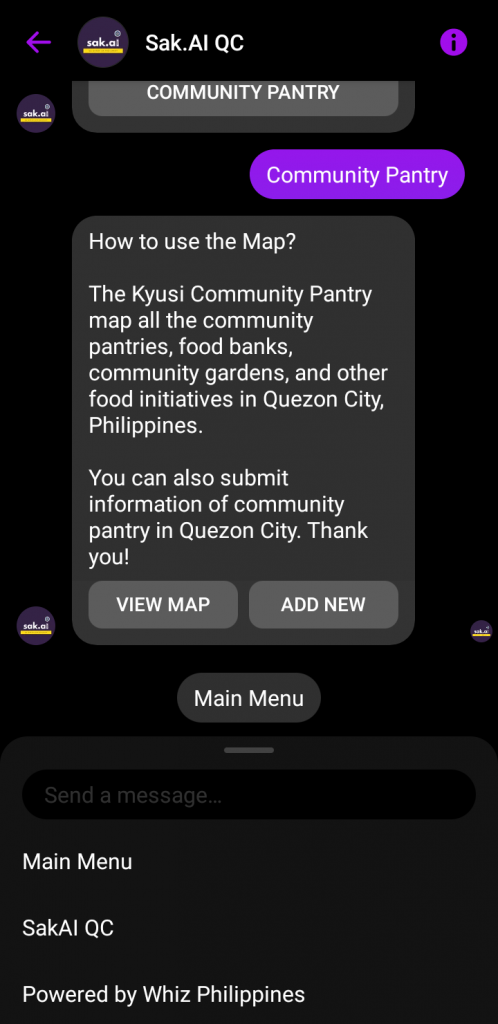 4. Click the "View Map" button, and the map will appear. Navigate the nearest community pantries to your current location.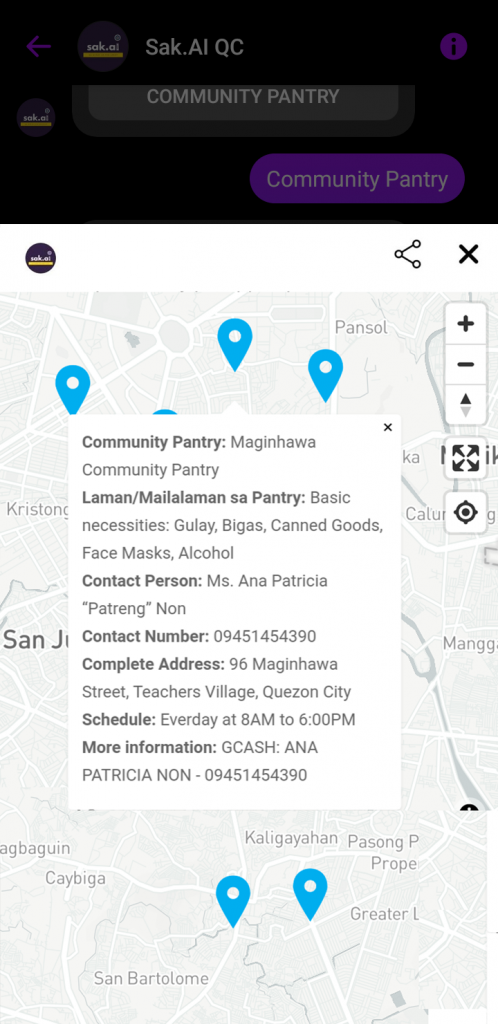 Upon clicking/tapping on each pin on the map, it will display the community pantry organizers or contact persons, along with their contact details, and even bank accounts used for donation purposes.
Community Pantry organizers can also add the details about their initiative which includes schedules (opening and closing time) and what kinds of goods that were being distributed (subject to change depending on availability).
As of May 5, 2021, there are already 104 community pantries registered in the platform.
What are you waiting for? Donate now. Or get what you need.