RONALD VENTURA
Ronald Ventura, a UST BFA in Painting graduate, is a contemporary Filipino artist known for intermingling hyper-realism, cartoons, and graffiti with both historical and Pop culture subject matters. Working in both painting and sculpture, his work portrays scenes of chaotic disarray, incorporating traditional Western and Asian mythologies with contemporary cultural symbols like Mickey Mouse. In 2011, Ronald Ventura broke the record for highest-grossing Southeast Asian painting at Sotheby's Hong Kong when his graphite, oil and acrylic work titled Grayground sold for $1.1 million.

"Grayground" was sold for nearly P47 million pesos (HK$ 8,420,000) at Sothebys Modern and Contemporary Southeast Asian Paintings.
ALFREDO & ISABEL AQUILIZAN
The artist couple's collaborative activities evolved within the spheres of family and community, including personal relationships and those they share with other artists. The two artists have participated in a number of international biennales and exhibitions including the Sharjah Biennale, UAE (2013), Asia Pacific Triennale, Australia (2009), Singapore Biennale (2008), Adelaide Biennale, Australia (2008), Sydney Biennale (2006), the Third Echigo-Tsumari Triennale, Japan (2006), Gwangju Biennale, Korea (2004), La Biennale de Venezia, Italy (2003) and many others.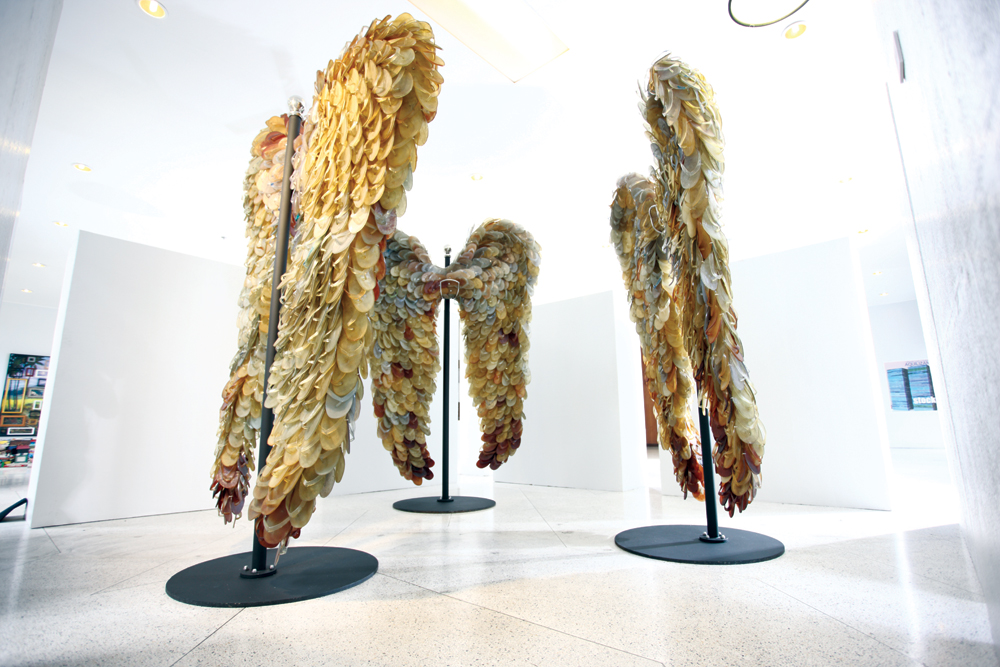 "Wings" 2009, used rubber slippers collected from a Singapore correctional facility, displayed at Drawing Room, Manila, 2010.
MARK SALVATUS
Mark Salvatus is a recipient of various awards such as 13 Artists Award from the Cultural Center of the Philippines (2012); Sovereign-Schoeni Art Prize, Hong Kong (2012) and Ateneo Art Awards (2010). He was invited to join the Philippine Pavilion at the Architecture Biennale 2016 in Venice/IT. The artist's persistent preoccupation with urban culture is most evident in his video works through which Salvatus conveys his clever commentary on the incongruities that plague Metro Manila, the Philippine capital region deemed to be the land of opportunities.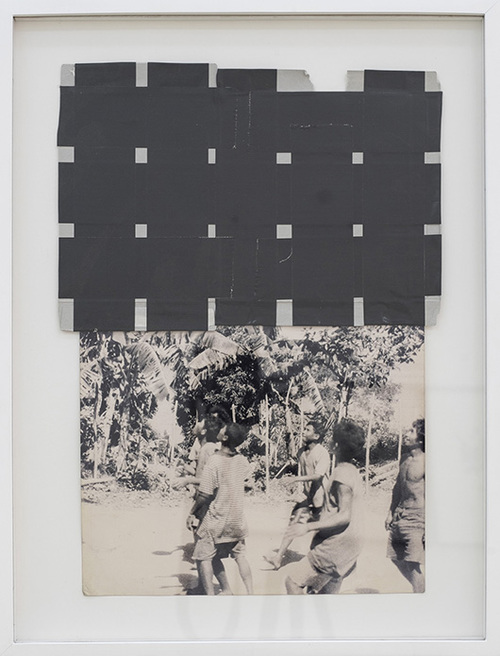 "All The Way 2015", Photograph, Packaging Tape, Cardboard, 53 x 41 cm
Gary-Ross Pastrana
Born in 1977 in Manila, Gary-Ross Pastrana received his Bachelor's degree in Painting from the University of the Philippines and was handed with the Dominador Castaneda Award for Best Thesis, and was granted with residency programs in Japan and Bangkok. He is a conceptual artist, curator, and a CCP Thirteen Artists Award recipient whose work has been exhibited at several prestigious galleries and international art fairs both here and abroad—notably at the 2008 Busan Biennale in Korea and the 2010 Aichi Tiennale in Japan. He also created the central image for one of the five covers of Esquire's fifth anniversary issue: A pigeon, reconditioned from his 2003 work "Set Fire to Free."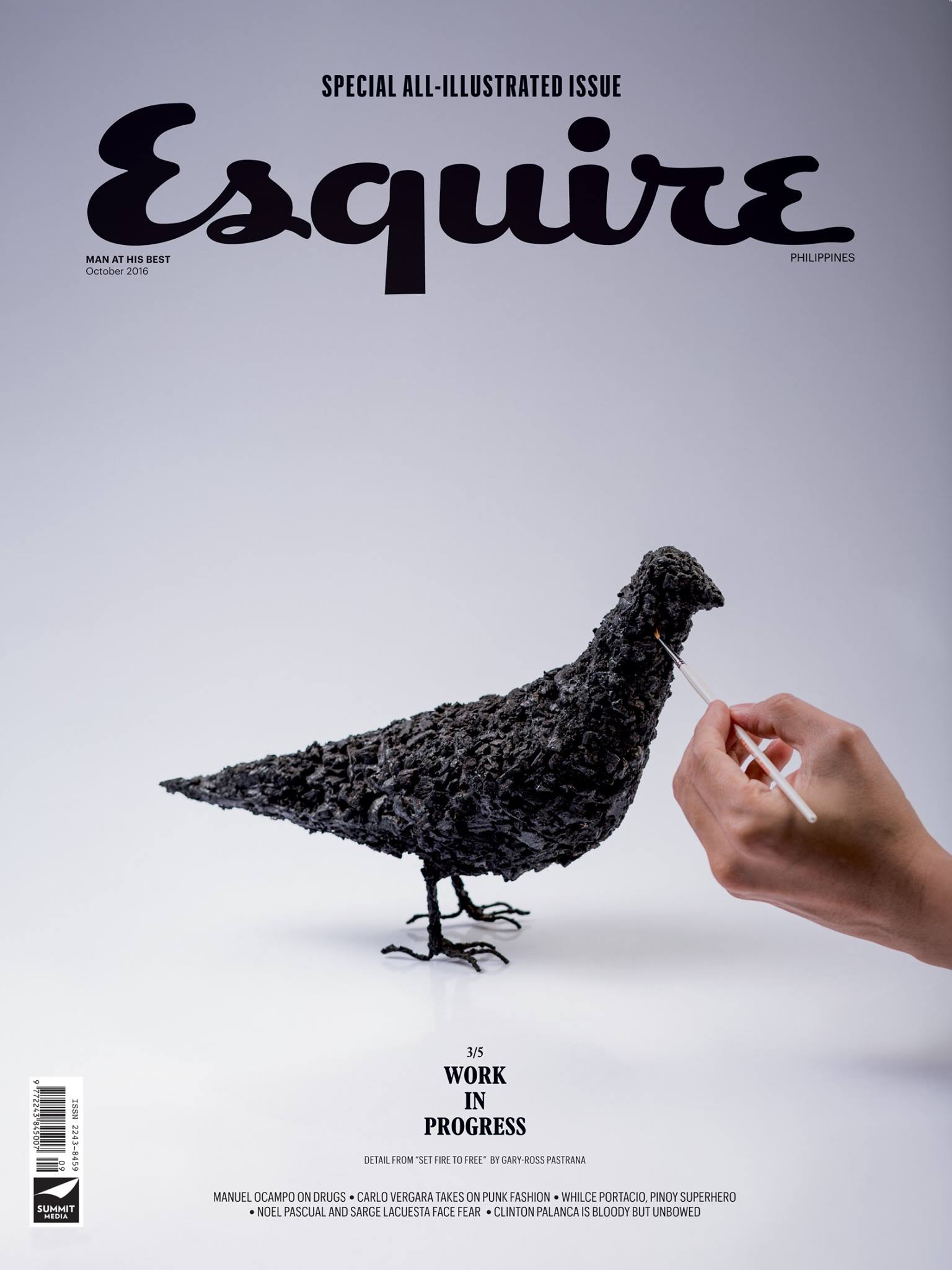 One of the five covers of Esquire's fifth anniversary issue: A pigeon, reconditioned from his 2003 work "Set Fire to Free."
José Santos III
José Santos III earned his BFA from the University of the Philippines College of Fine Arts where he also taught for several years. He started his artistic career as a figurative painter commenting on social and political issues often using an allegorical style but, in recent years, his practice has turned to using everyday objects as abstract subject matter. Whether it's about telling stories through his figurative paintings and drawings or tracing histories through his still life compositions in collage, painting, assemblage and installation works, their messages are oftentimes elusive and impenetrable opening up possibilities for interpretation.

José Santos III, Passing through A, 2016, Charcoal, acrylic, and oil on canvas, 3 panels 46 × 488 cm