National Electrification Administration (NEA) Administrator Edgardo Masongsong kicked off the nationwide celebration of the 8th National Electrification Awareness Month (NEAM) with the Ceremonial Switch-on of the 12 Millionth Consumer Connection, the opening of the Renewable Energy Investors Exhibit, and a visit of Electric Cooperatives to the House of Representatives.
This year's NEAM, with the theme "Ensuring the Gains of Rural Electrification through Enlightened Member-Consumer-Owners," coincides with the 48th Founding Anniversary of the NEA. The NEAM is commemorated annually every month of August in accordance with Proclamation Order No. 1743, and seeks to recognize the important role of the electrification program in nation building.
As part of the NEAM celebration, Masongsong led the unveiling of the "I HEART NEA" welcome structure and two new facilities for members of the media.
Masongsong said the rainbow-colored welcome structure, located at the lobby of the NEA Building, symbolizes the state agency's "desire for relevance and be instruments of change."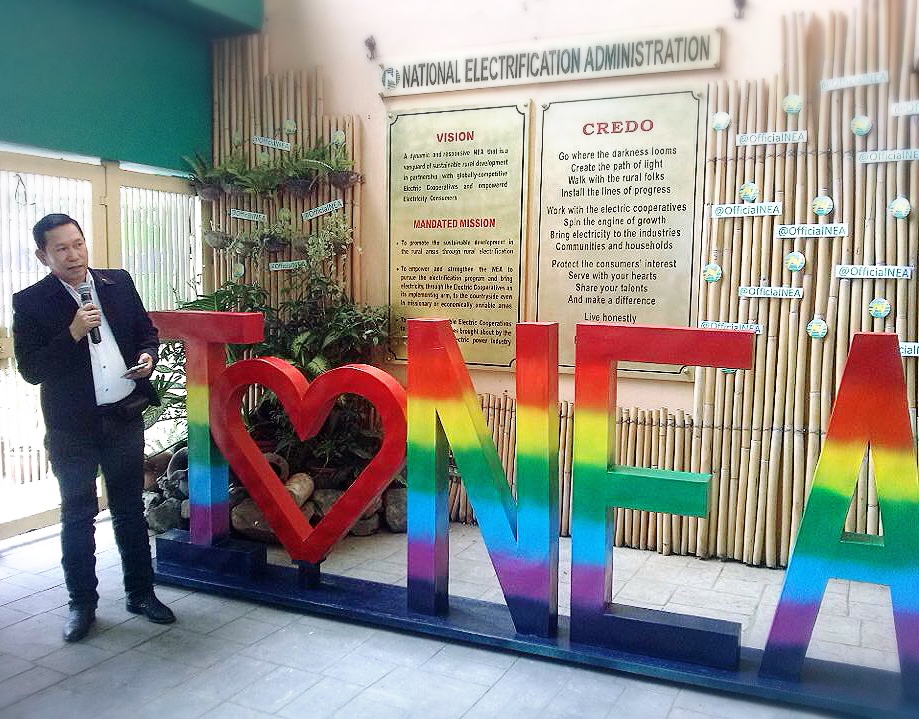 "This represents our aspiration for significance in the consciousness of our people who deserve better service and a better country, and is the face of our vision where NEA stands mighty and proud as a vanguard of sustainable development through rural electrification," the NEA chief added.
Masongsong also opened the new Press Working Area for the media, a fully air-conditioned work station that can accommodate 20 to 25 members of the press and has a dedicated internet and telephone connection.
The NEA chief likewise opened the Media Lounge and Briefing Room, which is equipped with a wide-screen LED television, a multi-media screen for overhead-projected presentations, and a dolby surround sound system with executive chairs for press briefings and interviews.
These facilities, Masongsong said, are part of the NEA's efforts to provide the public with information about the government's electrification efforts and how these contribute to the Duterte Administration's initiatives to bring development to the regions.