State-run National Electrification Administration (NEA) remains steadfast in its commitment to carry out the total electrification of the country despite the many challenges, including the liquidation of subsidy funds released to its partner electric cooperatives.
Administrator Edgardo Masongsong, in a press conference with Energy Secretary Alfonso Cusi and other officials at the Department of Energy headquarters in Taguig City, admitted there are challenges in the implementation of the rural electrification program.
One factor that hinders the program, according to the government electrification agency chief, is the liquidation of subsidies released by the NEA to ECs.
"We have a problem on liquidation of the funds given to the electric cooperatives because the electric cooperatives cannot yet liquidate," Masongsong said.
Another factor is the delay on the issuance of local permits.
"While we have constructed the lines, we have not energized the households because there is a problem on the issuance of regulatory permits by the local government units. That's one issue that we are addressing," he further explained.
Masongsong intends to seek the assistance of DOE and the Department of the Interior and Local Government (DILG) for the waiver of local regulatory fees for energization projects to avoid unnecessary delays.
To speed up electrification in far-flung areas, NEA recently formulated a policy that would allow private investors to establish micro-grid systems. To date, there are 23,464 sitios across the country that remain without electricity.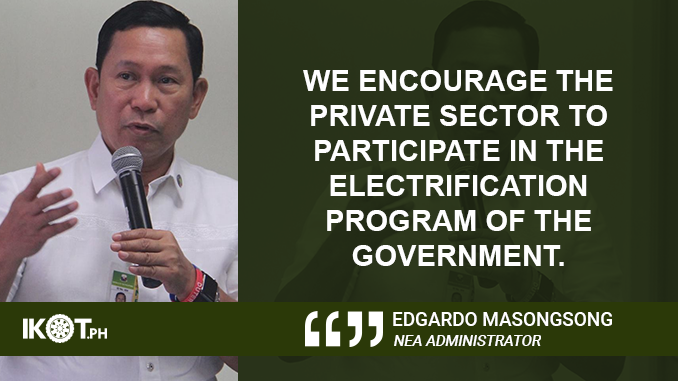 "We encourage the private sector to participate in the electrification program of the government by putting up micro-grids in areas we believe they can help fast-track energization," Masongsong said.
The NEA chief, meanwhile, expressed the agency's full support to DOE's 'E-Power Mo' campaign to promote and educate electricity consumers about energy.