One would normally expect utility companies to bewail the recent imposition of higher taxes, no matter how well-intentioned it may be, but that is surprisingly not the case for electric cooperatives (ECs) in this Northern Mindanao province.
While some non-profit distribution firms are probably getting all worked up by now, trying to put their customers at ease for when they receive their next power bills as a result of a recalibrated tax system this year, the two market players operating in Bukidnon seem rather unperturbed.
The First Bukidnon Electric Cooperative, Inc. (FIBECO) credits this calm demeanor to its procurement of a 69,000 volt (69kV) subtransmission line, which it shares with the Bukidnon Second Electric Cooperative, Inc. (BUSECO), making them client-owners of the said facility.
Representatives from both ECs acquired it through a lease purchase agreement with the National Transmission Corporation (TRANSCO) sometime in 2015 after a long and winding legal dispute that lasted several years over who should get the majority stake.
When they finally agreed to a 50-50 deal, FIBECO and BUSECO thought it was best to utilize the high-voltage power line under a consortium, which then led to the creation of the Bukidnon Subtransmission Corporation (BSTC).
Prudence dictated its acquisition at the time as both coops feared that if they lose control over the 69kV subtransmission asset, a bigger company might pursue its own interests in it, affecting the welfare of their member-consumer-owners (MCOs).
"In order to cordon Bukidnon and in order to protect the market, they have to buy the line. That's practically the concept," said Engr. Artis Nikki Tortola, Deputy Administrator for Technical Services of the National Electrification Administration (NEA) and erstwhile chief operating officer of BSTC.
Investing on a subtransmission facility turned out to be a smart move for both ECs as it helped mitigate the impact of potentially adverse policies they would be forced to adopt under the Electric Power Industry Reform Act (EPIRA).
BSTC operates the 69kV subtransmission line that spans over the areas of Tagoloan to Lunocan at 14.4 kilometers (km); Kibawe-Maramag-Aglayan at 79.05 km; and the one km Maramag-Pulangi lateral line.
Tortola described it as "just like a super highway where electricity passes through the line" and collects a corresponding toll fee from its clients, FiIBECO and BUSECO, which are tasked to distribute energy to the end-users.
"Whatever income BSTC derives from its operations eventually redounds to the electric cooperatives because it could be plowed back either as a form of a reduction of rates or of their capital expenditures," he explained.
This way, potential spikes in electricity rates are likewise curbed, added Dr. Regin Mordeno, former FIBECO board president turned chief executive officer of BSTC. It's the reason they are not bothered by the coal tax hike today or even the rotating blackouts that befell Mindanao in 2016.
"If you don't own it, you are at the mercy of whoever owns the highway. So that is what we have secured and that's why we were insulated from the crisis that happened in Mindanao. We were the only two coops that did not experience it. We were not affected," Mordeno said.
Banking on this kind of asset and other ventures that aim to lower the operational costs of electricity distribution for the benefit of consumers without sacrificing the growth of ECs has long been advocated by the NEA.
No less than NEA Administrator Edgardo Masongsong is actively encouraging all power cooperatives to put up similar projects to better position themselves in a more liberalized energy market under EPIRA and with the onset of the Retail Competition and Open Access (RCOA) policy.
"I hope this BSTC is one of the structures that will help us expand the horizons of the electric cooperative movement, creating enterprises that will further the interest of the electric consumers and the electric cooperatives," he said.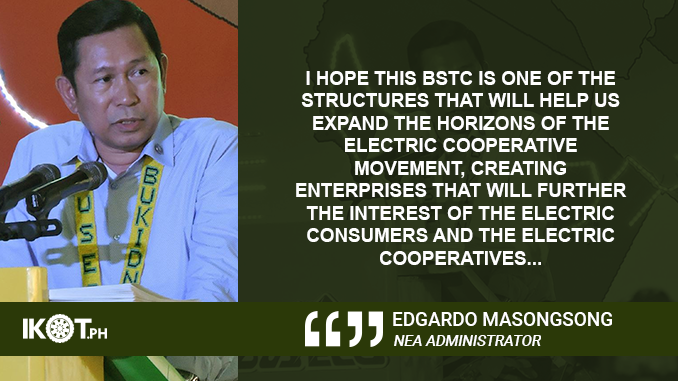 Masongsong is known as one of the key figures who pushed for the creation of BSTC during his time as general manager of BUSECO and until he was elected as representative of 1-CARE partylist. He said he did this to protect the ECs in Bukidnon against the possible drawbacks of the RCOA.
"Both ECs were actually convinced that they should not exist as mere distribution entities but they should also invest in generation or transmission in order to evolve and compete; otherwise, they will get swallowed up by the industry," Tortola elaborated.
Right now, BSTC is still pretty much in its nascent stages with hopes of a promising future. Unlike FIBECO and BUSECO, the company is registered with the Securities and Exchange Commission (SEC) as a stock profit corporation, which allows it to easily venture into other businesses.
"Hopefully, it's not only subtransmission because based on the articles of incorporation, the SECregistration, the corporation is not bound to a single business. Anything is possible. So that actually is an opportunity that BSTC could grab in the future," Tortola said.
Nevertheless, Mordeno said expansion is not an immediate priority for them because they would like to focus first on strengthening BSTC to protect the ECs it serves and their MCOs. He also has his hands full at the moment after reluctantly agreeing to fix the internal problems of BUSECO.
"We are meant to protect the member-consumers in a way that they will not get adversely affected by the increases in electricity rates. We aim to reduce that burden on their part. Although (the help) is not direct, through the coops, which are the owners of BSTC, we can do it," he said