Senator Cynthia Villar has encouraged farmers to take advantage of the training programs and learning activities at the Villar Social Institute for Poverty Alleviation and Governance (SIPAG) to boost their knowledge on different agricultural technologies and develop financial literacy.
Speaking at the recent graduation rites of trainees on Mushroom Production and Vegetable Farming in partnership with Myrna's Miraculous Mushroom, Villar said venturing into mushroom production is one of the best options available to increase farming growth.
"That's why many mushroom producers and farms have been featured in newspapers and TV programs because the process is simple, the period of cultivation is brief, and it really provides livelihood," the veteran legislator said.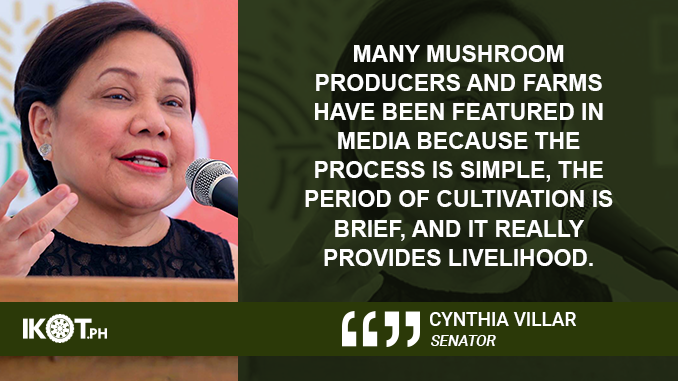 Aside from their nutritional benefits, there are mushroom species that are found to have medicinal properties. The seasoned lawmaker said many communities are now capitalizing on this and she hopes this can be replicated elsewhere.
"I hope you can bring your knowledge to your communities in the different places in the Calabarzon areas and here at the National Capital Region (NCR)," the lady senator said.
Villar SIPAG has always been a staunch advocate of livelihood training programs especially those that promote food security and food sustainability.
As chair of the Senate Committee on Agriculture, Villar said the training modules they have chosen to teach at the Villar Farm School involve crops that would benefit families and yield a decent source of income.
Farmers were taught how to culture the tissue of mushrooms, produce spawn, take care of the growing mushrooms, create mushroom by-products and preparation of the mushroom farm house.