The University of the Philippines Children's Rights Advocates League in Diliman caps off its celebration of National Children's Month with the launch of an exciting raffle and, as its partner, an upcoming outreach program for children.
UP Children's Rights Advocates League, otherwise known as UP CRAdLe is a non-profit, non-partisan, cause-oriented, university-wide recognized organization that strives to uphold the rights of children through social awareness, public advocacy, and action.
The organization was pioneered by Reyna Bajenting back in 2006. Bajenting gained inspiration from her paper in Philosophy, which piqued her interest in children's rights. She, along with seventy others, founded and established UP CRAdLe on April 26, 2006.
UP CRAdLe strongly believes in the power of the children to help in the development of the nation they belong to.
"Always in all ways for kids," echoes throughout every activity in the organization to ground its advocates. Its members affirm this sentiment and place much of their effort in realizing their projects fully.
Their projects range from hosting Focus Group Discussions or FGDs within the organization, to posting educational materials in various social media platforms, to hosting webinars that anyone can attend! They even hold donation drive initiatives to give out an extra helping hand to the children.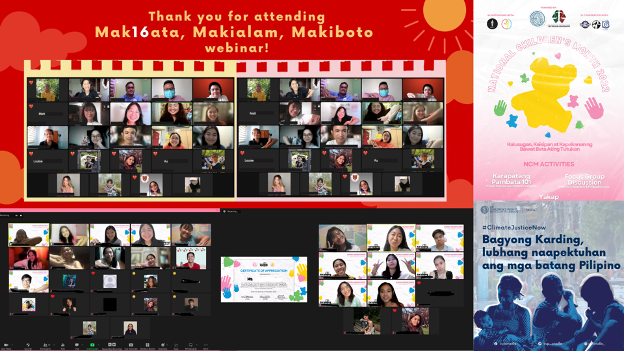 This December, the month of giving, UP CRAdLe aims to give back to their partner community so they are hosting a fundraiser entitled "Bente Para sa Bata: Raffle for a Cause."
Any PhP20 donation can help them give a Christmas gift to their partner community, and can also give you a chance to win up to Php 3000 cash and Php 4000 worth of e-vouchers!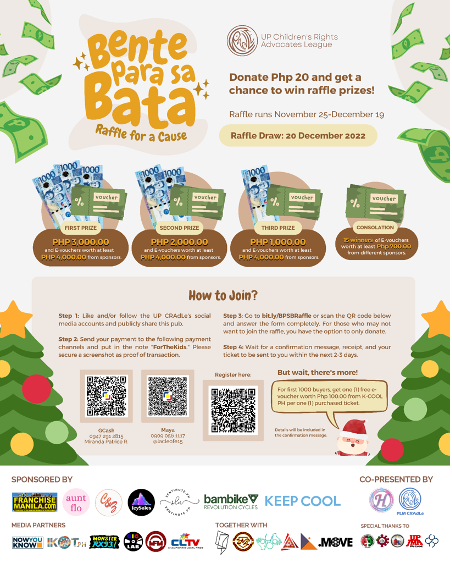 What are you waiting for? Join their raffle now and spread the Christmas love to everyone through this link: https://bit.ly/BPSBRaffle
More information can be found on their Facebook page https://facebook.com/upcradle for the raffle, outreach program, and other relevant projects.