Arriving this August 27 and 28!
Pioneer 2022: ELEVATE is a 2-day webinar that aims to empower and inspire its audience! As the annual initiative of UP Business Management Society (UP BMS), Pioneer started way back in 2018 with Pioneer 2018: Gear up, start up, go! Followed by Pioneer Plus 2019, and because of the pandemic, missed out of 2020 but came back with Pioneer LIVE 2021, and now UP BMS presents Pioneer 2022: ELEVATE!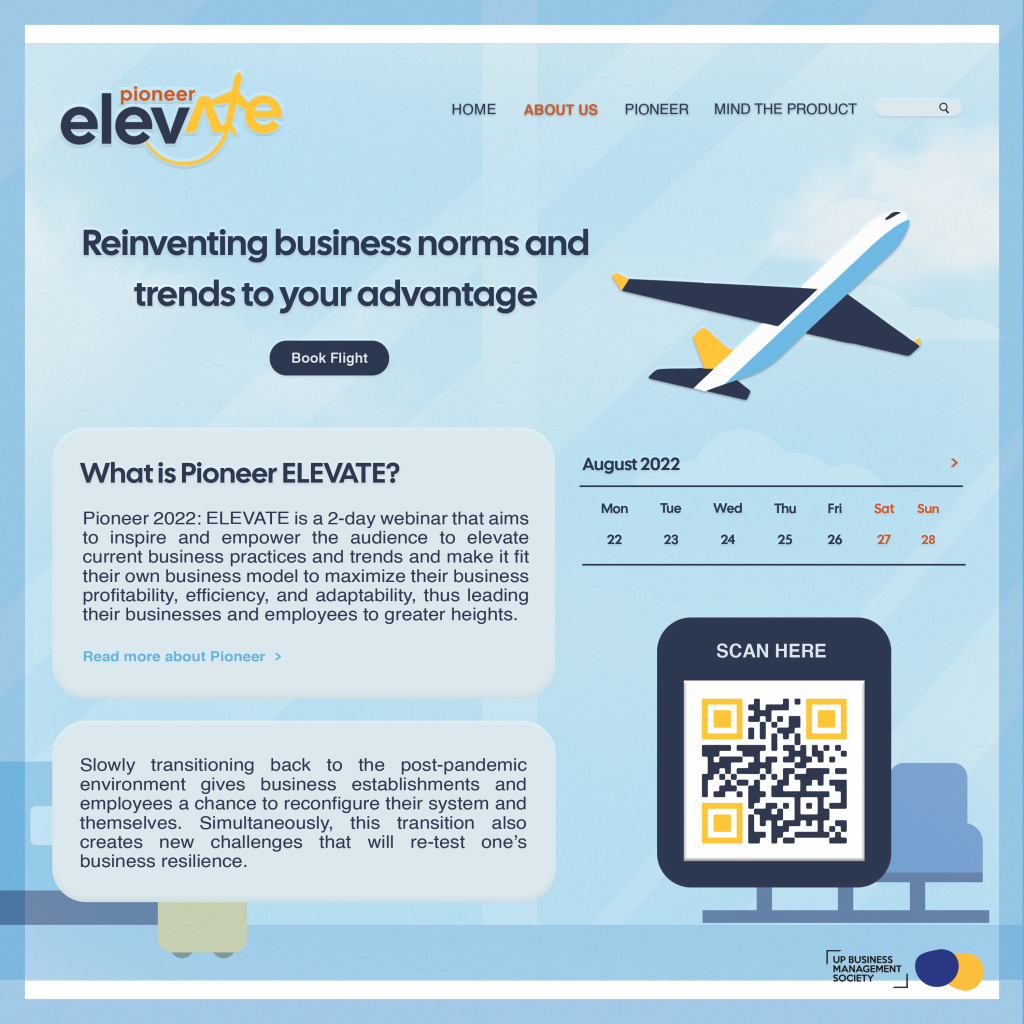 Slowly transitioning to the post-pandemic environment gives business establishments and employees a chance to reconfigure their system and themselves. Simultaneously, this transition also creates new challenges that will re-test one's business resilience. Thus, this year's theme is all about reinventing and owning already existing business practices to maximize their business profitability, efficiency, and adaptability, thus leading businesses and their employees to greater heights.
Pioneer 2022: Elevate will feature 3 profound speakers, focusing on three topics, starting with The Do's and Don't of Digital Marketing by Carlos Naguit, who is a growth marketer and consultant for DTC brands that aims to provide and equip delegates with knowledge regarding digital tactics to connect with customers. Followed with Connect and Collaborate by Anton Cruz, the CEO of Syndrome Supply, to show the benefits of brand collaboration from different fields in order to widen consumer reach. And lastly, Improving and Managing Productivity in a Hybrid Work Environment with Rhens Rio Emil Guevarra, a Foundational Human Resources Leadership Program Professional from Johnson & Johnson, to tackle the challenges of sinking productivity and poor absorption of knowledge brought by the pandemic and empower the audience with the skills to overcome them in a hybrid work environment.
For more information and testimonials, skim through the photos below. If you're interested, register at https://bit.ly/Pioneer2022RegForm to get a firsthand feel of the Pioneer experience!