Remember the joys of having a new box of crayons on the first day of school?
Ah, the smell of fresh crayons. Let us be honest: we miss this feeling and wish that we could have another day to just lie around and get busy with our sketch pads.
Let Sally Hansen take you back to your colourful childhood.
In collaboration with Crayola, the brand released its new product line, Crayola Insta-Dri Collection – a set of bright, fun, and nostalgic colors that will turn your nails into elementary school art (in a good, mess-free way).
The collection features 12 nail polish colors based on actual crayon hues. These are White, Denim, Scarlet, Cerulean, Dandelion (which will be retired by Crayola *sniffs*), Razzmatazz, Vivid Violet, Purple Heart, Sunset Orange, Carnation Pink, Wild Strawberry, and Granny Smith Apple.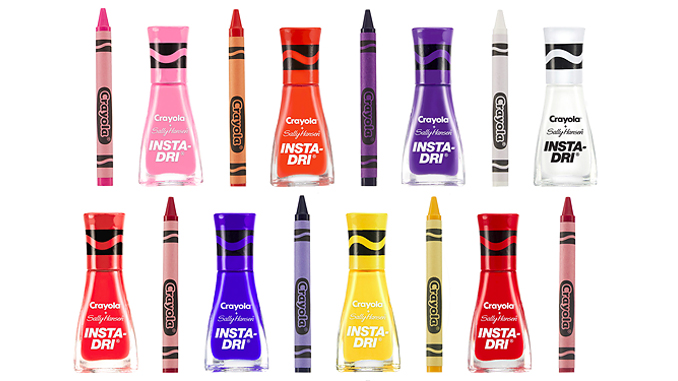 In addition to the familiar shades, the bottle caps are designed with the iconic Crayola squiggle. These will surely bring up a memory and a smile to your face every time you brush a color on your nails.
Each nail polish is formulated as a base and top coat that gives a polished look in just one coating. It also has Sally Hansen's quick drying technology that allows the applied color to dry instantly in just a minute. Painting your nails is as easy as drawing doodles on your written reports.
It is good to know that crayons are not just for kids anymore. Who does not love crayons?