The Department of Tourism (DOT) has taken the lead in reviewing current regulations and guidelines on educational field trips to ensure safety of students.
This developed as delegates agreed to enforce stricter safety measures during the first Educational Tour Summit, sponsored by DOT and participated in by representatives from Department of Education (DepEd), Commission on Higher Education (CHED), Land Transportation Franchising and Regulatory Board (LTFRB), academic institutions, tour operators, and tourism industry stakeholders.
The consensus of the group who convened at the Enchanted Kingdom Theme Park, one of the most visited student destinations in CALABARZON, zeroed in on the accountability and responsibilities of schools, parents, and other relevant government agencies while emphasizing the importance of out-of-classroom learning.
DOT Undersecretary Alma Rita Jimenez encouraged the academic institutions to work with DOT-accredited tour service providers in the wake of some serious mishaps the most recent of which was the tragic bus accident in Tanay, Rizal in February that claimed the lives of 14 college students, a teacher, and the bus driver.
"The service providers that include the tour operators and other tourism facilities should be qualified, licensed, and certified to provide the services in the highest quality possible," said Jimenez.
According to DOT Region IV-A Director Rebecca Labit, the freeze order released by CHED, banning field trips from February to June 2017, has affected the tourism industry, including numerous destinations, and businesses especially in CALABARZON which is one of the most visited destinations for educational trips.
"A timely response would be for all sectors to come together and adopt stricter guidelines, commit to punishing violators, and pursue quality standards," said Labit.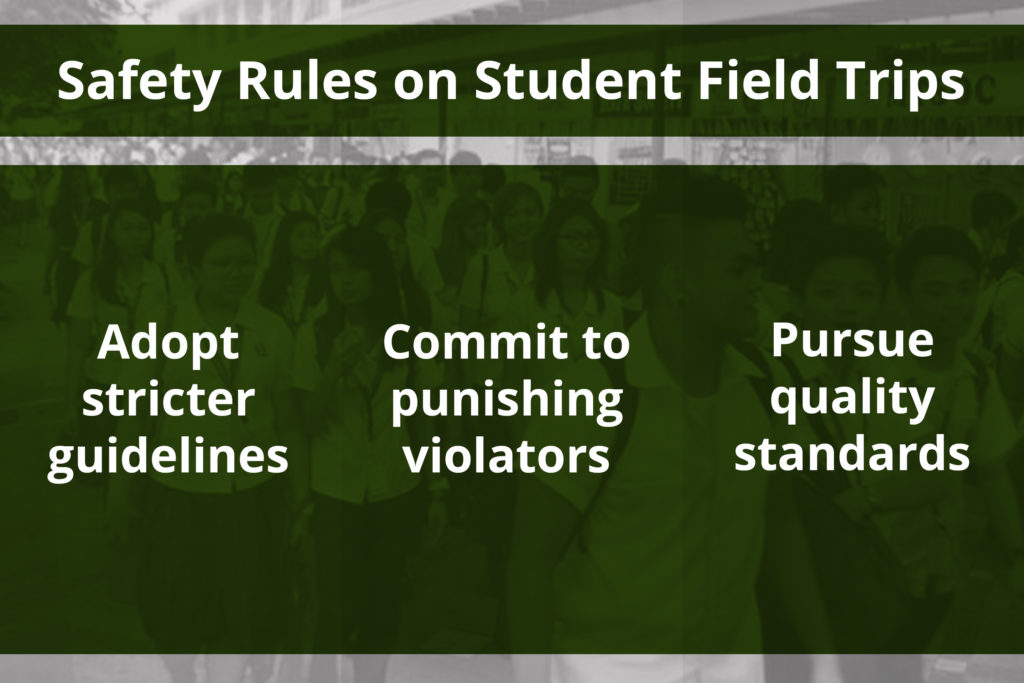 At the conclusion of the summit, school officials committed to follow government policies on educational tours by providing the necessary permits and coordinating only with DOT-accredited service providers.
Government agencies likewise vowed to ensure that all service providers are trained and accredited but pointing out that this would not be possible if schools continue to work with non-accredited providers.
"What all sectors should work for, discuss and agree upon, is to arrive at a total solution that will allow this experiential education through educational trips to continue. The learning pathways will not be complete if we do not take steps to expand the options and settings by which learning can happen, not just inside the classroom but in the bigger world outside," said Jimenez.